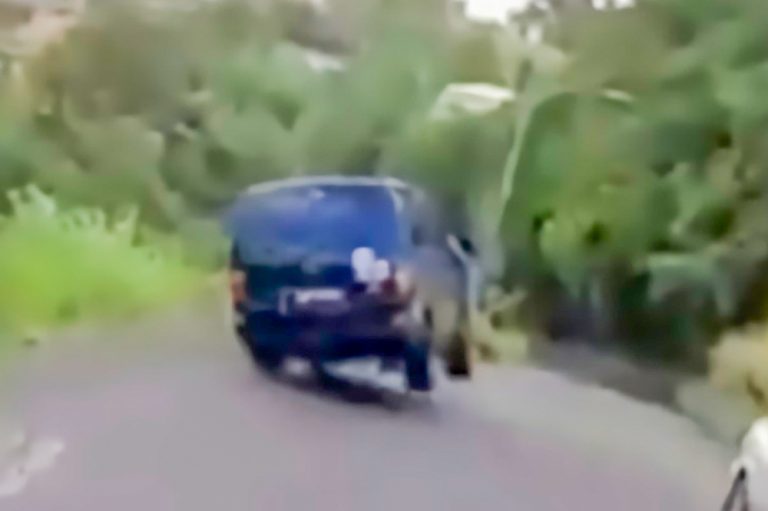 Front Page
January 31, 2023
Police to show zero tolerance for reckless van drivers
Several recordings of minivans travelling at what appears to be high speed have spurred investigations by the traffic department of the Royal St Vincent and the Grenadines Police Force (RSVGPF).
But arguably the most reckless footage is that of a blue minivan on the North Union/New Grounds public road which is seen taking a corner at what appears to be a high speed and ending up on two wheels as persons run into the road to record, using mobile devices.
While the blue minivan recording was being discussed on Hot 97.1 FM's AM Mayhem morning show yesterday, a caller to the programme took responsibility for the driving seen in the video recording.
He said he normally takes that corner "hard" and on the day in question when he realized he was on two wheels, he quickly "corrected" and as a result averted a crash.
"I couldn't just let it go over the bank," the male voice said.
The hosts of the radio show later commented that they did not believe the caller was the driver of the minibus in the recording that is alleged to have been made last week Thursday, January 26.
It is alleged that the blue minivan is owned by a police officer but SEARCHLIGHT was unable to ascertain the veracity of this claim.
Sergeant Kenny Jones of the traffic department told SEARCHLIGHT on Monday, January 30, that about three recordings are being looked at and it is possible that charges can be laid for reckless or dangerous driving.
He said the recordings were brought to their attention and the traffic department takes all forms of reckless or dangerous driving very seriously.
"We encourage citizens to report these incidents and we have a zero tolerance approach when it comes to any form of reckless or dangerous driving," said Sergeant Jones.
In April 2019, the posting of recordings on social media led to the traffic branch suspending the driver's licenses of five minibus operators and three civilian drivers.