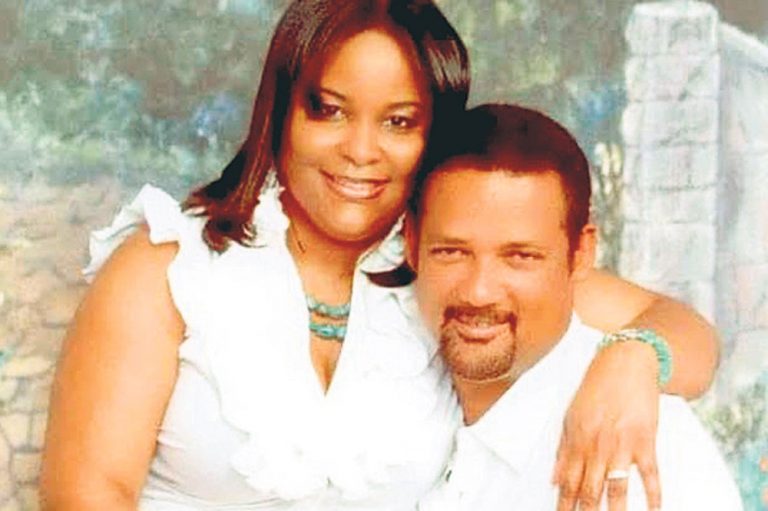 Front Page
January 27, 2023
Wife offers US$5000 reward for information in shooting death of her husband
A reward is being offered for information leading to the arrest of the person/persons responsible for the murder of Bequia resident, Frankie Gooding/Mitchell.
"Please note the reward is $5000 US currency. I need justice for my husband. Please share and help us bring the ANIMALS that murdered my kids' father to justice," the dead man's wife, Mary, who goes by the name Callalilly Gooding on Facebook, wrote on January 25, on the social media site.
Gooding, 62, was shot in his home community of Friendship, on Saturday night January, 21 around 7.30. Reports are that Gooding resides in Miami and operates a small business in Friendship, Bequia. After being shot at least three times in the head, he was taken to the Port Elizabeth Hospital, where he was pronounced dead.
A closed circuit television recording of the incident is making the rounds on social media.
Also, a voice-note making the rounds is alleged to be that of Gooding before his death telling his family his life is in danger and if anything was to happen to him, they must remember he loves them.
"Hey Keon, this is your dad, I dunno, this message here I am sending to you is, I am not even sure there will be a next one…arm…I just want you to know that. I want you to make sure take care of Zeandrae for me…arm…I don't know what is going to happen, but something serious will happen here but you just remember that if this is my last words to you, I just want you to know I love all of you and I want you to just take control of the family…alright bye," the voice-note, allegedly of Gooding said.
Writing on Facebook, Callalilly Gooding said her family of five children is left saddened by the death of their husband and father.
"Did he tell you Frankie have a wife and 5 kids who now have to grow up without a father. My last son sleeps in the couch because dad will watch TV and fall asleep there, he wants all the fruits his dad love. Dad love pears so I woke up and eat one in the middle of the night mom " when I close my eyes all I see is the last image of dad on the ground", the pain you have caused to my family is unbearable," the distraught wife wrote.
"We are not broken, our hearts and home is shattered to pieces. Every time I walk in our room, the flood gates of heaven opens, every time I go in the kitchen that he worked so hard over the last 4 months renovating, another flood gate open. I don't even want to look outside. I step out and see his vehicles, I cry. I see all his stuff in the Garage I bawl. I haven't had a dry eye since my partner for more than half of my life (25 years) was brutally taken away from me and our boys.
Frankie Mitchell had a heart of gold… He was kind, easy going, a family oriented man," she added.
"All he ever wanted to do is create generational wealth for his family. We have a special son Zeiandrae, Frankie knew Zei will never go to college because of the massive stroke he had after birth, Zei was born at 24 weeks. Frankie had a special place in his heart for Zei. Everything he did was for Zei, they had plans for this weekend. Frankie flight was booked for this Friday 1/27/ 23. My kids haven't seen their dad in 8 weeks. Our family had plans for the weekend when he arrives home. Instead his kids will see him in a casket as they say they last goodbye in a few weeks," Callalilly Gooding wrote, while stressing that the situation is beyond hurtful and painful.
She ends her post, "Rest assured, I will not rest until justice is served. I will spend every dollar I have to put you and everyone who is involved in this murder exactly where you belong…and when the dust is settled, I will continue his legacy, I will continue his dreams. You will not kill that. That was his legacy. Sleep in the arms of the Angel's until we meet again."
Police detained several suspects after the shooting, but up to press time, no one was charged in relation to the incident.
Several accusations have been levelled against other residents on the Grenadine Island.
Mitchell/Gooding's family is hoping that the US$5000 reward will help to bring the person/persons responsible to justice.The police said in a release issued following the shooting that an investigation has been launched.
"Assistance is being solicited from the public in identifying the assailant in the video that is being circulated on social media of the shooting," the police release states. They are also appealing to persons with information that can assist with the investigation to come forward.