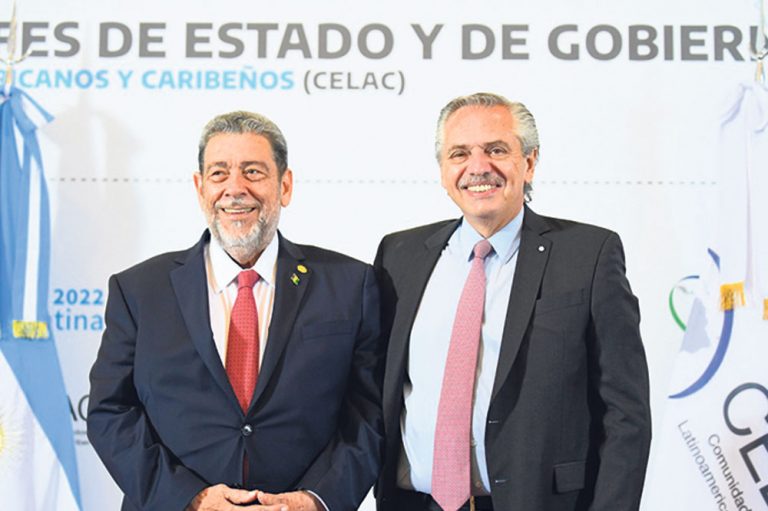 Front Page
January 27, 2023
SVG is first CARICOM Member State to head CELAC (+ Video)
Another milestone for SVG
St Vincent and the Grenadines (SVG) has created history by becoming the first Caribbean Community (CARICOM) Member State to assume the presidency of the Community of Latin American and Caribbean (CELAC).
This country unanimously secured the 2023 pro-tempore presidency of the 33 country member organization at its 7th Summit of Heads of State and Government, which was held in Argentina on Tuesday, January 24.
Speaking at a news conference upon his return from Argentina on Wednesday, January 25, Prime Minister Dr Ralph Gonsalves indicated that St Vincent and the Grenadines has much to gain as the new CELAC head.
"St Vincent and the Grenadines will benefit enormously from being president Pro Tempore of CELAC," Gonsalves said at Wednesday's news conference at the Argyle International Airport.
The Prime Minister further revealed that apart from holding the presidency of CELAC for the year 2023, SVG is now also the chair of the CELAC Disaster Fund, which was set up to help member countries in times of disasters.
One of the possible benefits is access to military helicopters to help transport Vincentians in need of emergency evacuation in times of natural disasters.
He explained that these helicopters are available in two CELAC member states, Mexico and Brazil.
"We have to prepare for eventualities," Gonsalves stressed.
Additionally, there are four CELAC countries which have populations of Garifuna people and Gonsalves views this as an opportunity to form new linkages with these descendants from SVG.
The Prime Minister noted that the CELAc grouping is made up of countries with different ideological and philosophical positions- there is plurality and diversity.
He said it is out of this diversity that there is also common ground in the circumstances and challenges which the CELAC countries have to address, in the interest of their people.
Issues such as peace, prosperity, social justice and security for all, are high on CELAC's agenda.
The Prime Minister also revealed that St Vincent and the Grenadines has had an interest in CELAC's leadership since 2021.
Mexico and Argentina are the immediate past presidents of the 33 Member grouping.
Now that this small nation has attained the presidency of CELAC, Gonsalves said he believes that "we have a very special role to play."
"What we are involved with here is not something which is for show; this is something which focuses on life, living and production."
Gonsalves pointed out that countries in CELAC account for about 8% of the world's population, and within the group are 3 G-20 countries: Brazil, Mexico and Argentina.
On account of its importance in the world today, Prime Minister Gonsalves feels that "the teachers in the schools must start to teach Economic Geography about CELAC."
He feels that just how they teach about CARICOM, they must also expose students to information about CELAC.
"We have to know these countries, they are our neighbours," the prime minister stressed.
As the new president of CELAC, St Vincent and the Grenadines will have to lead CELAC in meaningful discussions, and interact with other world organizations on the behalf of its Member States.
Prime Minister Gonsalves promised that in leading the organization, SVG will build upon the foundation which was laid by Mexico and Argentina, and will also bring its own emphasis to the grouping.
"Under our watch, I want us to strengthen the institutional expressions of shared experiences of CELAC and the articulated outcomes which we have,"he declared at Wednesday's news conference.
Additionally, as the new president of CELAC, Gonsalves said this country will be moving to improve on the connectivity issues with air and sea transportation.
He noted that this issue must be addressed in order to effectively link the Latin American and Caribbean civilizations.
"We have to be able to transport goods, and we have to be able to transport people," Gonsalves indicated.
The St Vincent and the Grenadines delegation to the CELAC meeting in Argentina also included, Minister of Foreign Affairs and Trade, senator Keisal Peters; Ambassador to Venezuela, Gareth Bynoe; and former Ambassador Andreas Wickham.
Following Wednesday's news conference at the Argyle International Airport, there was a motorcade taking the members of the delegation into Kingstown.
CELAC has been described as a regional forum that brings together all of Latin America and the Caribbean countries. It was launched in December, 2011.
It was created with a commitment to advance regional integration and unity among member countries.
Roughly about 600 million people are represented under the CELAC umbrella.
Other CARICOM countries in CELAC include: Antigua/Barbuda, Barbados, Dominica and Saint Lucia.