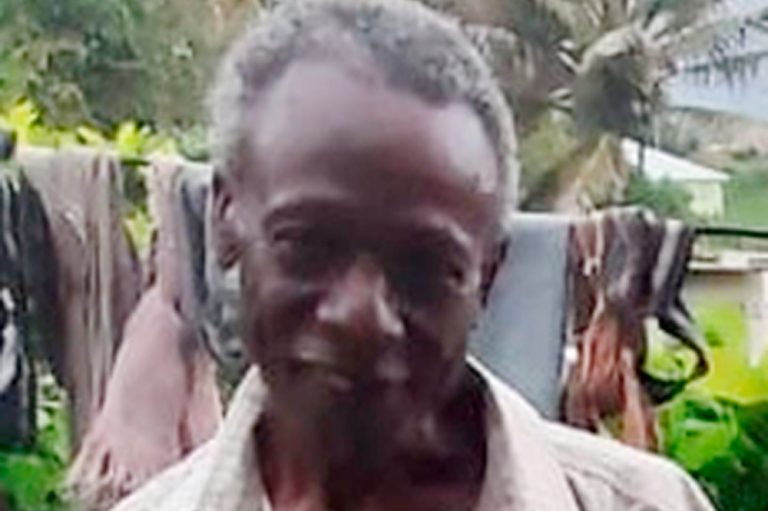 Front Page
January 27, 2023
Death of elderly man of Cedars ruled a homicide
The worse fears of the family members of Randolph Carlos Joseph have been realised.
The autopsy done on Joseph's body has revealed that he died from blunt force trauma, pushing this country's homicide rate for January, 2023, to five.
Joseph, a 67 year old man, was found dead in his garden in Cedars on Thursday, January 19, and a family member told SEARCHLIGHT earlier this week that the family was awaiting the results of the autopsy before making any assertions.
But on Wednesday, January 25, police confirmed that Joseph's death was indeed a homicide, pushing the family further into mourning.
"It's just the hardest feeling to cope with. I have to be strong for my brothers, for my aunts and other family members, his children, it's really really hard," Joseph's niece, Yolanda Grant said on Thursday, days after she said the family would feel a bit better if Joseph died of natural causes.
A police press release issued on Wednesday, January,25, said, "Police are investigating the circumstances surrounding the death of Randolph Carlos Joseph, 67 year old farmer of Cedars. Investigations revealed that on 19th January 2023, James' body was discovered with injuries to the head. A postmortem examination of the deceased revealed that he died as a result of blunt-force trauma.
"Persons with information that can assist with the investigation are encouraged to contact the Assistant Commissioner of Police in charge of Crime at telephone number 1-784-457-1211 extension 4816; the Officer in charge of the Criminal Investigations Department/Major Crime Unit at 1784-456-1810 or the officer in charge of the South-Central Division at 1784-458-4200; or any Police Station or Police Officer you are comfortable speaking with".
The police also promised that "all information received would be treated confidentially", and "investigations into the matter are ongoing."
The release also noted that Joseph's death marks the third homicide for the year 2023, ruling out two men killed by police this month as homicides.
"If it was natural cause…,but knowing that someone would have come on our property and just took his life is hard to deal with and the others are now fearful," Grant said; others referring to family members that live on the plot of land in Cedars where her uncle's body was discovered.
"We are people who don't interfere with others," she stressed while noting that residents are accusing another family member of the killing.
She said that up to press time, police had detained Cedars resident, Asa France, a cousin of Joseph, who is also a neighbour and has had stints at the Mental Health Centre (MHC) in Glen.
Grant said that France is someone that the family usually looks out for, but they have been coping with aggression from him for years as he has been warded at the MHC on occasions and would sometimes escape from the institution and return home before completing his course of treatment.
"This is something we have been coping with for years. We have called the authorities about his behaviour on many occasions and he would sometimes leave the Mental Health Centre without permission," Grant explained while stressing that theirs is a close knit family.
"We feel the pain for each other and look out for each other. That is how we have been brought up. I know he (France) has been at the Mental Health Centre for a while and he runs away and comes home by us looking for things," she explained, while noting that she thinks France left the Glen institution without permission the same day her uncle died.
"The village is uneasy when he is out," she said, a feeling shared by a villager who said France, "does play crazy and make plenty trouble".
When the report of the death of Joseph, also known as Jagan, began making the rounds last week Thursday after 2:00 p.m., persons first claimed he was stabbed by a mentally unstable neighbour. Later, reports claimed he was struck in the head by that same neighbour.