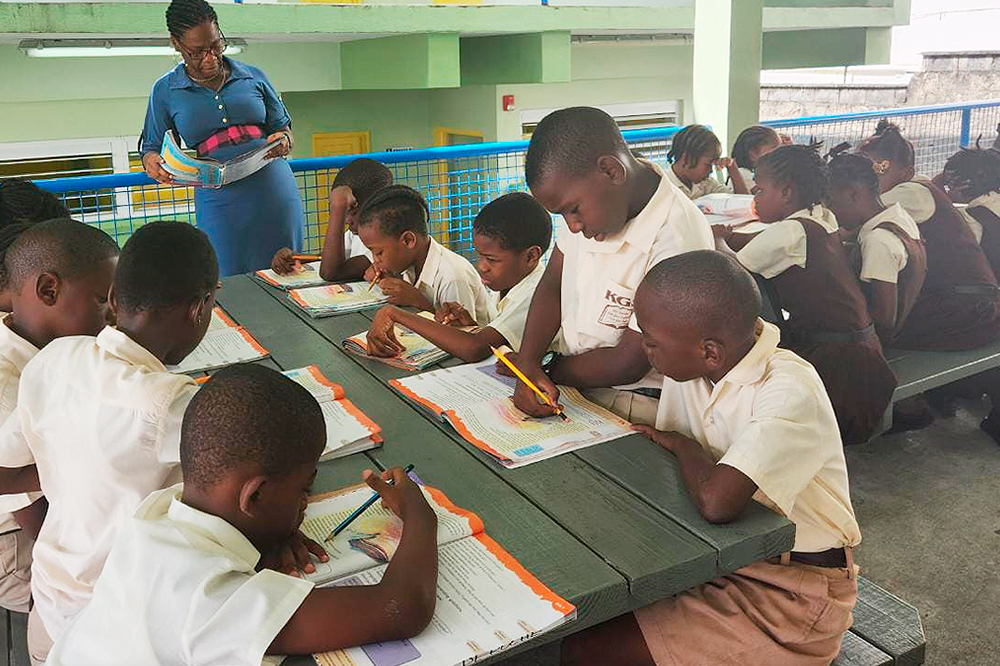 Front Page
January 24, 2023
Kingstown Government School offers rewards to students
By JADA CHAMBERS
The Kingstown Government School (KGS), is offering students a range of tangible incentives to reward punctuality, high attendance, good behaviour and academic excellence.
Within the school's compound is a 'reward shop' containing a variety of toys and school items which leaves students in high anticipation of getting one.
Supplies include book bags, stationery, footballs, teapot sets, dinosaurs, boats, dolls and stuffed animals which are offered as gifts to well behaved and hard working boys and girls of the school.
The shop, which is financially sustained by donations and fund raising activities, is said to be part of 'The Child Friendly Initiative' that was implemented by the Ministry of Education in several schools over four years ago.
This behaviour modification initiative aims to discourage negative behaviour and encourage positive conduct. It also aims to meet the comprehensive and multi-dimensional needs of the child or children in the school and community setting.
The toys at the 'reward shop' at the KGS have an assigned value, from 1-10, and children who are to be rewarded receive chits.
They use these chits which correspond to the assigned value of the gift to redeem their reward from the 'reward shop'.
Last Friday, January 20, some of the students spoke SEARCHLIGHT about their 'reward shop' and how they plan to earn their chits to get a reward.
Grade 5 student, Zane Edwards said, "I think the reward shop is very special to this school because other schools don't really have it. I got a camera from the reward shop because I behaved myself."
Xai Scrubb who is in Grade 4 thinks, "It's a good place. There is a football, which I really like, and I want to save up for it. " Scrubb said that he got his chit from engaging in a class activity.
Grade 5 student, Orana Campbell shared that "The reward shop is very remarkable because it has lots of toys." Campbell said she earned her chits through good behaviour and used them to get a boat.
Grade 4 student, Summa Noel is yet to earn a chit but said "It's a great shop. It has lots of good toys. I really like it but I don't have a chit to buy anything ".
Noel, however said that she intends to work hard and behave herself to earn one; and Grade 3 student, Nia Anthony who also is yet to obtain a chit said she plans to be on her best behaviour so she will be able to get a toy.
Shaneika Laidlow who is the head of the school's Initiative gave some insight into the intention of the 'reward shop'.
"We started it because we saw it fit to reward our students not only for doing their work, not only for academic excellence, but also for good behaviour, and also when they show improvement in various areas, not only in their schoolwork, but also their social life…"
Laidlow is also a Grade 1 teacher, said that the children are quite eager and enthusiastic about the shop.
"…a lot of children, I have seen changes in them because they would come to the shop, see things that they want or see things that they are interested in, and then they will try to work towards getting them".
The school's acting principal, Sonia Soleyn added, "We reward children that display some sort of positive behaviour, whether it's…something that they never did before… like for instance, if they were doing terrible in maths and they were having trouble with a particular topic, they put some effort and we saw some improvement, we reward them for that…".
"So instead of…punishing children, we tried to reward them for good behaviour, and in doing so the other children who look on and see that they're being rewarded for this will try and emulate that behaviour," Soleyn explained.
Grade 5 teacher, Karleen Douglas is encouraging other schools to use this strategy as well.
"…overall I think it's a good initiative; it helps them to overall be good students in their academics, in coming to school regularly and punctually, and I think all other schools should try their best to get this thing on board, get it on board, get it done in their schools…"
The 'reward shop' is just one of the projects under 'The child Friendly initiative' at the Kingstown Government School. Last year the school hosted a 'Fathers Afternoon' where fathers and father figures were invited to the school to interact and engage in activities with the children. The school also invested in the painting of educational murals on its walls.
There are other projects that the school will be working aimed at promoting fun learning and good behaviour. Acting Principal, Soleyn said they welcome donations and financial contributions.
RELATED ARTICLE: Kingstown Government School gets makeover thanks to World Bank funded project