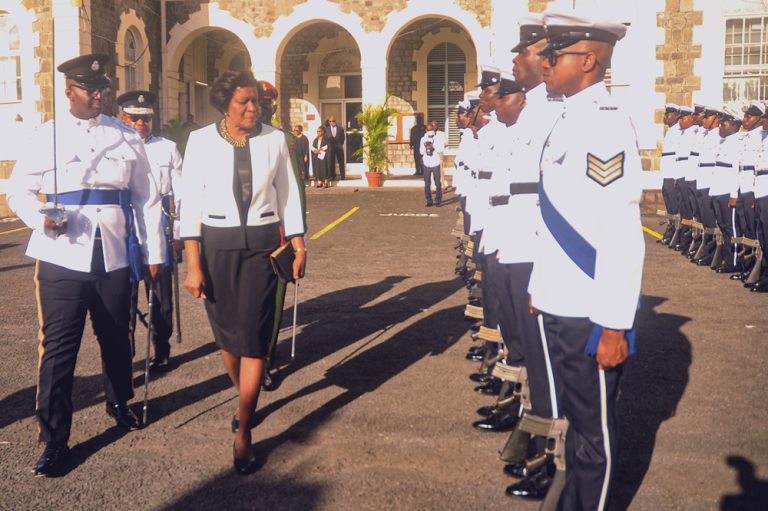 Front Page
January 10, 2023
Throne Speech brings fresh hope to SVG
The Throne Speech, which was presented yesterday, Monday, January 9, by Governor General, Dame Susan Dougan has delivered fresh hope to the Vincentian population, amid the past challenges, and those which lie in this New Year and beyond.
In her Throne Speech which preceded the presentation of the 2023 National Budget, (Appropriation Bill), by Minister of Finance, Camillo Gonsalves, the Governor General stated that "various sectors of the economy are showing strong signs of recovery".
Dame Susan highlighted improvements made in the Tourism sector as being symbolic of this recovery.
She pointed out that this is evident in the almost daily cruise ship calls to Port Kingstown in this current cruise tourism season.
She said statistics also show a "steady increase in visitor arrivals," and this is expected to continue throughout the season.
A total of 313 cruise ship calls are scheduled for the 2022-2023 cruise season.
Dame Susan said 12 of these calls will be inaugural visits by various ships.
In this season, it is expected that there will be 325 cruise ship passengers visiting St Vincent and the Grenadines, which will represent a 40% increase in cruise passenger arrivals over the 2019-2020 season.
Additionally, the Governor General said that the government has plans in place to foster further growth in the important tourism sector.
In reflection, the Governor General said the year 2022 was one of "mixed blessings."
She, however, noted that the challenges we faced as a people, express to us, "the need to live our lives closer to God."
Also, it should give us a greater love and unity with other persons, and a resolve to care for all who depend on us, and a commitment to improving our own health and well being.
Apart from the strides made in Tourism, the Governor General stated that "we achieved remarkable success" in our continued efforts to recover from challenges such as the COVID-19 pandemic, the explosive eruption of La Soufriere Volcano, Hurricane Elsa and global turmoil.
The Governor General also outlined the government's intentions to increase production in agriculture and fisheries "both for local consumption and for export."
Plans will also be enhanced for the sustainable use of the nation's natural resources, including marine resources.
Dame Susan said in 2023, there will be further initiatives in areas such as manufacturing, information technology, call centres, financial services and entertainment.
Added to this, she said "government continues to provide social protection for all citizens."
With this in mind, special emphasis will be made in protecting citizens who are poor, dispossessed, displaced, marginalized, elderly, disabled, and all who are vulnerable.
In relation to housing, Dame Susan said government acknowledges that decent housing is a basic human right.
As such, this year, the government will be seeking to regularize the status of many informal human settlers (squatters) by giving them legal title to the lands which they now occupy.
In his presentation of the 2023 National Budget on Monday evening, the Finance Minister described the package as "optimistic and ambitious."
"Budget 2023 is an optimistic and ambitious plan to place St Vincent and the Grenadines squarely on the road from recovery to resilience."
Minister Gonsalves also said that the 2023 Budget is "a blueprint for sustainable, people centered development" in St Vincent and the Grenadines.
Debate on the budget will be led off by Leader of the Opposition, Dr Godwin Friday.