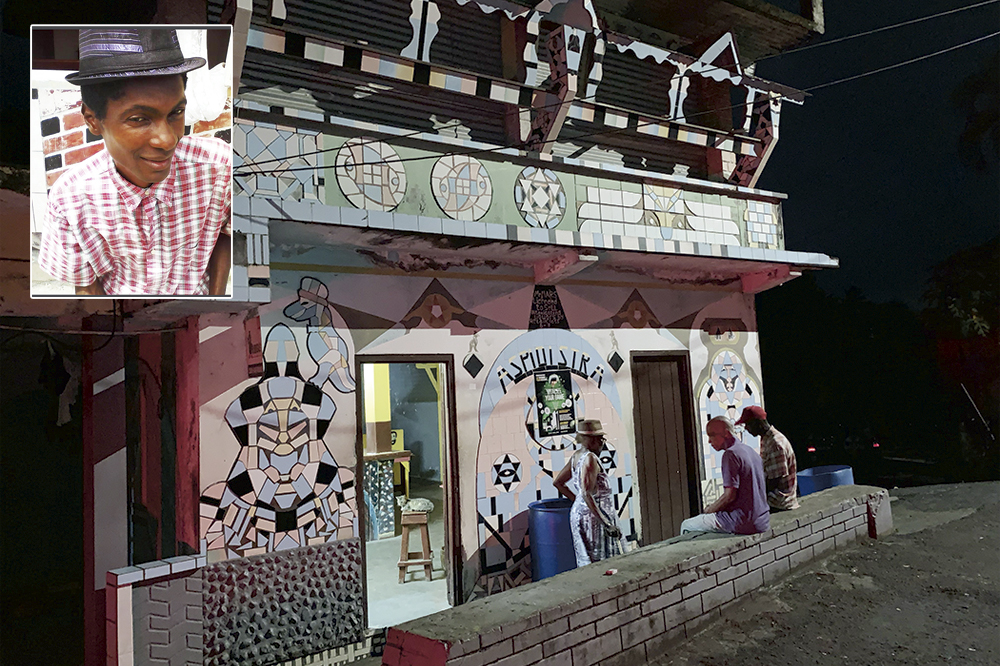 Front Page
January 6, 2023
Dead man's brother says he was wrongfully blamed for crimes
Kensley Mars, the older brother of 47-year-old homicide victim, Selwyn 'Kashie' Foye says he does not feel good about what happened to his brother, but there is nothing he can do.
"…It done happen way me ah go do about it?" Mars questioned on Wednesday night when he spoke to SEARCHLIGHT.
He said he had not spoken to his brother for a few days, and when he got the call around 4:00 a.m on New Year's Day, it fully woke him up and he couldn't go back to sleep.
Mars, who disclosed that he and his brother were close, said he thinks Foye was wrongfully blamed for many of things that happened in the Marriaqua community.
Foye, the owner and operator of the 'Aspidistra' bar in Carriere, was shot and killed in the wee hours of the morning of January 1, 2023.
He had in the past been accused of murder, rape, and sexual assault.
A resident of Carriere, Foye was walking home sometime before 2:00 a.m when he was shot and killed in an area called Glasgow Hill, near to the intersection between Collins and Evesham.
Residents told SEARCHLIGHT that they heard at least 12 gunshots.
Mars said Foye was at a bar in the area when he got a phone call.
According to Mars, Foye collected some takeaway food from the bar operator and told the person on the phone he was on his way. He is not sure who his brother spoke to, but believes he may have been set up by the caller.
Over the years, Foye had several run-ins with the law, and was recently charged with offences relating to sexual assault after a recording was made of a woman being sexually violated at a bar he operated.
It was alleged that the man carrying out the assault was Foye.
In 2007, he was sentenced to life imprisonment for the October 2, 2004 murder of Percy Browne. However, in 2010, the East Caribbean Court of Appeal quashed the conviction and set aside the sentence on the grounds that the conviction had relied solely on the dying declaration of Browne that 'Kashie' was the person who had shot him.
Foye had also been previously charged with aggravated burglary and rape of Decima John, which occurred at Cane End on February 3, 2003.
However, the case was never tried as, on July 6, 2004, just one day before John was scheduled to appear in court to give evidence in the case, she was shot dead on her way to an outside toilet at her home.
John had been an employee of Percy Browne, and after she was killed, Browne had said publicly he thought that Foye was responsible.
It is also alleged that Foye had been part of a gang that had been run by murder convict, Daniel 'Compay' Trimmingham, a notorious criminal who terrorized the Marriaqua community.
Trimmingham died of cancer on August 23, 2019 while serving a life sentence at the Belle Isle Correctional Facility.
He had been found guilty of the January 8, 2003 beheading of Albert 'Bertie' Browne and was sentenced to death on Monday, November 17, 2003.
However, that death sentence was commuted to a life sentence on June 22, 2009 after the court of final appeal, The Privy Council, decided that the case was not the "worst of the worst."
When some of these incidents were mentioned to Mars, he said his brother, who would usually hold barbecues and Karaoke events at his shop, had been wrongfully accused in many of the incidents.
"I have no idea why that would happen to him, but people saying all different things because sometimes they have he, like, you know- "Because he ah go around with the kinda people them he ah go wid, sometimes when thing happen his name ah involve and all them kinda thing dey," Mars said, ignoring the many negative comments on social media.
He added that there was a man with whom Foye had been associated, and when that man did anything wrong, even if Foye was not around, persons would still say he was involved.
"You know, like if you and somebody is family and thing, and them come 'pon the block and say 'boy leh we go make a lime somewhere nah', then if something happen now, you nah know nothing about that, but your name going to call because you does dey around the people them," Mars said.
He added that members of the public, and the media were wrong to publish negative things about his brother in the press and on social media, as they have no facts.
"People always ah talk thing," he declared while standing outside his brother's bar.
He said also that a friend of his brother posted a positive comment on social media and persons chastised the man.