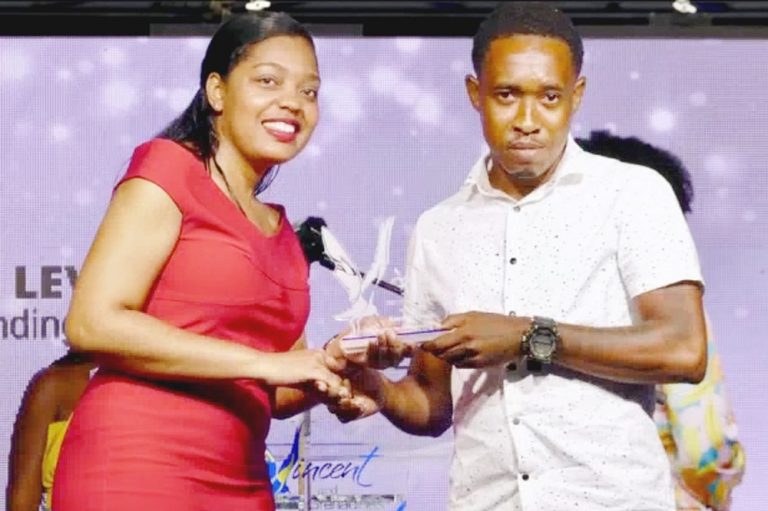 Front Page
December 13, 2022
Keyron Lewis is Most Outstanding Taxi driver during training
Earlier this year, SEARCHLIGHT featured Georgetown taxi driver, Keyon Lewis, as a jack of all trades, who had recently entered the world of taxi operation.
Little did we know that before the end of the year that Keyron would have had a huge fillip to help him rise to the top of this profession.
Lewis, who is popularly known as 'Slama London' started out as just one of the many taxi drivers in Georgetown. However, his aim was to become a professional taxi driver so that he can offer improved professional services to his many customers. With this goal in mind, Lewis enrolled in a training course for taxi drivers offered by the Ministry of Tourism.
The young Georgetown resident embraced his training, and his attitude and effort have begun to pay off. Lewis was recently awarded for being the Most Outstanding Taxi operator in training.
He was presented with this award on Saturday, December 3, during the 2022 Tourism Awards and Cocktail Reception.
In an interview with SEARCHLIGHT, Lewis said it is a tremendous feeling having received this prestigious award.
"I want to be a very professional taxi driver," Lewis said.
Having been trained and approved, Lewis is now able to transport tourists in and around St Vincent and the Grenadines (SVG).
This is an additional benefit to his business, as there are many taxis competing for passengers in Georgetown.
"I encouraged other taxi drivers to do the training, but only one other person took up the offer," Lewis said.
The ambitious young man was featured in the Tuesday, May 17, 2022 issue of SEARCHLIGHT where he spoke about having had several other jobs before becoming a taxi driver.
In a Facebook post on Sunday, December 11, Lewis recalled some of the discouraging words that were spoken to him as he embarked on his journey towards becoming a professional taxi driver.
Regardless of what he was told, Lewis said "I always believe that once you have life, you have hope, and life is a learning process."
"I am not too big to learn, before the training, I had my flaws, but I worked on them."
Lewis said his personal motto is "work hard and stay humble."
"When they say it can't be done, work harder and show them that it can be done."