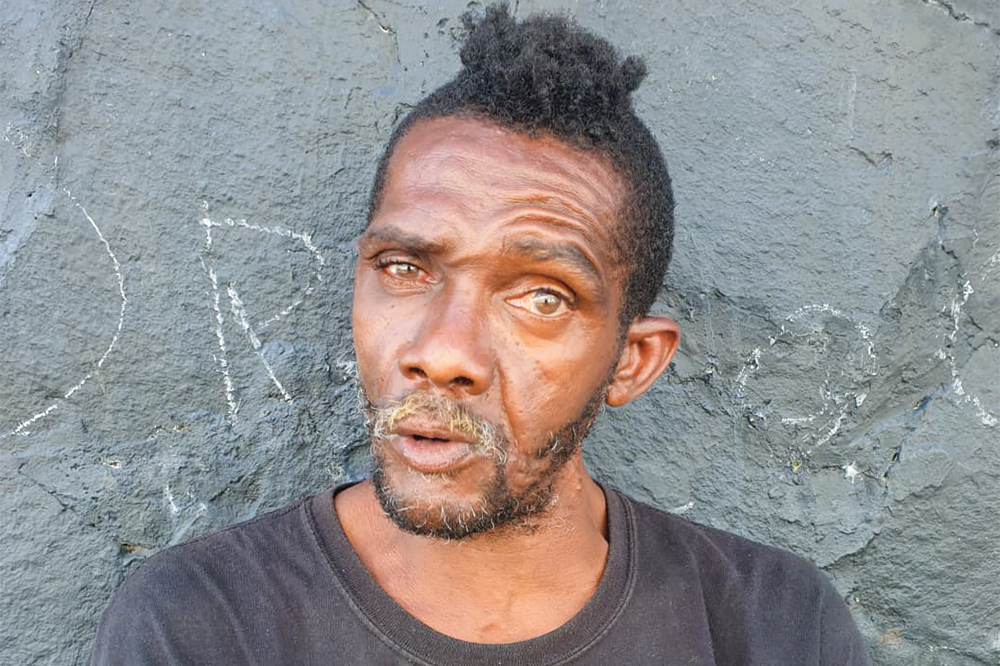 Front Page
December 9, 2022
Former Tennis hopeful warns – don't use drugs, use wisdom(+ video)
If Rohan "Cooman" Adams could miraculously re-live his life, he would not pursue tennis and he would definitely not use cocaine.
Adams, a known character on the streets of Kingstown, told SEARCHLIGHT on Tuesday, December 6 from his base at the OT car park, that if he could rewind the hands of time he would choose to serve God in some capacity as playing tennis and using drugs have done nothing for him.
While some may question his conclusion one thing is certain; the Cemetery Hill, Kingstown resident who was born on November 4, 1974 admits that he has made some bad life choices and regrets getting hooked on cocaine.
Adams, once a force to be reckoned with on the local tennis circuit, said he learned to play Tennis with someone named Alford Lynch.
He said he and O'Nike Spann, another local tennis player, were introduced to the game together and used racquets made from coconut branches. He was around six or seven when he began playing.
Adams said he was somewhat slowed by a hernia, hence the name "Cooman" ("coo" is the colloquial term for a hernia) but he took several operations and later excelled at the sport, going to places like St Lucia and Martinique later in his life with the support of persons like the late Governor General, Sir Frederick Ballantyne, and Scott Hadley, among others.
In a 2006 SEARCHLIGHT article, Adams was described as 'an undeniable talent', scoring victories over the likes of Alex Layne, O'Nike Spann, Enrique Riveroll, Grant Connell and other top juniors of the eighties, ensuring him a place in local Lawn Tennis history.
He recounted that he once had an opportunity to go to Toronto, Canada to play tennis but the opportunity was taken from him by someone "who encouraged them not to send me", and that has always remained with him.
"We played at the tennis court in New Montrose and it sad to see cars now being fixed on one side," Adams said, while pointing out that both courts are in disrepair.
He also said at one point money being allocated to repair the courts by an entity he cannot recall, but the money was not used for that purpose.
"….but if it was, persons like O'Nike would be able to put the facility to good use," Adams commented.
He said he stopped playing tennis around 1996, but has tried to make comebacks- supported by persons such as his former junior compatriot Grant Connell, now a lawyer- but those attempts failed.
When questioned about his cocaine addiction, Adams said he was introduced to the drug by a European woman during a visit to Union Island.
"I got hooked by a white woman name Jennifer. She from Switzerland…she gave me 300 Euros," Adams said on Tuesday, while adding that in his mind, most of his misery started when he was stopped from leaving the island with the Swiss woman.
He said he was stopped by police who removed him from the sailing vessel he was on after someone told his mother he was leaving.
Adams said back in those days, people were saying unrealistic things like "the white woman going cut out yo heart and give the devil".
He said when he was stopped from leaving the country, "I took the Euros and spent it on drugs and almost went crazy" because of the extent of his use of crack cocaine.
Adams said he would never encourage persons to use the addictive drug.
"My advice to young people…use your wisdom, wisdom is power…I would never advise a youngster to smoke cocaine, and I am 48.
"You know how many people try to pay me and tell me go and buy it for them…God strike me down dead…you know I never come back, I run off with the money," Adams confessed as he called the names of persons who he claimed have sent him to purchase the drug for them.
Adams said living on the streets is not easy but he is positively supported by persons who have taken a liking to him, including owners and workers at the garage where SEARCHLIGHT met him.
In addition to recounting some of his life's struggles, Adams gave SEARCHLIGHT a demonstration of what he can still do with a tennis racquet and ball.