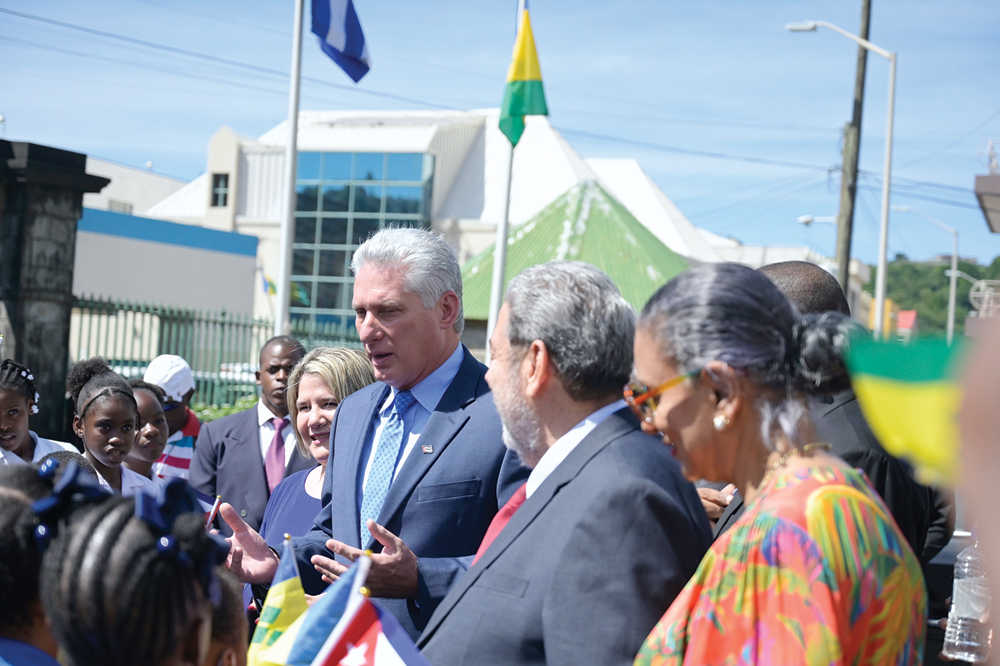 Front Page
December 9, 2022
Cuban President rejects US Human Trafficking claims
The President of Cuba, Miguel Diaz-Canel has rejected assertions by United States officials that the Cuban government is engaged in Human Trafficking by sending its citizens to work in other countries.
The president, who wrapped up a three day official visit to St Vincent and the Grenadines (SVG) on Monday, December 5 said during a tour of a medical facility in Georgetown, that professionals from his country who travel to St. Vincent and the Grenadines for work are doing so of their own volition and are not part of any human trafficking arrangement.
His comments were made during a tour on Sunday, December 4, of the Modern Medical Diagnostic Centre (MMDC) in Georgetown which was constructed with help from Cuba.
During his official State to SVG from December 3-5 he convened meetings with senior government officials, and toured facilities which were part-funded by the Cuban government.
Prior to the President's remarks, Prime Minister, Dr. Ralph Gonsalves had spoken about the claim made by the United States government that healthcare personnel sent by the Cuban government to work in countries around the world are victims of human trafficking.
The US-based Human Rights Foundation (HRF) released a report in August of this year titled 'Human Trafficking in Cuba's Medical Missions' where it examined the state-sponsored programme which was established in 1963.
The report spoke to a "coercive recruitment environment" used to draft healthcare professionals to participate in the programme. The report also claimed that the health sector, which is run solely by the Government of Cuba, disallows doctors from practising medicine privately, "traps doctors in an employment relationship where the State holds disproportionate power, leaving doctors with almost no authority over the conditions of their employment."
To this, President Diaz-Canel said "People are coming down here out of their own beliefs, people are not coming here on an obligation. "People are not coming here like the Africans who were brought to our lands as slaves.
"The Cubans who are here came out of their own beliefs and convictions and they are doing everything they can to assist the people here," President Diaz-Canel said.
He said the MMDC is the vision of former President, the late Fidel Castro who led the country for five decades, adding that the Centre is built on the basis of solidarity and regional integration.
"…we don't have plenty of doctors or resources or technology to share, but rather it was our principal to share whatever little we have with our brother and sisters. In the design concept of this medical facility, Fidel's vision of health was present. He had this vision of this centre where diagnostics services would be provided because in his belief prevention is most important…if they fall sick, we have all the conditions right here in this medical facility to give healing and a better quality of life."
He spoke in support of the Medical Mission Programme, describing it as noble and beneficial, not only to Vincentians but also to Cuban professionals.
"All of this was resolved with this centre, not only with Cuban doctors and professionals coming here but also with the Cubans who are here learning, learning from the experience of having the opportunity to participate in a project as noble as this one," Diaz-Canel said.
The Cuban President went so far as to say that the concept of solidarity is one that the 'Yankees'- a term used by Cubans to refer to Americans- cannot comprehend.
"Solidarity is a lofty concept that means devotion and dedication, it is so high that the Yankees, as Ralph was saying, are unable to understand it…
" The hegemony that the Empire is guided by is not helping the empire understand and setting aside a space where solidarity can exist. "What one would have to claim- this is a weird kind human trafficking."
The President of Cuba and his delegation left SVG on Monday, December 5 for Barbados to attend the eighth CARICOM-Cuba summit.