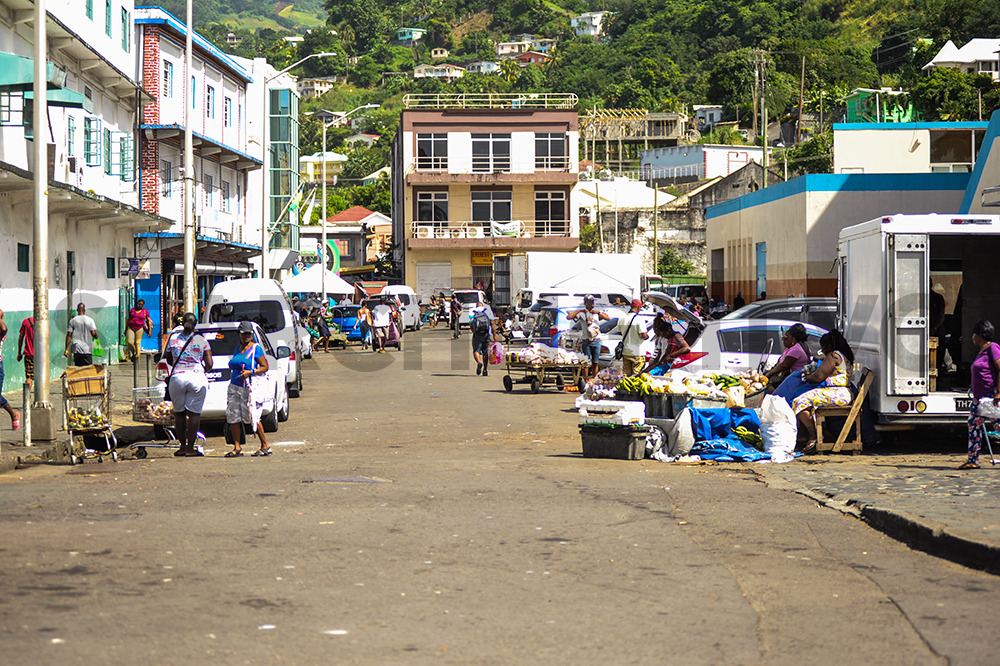 Front Page
November 29, 2022
No vending on the streets of Kingstown from today (+ video)
The deadline for the cessation of street vending in capital, Kingstown has come into effect with the streets being cleared and the new markets filling up.
Over the last month, officials of the Kingstown Town Board (KTB) have been issuing notices to vendors informing them of the ban on street vending and encouraging them to register to be assigned a stall in the newly opened vegetable markets.
SEARCHLIGHT understands that the allocation of stalls is about 80 per cent complete, with vendors flocking to the Town Board office yesterday, Monday, November 28 to complete the process.
In the Uptown Market, 79 of the 99 spaces had been allocated, while in the Down town Market fewer than half of the 182 stalls were occupied.
When SEARCHLIGHT visited the popular street vending spaces on Monday, one day ahead of the deadline, most of the makeshift vending structures had been removed. Vendors had been instructed by the KTB to have all structures removed by Saturday, November 26.
Some vendors, though, were still seen skirting the KTB directive and were vending from old supermarket trolleys and carts at the corner of Bay Street and Bedford Street, and in the areas close to the entrance of the Windward Bus Terminal.
The relocated vendors told SEARCHLIGHT although they are worried about the loss of sales they are pleased with the new workspace.
"This is my first day and so far it feels good and it looks good. Before I was out by the Port Authority…we had challenges with the rain and the sun. That [low sales] could be a challenge but I believe if everybody inside, the buyers have no choice but to come and look for us," Uptown vendor, Patrina Baptiste said.
"I feeling okay inside…when rain come me whole skin wet down and sun ah kill me outside. So far I getting a good sale. They should have leave me on the road 'til Christmas, but if we have to come in, we have to come in ," a female vendor in the Down town Market said.
SEARCHLIGHT understands that Kingstown Town Board officials met with the police on, Sunday, November 28 to finalize plans for the regulation of informal street vending.
A Town Board official said discussions between the authorities and vendors are ongoing as it relates to the storage of vegetable produce in the new markets, as vendors had expressed concerns about potential vegetable spoilage.
RELATED ARTICLE: City vendors who were moved to get relocation allowance