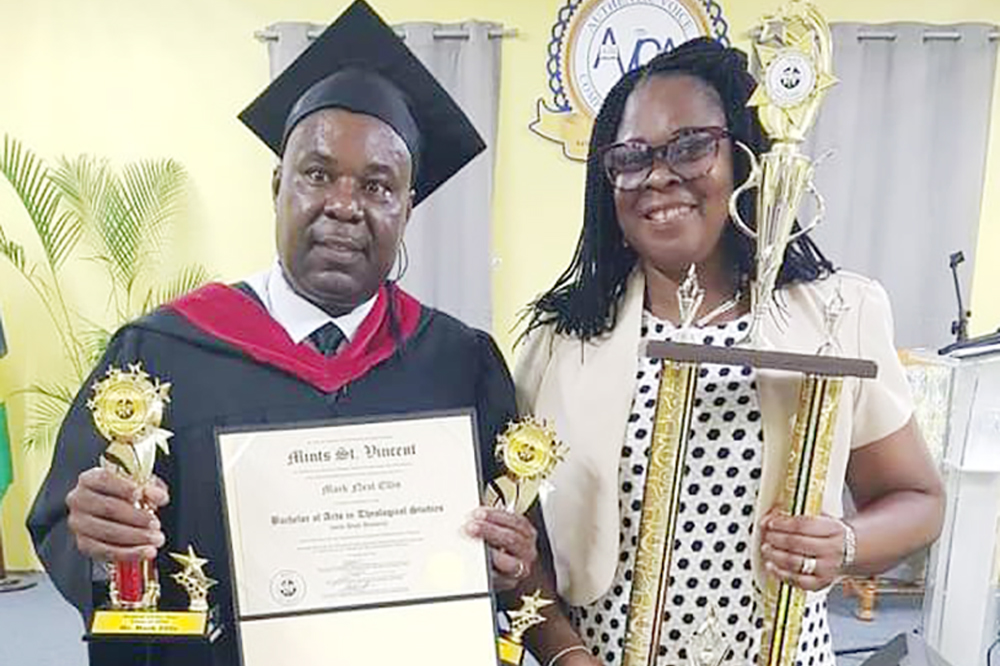 Front Page
November 29, 2022
Ellis – from alcoholic high to calling from on high
Inspector Markneal Ellis who recently graduated with a Bachelor of Arts Degree in Theology, wants the world to know that had it not been for the grace of God, his life would have taken a different path, a path of sure destruction and a painful end.
Inspector Ellis graduated with Honours and was also named Student of the Year when the Minits Bible College in Arnos Vale held its graduation on Saturday, November 26.
The now Reverend Markneal Ellis is the Inspector in charge of the Argyle Fire Station.
However, life for this pastor was not always an easy road, although he literally "grew up in the church."
Ellis, who is originally from Byera told SEARCHLIGHT in an interview yesterday, November 28 that grew up in the Gorse Apostolic Faith church, with his grandmother.
"But as you get older, you move away and start doing your own thing."
Ellis began drifting during his teenage years, and he became entangled in the addictive web of alcohol, and spent many years just existing on the brink of life.
He admitted that he began using alcohol at the age of 14 years.
At that time, he was a student of the North Union Secondary School and he fell victim to peer pressure.
Speaking about the start of his strong rum addiction, Ellis said "to be honest, I saw the older guys doing it, and then I started taking a sip."
"I used to play football for the school, and whenever we won a game, we used to celebrate by drinking rum and coke," he recounted.
"The sip turned into addiction and I literally drank alcohol for about 20 or 22 years.
"I went into the Police Force in 1990, but it was all alcohol.
"It was terrible, there were times when I used to be drunk like three times per day."
For many years, Sunset Strong Rum was his drink of choice, along with whisky, brandy, vodka and other alcoholic beverages.
His life was going downhill very fast, and his will power to kick the alcohol habit was just not strong enough.
"There was a time when I didn't have money, at that time I was working in immigration," the Inspector turned Pastor recounted.
Whenever he received his salary, he had seven and more rum bills to pay, and his money just went down the drain.
But, "there were persons who were praying for me."
Ellis remembered one occasion when he got home "drunk as a fish" and his wedding was almost called off, unless he pulled himself together.
"I went down on Colonaire Beach the next day, right below Mr Warrican, and I started praying…I said God, please help me to get rid of this alcohol addiction."
He made a bargain with God to allow him to live to marry his sweetheart, and he will give his life over to God.
"We got married, and then a week or two after, I was still drinking alcohol."
Ellis recalled an incident where he had a bit of strong rum, and drank beers even after making that promise to God.
But he was restless and claimed "the Holy Spirit was speaking to me," and reminded him of his vow to God.
"I couldn't sleep, I was restless, and then the next morning…I said to my wife, let us go back to the church where we got married."
The day he had planned to return to church, a friend invited him on a goat cook. But this time around, Ellis mustered the strength to attend the Berean Baptist Church in Georgetown instead.
That day, 16 years ago, he surrendered his all to Jesus, who set him free from the shackles of alcohol addiction.
Apart from God, Ellis is very thankful to his wife, Ertrice who never gave up on him, and was also a source of strength and comfort.
"My wife was always there for me," he reflected.
His wife also gave her life to Christ on that day in Georgetown, and since then, their lives have been transformed.
"I have never gone back to alcohol since 2006, and this is all because of God.
"Sixteen years ago, God delivered me from the gutters of alcohol, if He didn't, I would have died already, under the influence of alcohol."
Having been set free from his addiction Ellis believes that with God, all things are possible.
For the past 10 years, he has been preaching the word of God at various churches in St Vincent and the Grenadines, including at the Gorse Apostolic, where he spent his formative years.
The police Inspector is thankful to God for saving him from the clutches of addiction.
He takes no credit for his degree, or even for being named Student of the Year.
"There is a scripture that I love; It is 1 Corinthians 15:10…but for the grace of God, I am what I am."
RELATED ARTICLE: Survivor from tragic accident at Old Sandy Bay thanking God for sparing his life