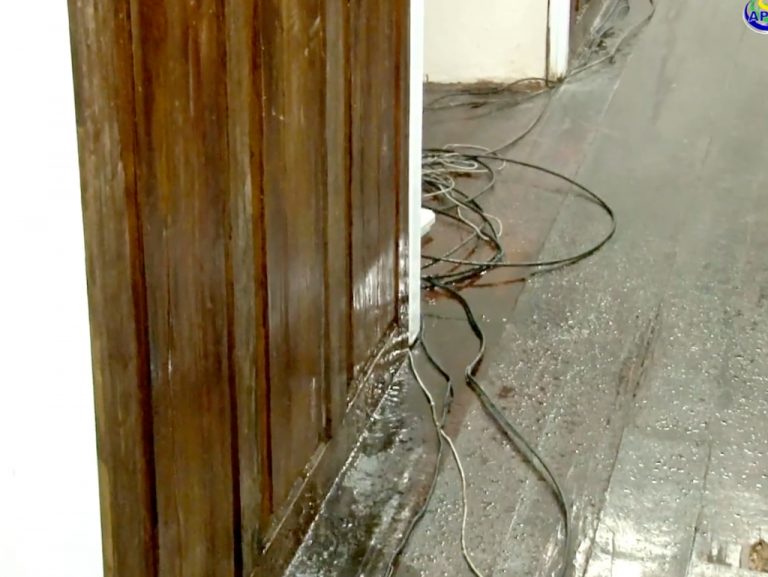 Front Page
November 22, 2022
'River in Parliament' interrupts sitting (+Video)
What has been described as the 'river Parliament' started to flow during Monday's sitting in the House of Assembly located upstairs in the High Court building.
Members of Parliament were debating amendments to the Excise Tax Amendment Bill, the Customs Duty Amendment Bill and the Value Added Tax amendment regulations just after midday, when water was seen to be leaking from the roof of the building as heavy showers were experienced in Kingstown.
Minister of Finance, Camillo Gonsalves stood to make his contribution to the debate when water started to pour into the building behind him. The leak occurred on the western wall of the Chamber, on the side where government members sit.
When the Minister recognized the extent of the flow of water, he paused in his remarks to address it, while advising Members to "watch their electronics".
"I am hoping that it doesn't bless me, and more importantly, my electronics."
Minister Gonsalves used the opportunity to provide an update about the work being done on the temporary Parliament building being constructed at Calliaqua.
"It should please you to know Madame Speaker, that the temporary parliament, it won't be ready for our budget debate, it is progressing well. I was there over the weekend and the contractors are in the process of installing the roof, which I expect will be more reliable than the roof under which we now operate."
The Finance Minister said the infrastructural issues highlighted the need for improved facilities.
"… now we are seeing what we have been pointing out for a while, that this building is in need of serious repair. And that is why the temporary Parliament building and the permanent Parliament facilities are being created.
Staff of the House of Assembly were seen shifting furniture from the area where the leak occurred. A new Parliament building and court complex will be constructed at Richmond Hill.