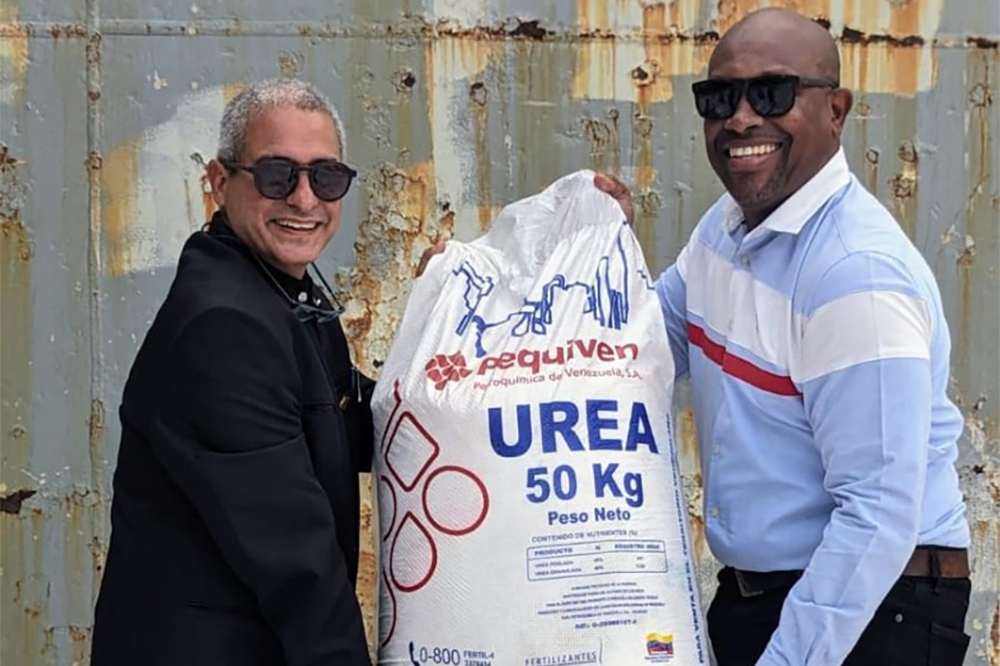 Front Page
November 18, 2022
Big bill for unloading of 'decade worth' of urea from Venezuela
Government will incur an expense of close to $400,000 in the process of offloading the shipment of urea received from Venezuela.
Some 40,000 sacks landed at the Kingstown Port on Sunday, November 13 where work commenced on offloading and moving the fertilizer to various distribution points across the main island.
Speaking to the media, Minister of Agriculture, Saboto Caesar, said the shipment is calculated to be around ten years worth of fertilizer. He explained that urea has a shelf-life of one year and so plans are being set to get the materials out to farmers as soon as possible.
"We have a year to use a decade worth of urea, there are many farmers and farm owners that utilize these lands during the banana industry…when you look around St. Vincent and the Grenadines you see acres of unused land and this is an excellent opportunity now that we have a significant contribution of urea valued at approximately $6 million EC here in our hands to expand production."
Considering the size of the ship, Minister Caesar said the plan is to "utilize this urea to more than double the production level that we have now in SVG".
Rose Bank, Spring Village, Wallilabou Agriculture Station, the Agriculture Input Warehouse, La croix and Lauders Food Terminals have been identified as storage locations for the urea, with plans being finalized for Colonaire and Orange Hill.
The Minister also said technical staff has been mobilized, to be supported by data collectors in the Ministry of National Mobilization, to effectively manage the distribution and application of the fertilizer. The distribution was set to begin on Tuesday and will continue on a monthly basis.
With regard to the need for additional farmers in St Vincent and the Grenadines Minister Caesar called on Vincentians who have joined the Canadian Farm Workers Programme to return to "work alongside the Ministry of Agriculture so that we can have that technology transfer and increase in human resource capacity".