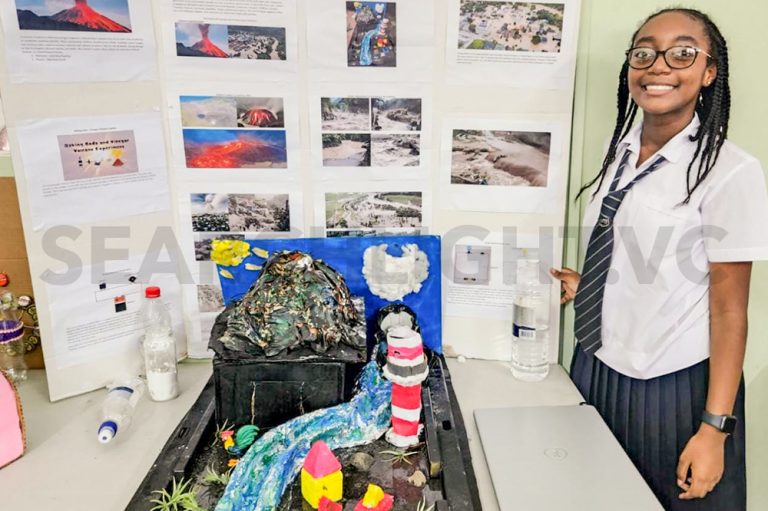 Front Page
November 15, 2022
Science students rewarded for their creativity and innovation (+Video)
Students from across the nation received their awards last Friday, November 11 having showcased their 'scientific innovation and creativity' at The Vinlec National Science and Technology Science fair.
The Central Leeward Secondary School took the top position in the category of Agricultural Science in the Upper Secondary Level.
The winner of this category is Kady Joe who presented her project "Reusing Passion Fruit Shells".
"Instead of throwing the passion fruit shell, you can reuse it to plant seedlings inside because [the shell] is biodegradable. It provides nutrients for the soil."
Joe credited her teacher for the idea and shared that her confidence in the project grew with the more compliments she received.
Ginniek Shallow represented the St Vincent Girls' High School with her "Portable Fridge" project and won the Upper Secondary Physics Category, Most Outstanding By Sub Level, and Most Outstanding Secondary Project.
Shallow explained that the fridge works by putting ice into a component at the top, and then the fan, which is battery powered, will spin to cool the drinks.
"The reason I made this project is that a lot of people have been complaining about the heat, not being able to enjoy cool drinks because of the heat; so I decided that I could make something cheap and effective and portable."
Joe and Shallow were among several other students who spoke in exclusive interviews with SEARCHLIGHT prior to the award ceremony and the announcement of the winners.
Ennabelle McMaster of the St. Vincent Girls' High School won in the Lower Secondary level with her project, "Building a Resilient Nation" in the category of Behavioural Science.
She explained that resilience is an important skill for everyone to develop because it maintains mental and emotional health in the face of adversity. Her research project consists of a pocket in which students can pick a piece of paper which shares words of encouragement.
"After the pandemic and the volcanic eruption, the word resilience was showing up a lot of places so I researched it and I thought it would be a nice project."
McMaster said though she was confident about her project, she encountered difficulties in the judging as she was asked questions she wasn't sure how to answer.
Kiley Daniel, Abigail Garrick and Gabrielle Rouse ,all students of the Thomas Saunders Secondary School won in the category of Food Science in the Lower Secondary Level with their project, "Cool Mints".
Garrick said the aim of the project was to see if mints can be used as a cooling mechanism. She explained that they used three store bought mints and a leaf of a mint plant and found that while all the mints cool down the liquid, the natural mint leaf dropped the temperature of their liquid lower than the store bought mints.
"I thought it wasn't going to work because to me, before all of this happened, I didn't think that mints would actually cool down liquid."
Daniel, Garrick and Rouse won the Food Science category in the Lower Secondary level.
Christel Sutherland of the St. Vincent Girls' High School left students of the School for Special Needs in awe with her "Natural Disaster Detection System".
Sutherland explained that her system focuses on volcanic eruptions and flash floods, and is designed to detect signs of natural disasters and send alerts to the public via an alert sound system and a lighthouse system for the deaf.
"My judges came really late…and I was worried because I didn't know how they were judging; and there were judges that were just walking around, looking at the projects and just walking away, so I was thinking to myself, [my project] was not good. But then I realised that the judges had specific numbers to do, so when my judges came it wasn't hard, but it was a real learning experience."
Sutherland's project won in the Lower Secondary Level in the category of Environmental Science and the Most Outstanding project by Sub Level in the Lower Secondary category.
Jacquan Jackson, Joemaine Tesheria and Kamal Rocque of the Union Island Secondary School won the Upper Secondary: Engineering Category with their project, "Solar Panel Table Fan".
The group explained that their fan is efficient, rechargeable, reusable and clean for the environment. They also noted that while it is light and portable, it still performs its purpose.
"We made the project because on Union Island it is very hot, and most of the time current goes, so we need a simple, easy way to make a fan for when we are hot to cool us down."
The group shared that the judges were impressed, but they felt that they could have done better. They credited their teacher for the idea, and Jacquan Jackson for putting it together.
St. Vincent Girls' High School Student, Kaela Bobb, won in the Physics Category in the Lower Secondary level.
Bobb explained that her project, "Wind Power", consists of a wind turbine which transfers wind energy to transformers through underground cables, where its voltage is increased and is sent off to a small town.
"I decided to make this project because I realised there [has] been an increase in electricity bills because of oil, so I know we don't have any oil here, but we have lots of wind, so this will be a great alternative."
The awards ceremony of the VINLEC National Science Fair took place last Friday, November 11 at Kingstown Anglican School Annex.
RELATED ARTICLE: Caribbean countries harnessing the power of data science