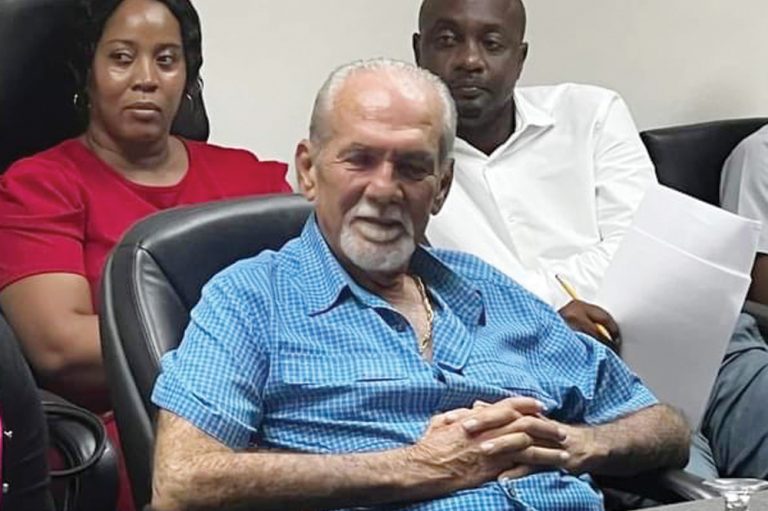 Front Page
November 11, 2022
Senator Julian Francis returns to action
Minister of Urban Development, senator Julian Francis, was present this week at a stakeholders meeting relating to the refurbishment of Little Tokyo, which houses the Windward Bus terminal.
The meeting which was held on Tuesday November 8, at Cabinet room was chaired by Prime Minister, Dr Ralph Gonsalves.
Speaking on NBC radio on Wednesday, November 9, Gonsalves said senator Francis' presence gave a fillip to the meeting.
"We had a bonus, a real bonus," he told listeners to NBC on Wednesday morning.
Senator Francis who previously a Minister of Transport and Works was integrally involved in the plans to upgrade the Little Tokyo bus terminal in capital, Kingstown Now, as Minister of Urban Development, that area of business also is his responsibility.
The Prime Minister said he invited the senator to the meeting, and sent for him in one of the vehicles attached to the Office of the Prime Minister.
"He was warmly received."
Dr Gonsalves said during the meeting, Senator Francis was sharp and to the point, and was laughing and joking as usual.
The price tag for the upgrading of the Little Tokyo Bus Terminal has been placed at US$5-million and the ALBA Bank in Venezuela has recently provided half of the money needed for that project.
Francis, who is also Minister of Energy, Airports, Seaports, Grenadines Affairs and Local Government has been absent from the public for a while now since he fell ill in July just ahead of the Convention of the Unity Labour Party (ULP).
Francis, who is also the General Secretary of the party suffered a stroke on July 21 this year.
The 71 year old senator was treated at the Milton Cato Memorial Hospital and later flown to Barbados for further neurological treatment.
He returned to the state in August.
The Prime Minister noted on Wednesday, that as a result of the stroke, Senator Francis is walking with a little limp.
Tuesday's meeting was attended by relevant stakeholders from various state agencies.
It was also attended by Minister of Transport and Works, Montgomery Daniel and Minister of Finance and Economic Planning, Camillo Gonsalves.
In a post on his Facebook page, the Finance Minister said in part that the issue of Little Tokyo is dear to senator Francis' heart and "central to his role as Minister of Urban Development.
RELATED ARTICLE: Senator Julian Francis warded at the Intensive Care Unit