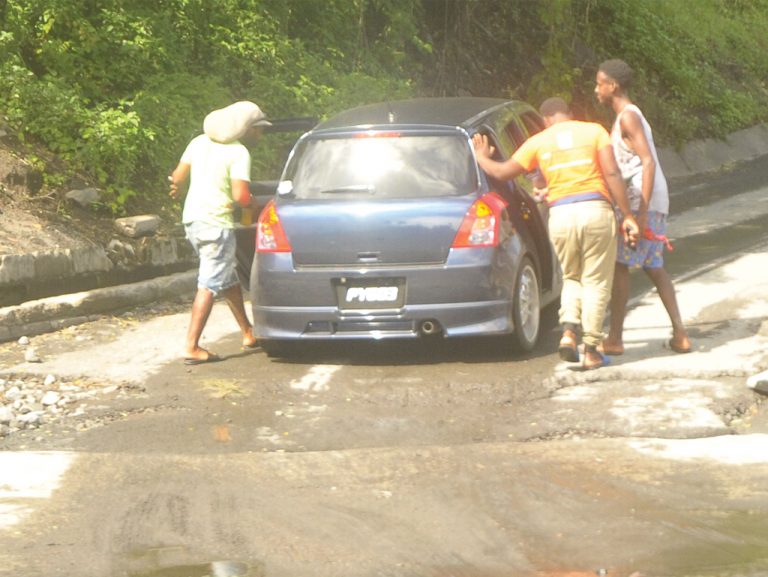 Front Page
November 4, 2022
Residents welcome Bailey Bridges, but have concerns
Residents living in North Windward are quietly encouraging the two contracting companies to complete the installation of the Bailey Bridges at the Noel and Overland river crossings.
SEARCHLIGHT spoke to some of these residents on a visit to the area yesterday, Thursday November 3, who although they did not want to go on record to state their concerns, were happy to do so anonymously.
A female resident of Sandy Bay said she has been praying for years for a solution to be found, and the situation has been getting worse since the volcanic eruptions in April 2021.
She said that now, it is not just the volume of water but the huge amounts of sand which washes down the river, making it a miracle that no life has been lost.
Another chimed in saying just that morning a bus could have been washed away had it not been for the "good hand of GOD."
They said the driver attempted to drive across the Noel River but the wheels got stuck in the loose sand. As the driver continued trying to get the vehicle loose, water from rainfall in the interior came rushing down, but not in the huge volumes as seen in the past.
They are fearful that the huge amounts of volcanic debris being washed down in the rivers with each shower of rain may cause delays to the project.
Although work on the Bailey Bridge at Overland is in a more advanced stage there are other concerns which residents expressed.
Due to the rains on Thursday, no work was done on the bridges.
One resident pointed out that there is a drop in the bridge currently in use at Overland which is causing problems for some types of vehicles.
Bus drivers are forced to be very careful in negotiating the drop so as to avoid causing any damage to the undercarriage of their vehicles.
One minibus driver said he is fearful that with the amount of rain which is forecast, the bridge may drop some more, forcing them to find an alternative to crossing the Overland River, before the Bailey bridge is complete.
Water now constantly flows over the bridge since the passage beneath the bridge is blocked with sand and other debris.
At Noel it is observed that debris there is almost at the same height as the two abutments for the new bridge and has caused a narrowing of the river passage.
Residents are figuring that if the abutments are not raised, the amount of debris which can accumulate may cause the water to overflow the Bailey Bridge after construction.
Notwithstanding their concerns, the residents said the installation of the Bailey Bridges will be a far better solution than being stranded at either river crossings.