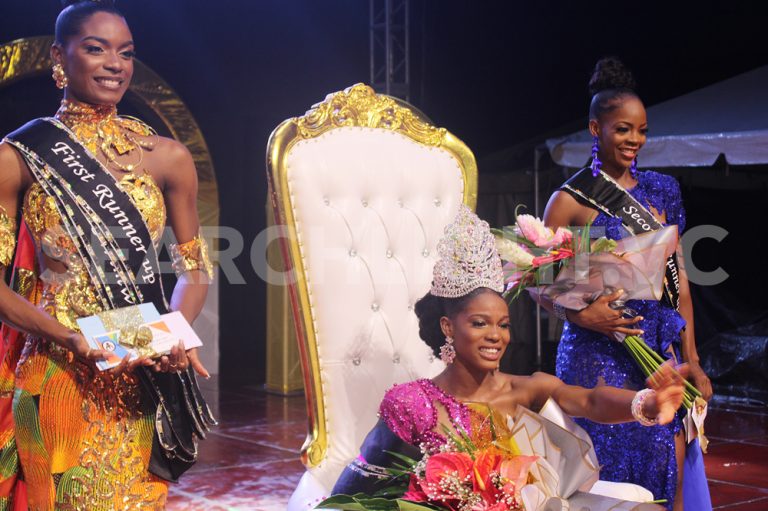 Front Page
November 1, 2022
Jada Ross is the new Miss SVG (+Video)
Jada Ross wowed patrons at the Arnos Vale Sports Complex on Saturday, October 29 as she edged out seven contenders to lift the Miss SVG crown.
The show which saw a large turn out of patrons despite wet weather conditions, was making a return after a three year break due to the COVID-19 pandemic and the eruption of La Soufriere volcano.
The highly anticipated show, at the packed venue featured eight contestants and was themed "the royal return"; it saw some changes from the usual format.
Sharikah Rodney, the longest reigning queen in the history of the Miss SVG pageant ended her reign on the night of the show when she crowned Miss Lotto, Jada Ross as the new Miss SVG.
Ross won herself a university scholarship, a cash prize of $8,000; an HP Laptop, sponsored by Courts SVG; a penthouse suite for two persons for two nights inclusive of breakfast, lunch and dinner at the Beach Combers Hotel; and a Spa certificate sponsored by Bamboo Spa SVG.
The first runner up was Shadyn Mc Lean, Miss Davyn who will receive sponsorship from the National Insurance Services (NIS) for a certificate course at The University of the West Indies (UWI); a cash prize of $5000.00; a weekend getaway for two, plus dinner, sponsored by Grenadines House; and a Spa certificate sponsored by Haus of Aesthetics.
Miss Flow, Shanyah Peters placed second runner up winning herself a certificate for a UWI course sponsored by the NIS; a cash prize of $3000.00; and a weekend getaway for two, plus dinner, sponsored by Sunset Shores Hotel. She will also receive a spa certificate sponsored by Precision Contours Beauty Clinic.
The contestants appeared first in Cultural wear during which they did their introductions. This category was captured by Miss Flow, Shanyah Peters whose cultural wear was entitled "Market Morning."
The contestants then showed off their modelling skills in the swimwear segment which was won by Miss Davyn , Shadyn Mclean.
The third category was the talent segment which was dominated by Miss Lotto, Jada Ross who drew awareness to mental illness in an act entitled "Crazy Decent".
The best in evening wear category was captured by Shadyn Mclean.
Jada Ross also won best interview.
Awards for the non-judged categories were mostly captured by Miss CEDCO, Shannan John who won the People's Choice Award, Miss Congeniality, and Miss community spirited.
She was also awarded best community service project, her theme being "Promoting safety and reducing crime one step at a time."
The second place award for best community service project went to Jada Ross with her "1000 acts of Kindness" project; while the third place was awarded to Shanyah Peters, who focused on "healthy steps towards healthy peps" within her Paul's Avenue community.
The award for Miss photogenic was captured by Miss Davyn, Shadyn Mclean.
The other contestants in the pageant were Miss Play 4, Pallavi Browne; Miss Intransit Exports, Rockel Coombs; Miss St. Vincent Brewery Limited, Arielle Ollivere; Miss CEDCO, Shannan John; and Miss Massy Stores Ltd, Tanique Swift.
The pageant, which previously was held during the carnival season was switched to October mainly to allow it to get its own focus away from carnival, and to introduce a more cultural/heritage element.
This year also welcomed some new sponsors on board, and witnessed the introduction of a new judged category "cultural wear."
Chairperson of the Beauty Shows Committee of the Carnival Development Corporation, Aviar Charles told SEARCHLIGHT that she is happy that the show is over, noting that "It has been a tiring experience but very rewarding seeing the final product."
"We have started doing some evaluations," she added.
"One of the things that I've always said is that we are open to feed back, positive feedback from the public, and ways in which we can improve. So, I think what the committee will be doing is taking those things into consideration and looking for ways to improve and maintain what we have built so far," Charles concluded.