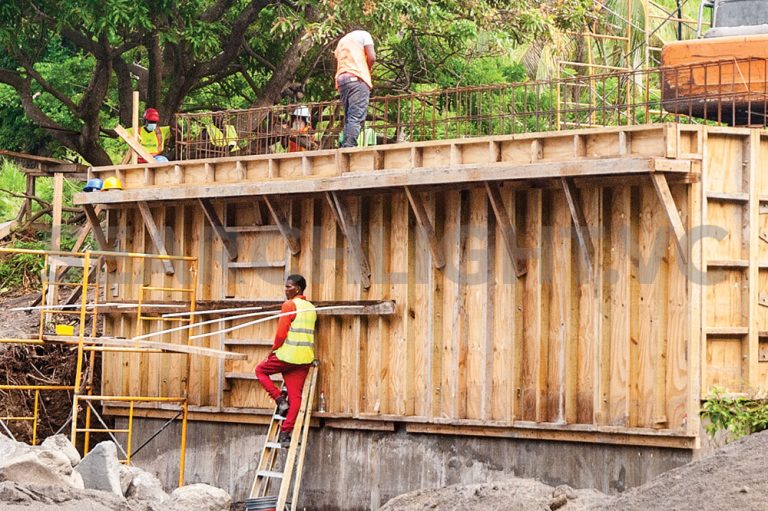 Front Page
September 23, 2022
River crossing nightmares in North Windward will end by Christmas – Official
AN OFFICIAL WITH the engineering company, Sea Operations SVG Limited has given the assurance that by year-end residents who live beyond the Rabacca Dry River will no longer have to suffer inconveniences caused due to flooded rivers.
Commuters both on foot and in vehicles have for years been left stranded on the banks of rivers located in North Windward as heavy rains cause these rivers to flood.
However, supervisor of Sea Operations, Kyron Cockburn said that by December of this year, this situation will be a thing of the past.
"…I am feeling real comfortable to say that because I also have experienced this," Cockburn told SEARCHLIGHT.
" I am living up here. I come up on a Monday and go down on a Friday, so I have the experience of seeing this river coming and people have to wait hours, because I have had to wait hours. That was about two weeks ago when we waited for the river to subside and that we could pass to go over," he noted.
Sea Operations SVG Limited is constructing two reinforced concrete abutments, approach concrete surfaced roads, and the installation of a temporary by-pass Bailey bridge at Overland, at an estimated contracted cost of EC$725,717.18.
Construction work began on August 8 and is due for completion within three months.
"Without any major problems the people over the river may very well get a Christmas present," Cockburn added.
Over the last weekend copious rainfall caused a heavy deposit of silt to build up in the river at Noel, but Minister of Works, Montgomery Daniel said the river at Overland withstood the test.
"I know the people are waiting on this to finish so that they can cross easily. Some people park their vehicles here and leave it here and find a place to sleep because the vehicle cannot go over, so I have a joy in seeing this finish,"Cockburn added.
He is projecting completion by November 8, if there are no delays due to rain which can prolong the work.
"Maybe a couple of extra weeks, but hopefully by the ending of November we should complete everything."
The Bailey bridge to be installed at Overland is 100 feet long with dual carriageway, and a pedestrian walkway. Walls will be constructed at the side of each abutment, then the space backfilled followed by the compacting of the materials.
At each end of the bridge a 100-foot length concrete road is to be constructed as well as retaining walls before the space is filled with materials, compacted, then surfaced with concrete and left to cure.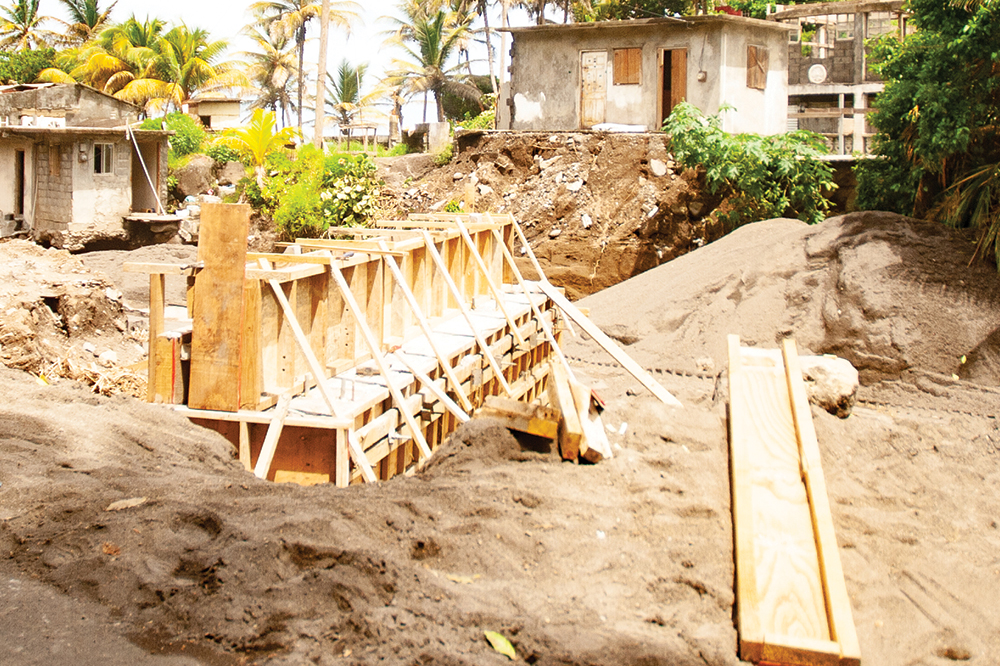 About a mile further north at the Noel River crossing, construction of two abutments is taking place for the placement of another 100-foot Bailey bridge. This work is being undertaken by K-Electric Ltd at an estimated contracted amount of EC$708,267.06, with a construction period of three months also from August 8, 2022.
The temporary Bailey bridge at Noel will be a single-lane vehicular carriageway with a pedestrian walkway. An official of the contracting firm who spoke on condition of anonymity told SEARCHLIGHT that rainfall last weekend has pushed them behind schedule, "probably six, seven days".
He said the workers spent the better part of last Monday morning, September 19 clearing debris from the road way and foundations for one of the abutments.
"When we left here on Friday evening [September 16] the river bed was at the same level as the road. This morning when we came to work, it was about 6 feet high," he pointed out.