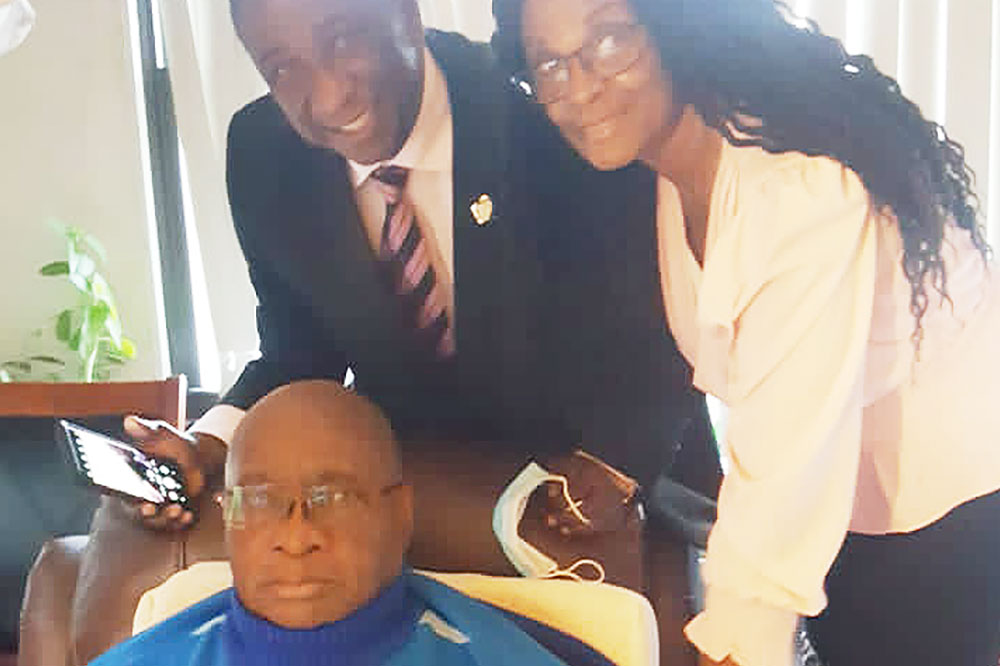 Front Page
September 20, 2022
'Sparrow' was concerned about his soul – Pastor
Vincentian Pastor and evangelist, Claudius Morgan said the Mighty Sparrow was concerned about his soul salvation when he gave his life to the Lord this year.
Pastor Morgan, himself a former calypsonian baptized Slinger Francisco, the veteran calypso bard on September 4, at the end of an evangelistic crusade in New York.
"Sparrow's baptism has opened up God to the world," the Seventh Day Adventist Pastor told SEARCHLIGHT.
"God could use anybody. When it comes to God and salvation, nobody is unreachable, nobody is too hard for God to save."
The Mighty Sparrow is yet to give a public testimony of God's goodness in his life.
In his September 16 interview with SEARCHLIGHT Pastor Morgan noted that Sparrow had been in a coma and had a near death experience before he was baptized.
While he has not testified publicly Morgan said Sparrow has been speaking about the goodness of God to persons who visit him.
One such visitor was another Trinidadian calypsonian, Edwin Ayoung, popularly known as Crazy.
"Crazy also wants to get baptized too," Pastor Morgan added.
He is thankful to God for his transforming power.
The Vincentian pastor whose calypso sobriquet was 'Samaritan', said Sparrow's sister in St Lucia is the one who initially made contact with him.
"She gave me his number and I made contact with him.
"We were talking for sometime before the baptism.
"The friendship we developed through the phone calls, after he realized I was also a calypsonian like himself, made the pathway for the decision a little easier," Pastor Morgan said.
He recalled that one of Sparrow's daughters also got baptized on the same day as her father.
"We are working on the other daughter," and hopefully, she will also be baptized.
Pastor Morgan, who is now back home in St Vincent said he never thought of Sparrow's baptism "making that volcanic eruption, and going around the world as it did."
Videos of Sparrow's baptism were uploaded to social media and went viral almost instantly.
"It shows the capacity of the man, and the fact that he is very popular."
However, at that time, the Mighty Sparrow was not concerned about popularity or fame.
The Pastor Morgan said Sparrow was concerned about the salvation of his soul.
"He took the opportunity and made up his mind to give his life to the Lord."
Just like he had the pleasure of baptizing the Mighty Sparrow, Pastor Morgan is also hoping to baptize Calypso Rose before the end of this year.
Calypso Rose, whose real name is Mc Cartha Lewis is another popular Trinidad Calypsonian.
Morgan said Calypso Rose should have been baptized already but this was delayed due to the COVID-19 pandemic at the time.
The Vincentian Pastor said he is in contact with one of Rose's relatives and he promised to baptize her when he returns to New York in December this year.
Morgan shared that his wife, Rhonda was also instrumental in working along with him and helping Sparrow make the important decision to get baptized.
The Pastor said more than 150 other persons were baptized on the same day as Sparrow.
The former Calypso King of the world is now a member of the Linden Seventh Day Adventist Church in New York.
Speaking about his own life, Morgan said, "the Lord on me, and I responded.
Morgan spent eight years in the calypso arena in St Vincent and the Grenadines before he gave his life to Christ.
Among his more memorable compositions was, "Long time school days."
The Pastor however has been proclaiming the gospel for the past 27 years during which time he said he has baptized close to 40,000 souls.