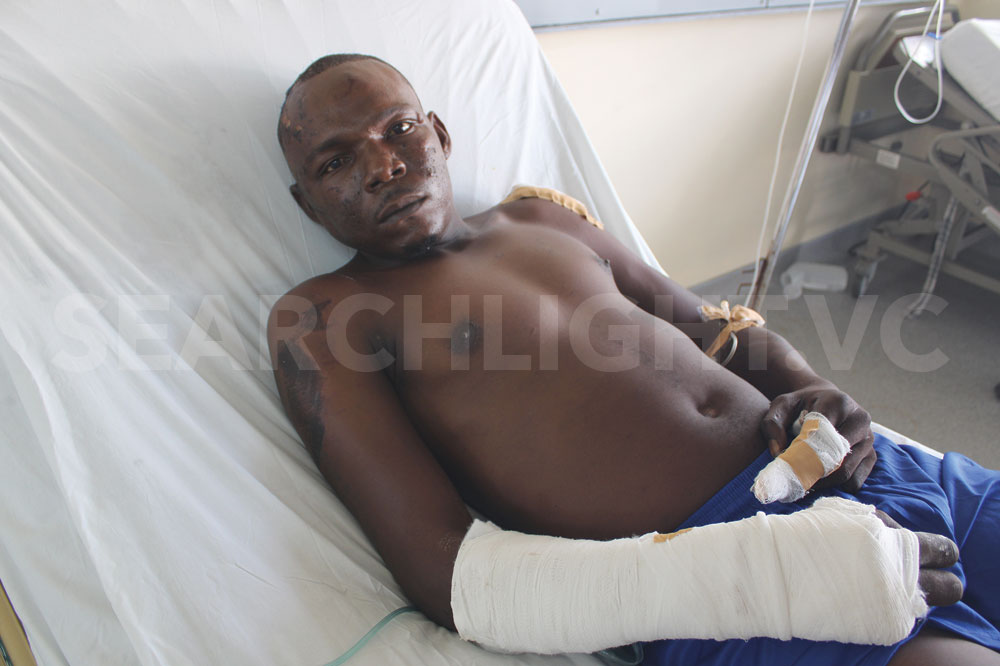 Front Page
September 16, 2022
Badly injured accident victim 'can't sleep'
A recovering survivor of last weekend's crash in Sandy Bay has revealed that he cannot sleep after witnessing his friends die in front of him.
"It happened so quick, in a moment," Toshiba Prescott, a 36-year-old fisherman, revealed during SEARCHLIGHT's visit to the male surgical ward on Tuesday, September 13, "we couldn't have a time to reflect and think about nothing."
The accident has left him in severe mental and physical pain. His right leg, which was partially amputated before the accident, is now broken; his hands are fractured; he experiences pain in his chest, and has dozens of stitches for wounds to his head.
However, he is one of the lucky ones, considering five of the passengers of Clare Valley minivan H-8190 lost their lives when the vehicle, which was being driven by Napata Louis, went over an embankment in Sandy Bay at around 2:55 pm on Sunday.
Giovanni Barker, Ishmael 'Darrel' Bruce, Elvis Harold, Colin Robin, and Kenroy Phillips perished, most of them on the spot. Numerous others were taken from the mangled wreck and transported to the Hospital in Georgetown before being transferred to the Milton Cato Memorial Hospital(MCMH).
"We just left to go by a good bredren of ours' funeral," Prescott recalled, "my soldier was driving, the brakes fell inside and he try his best to help us, save our life, but eventually the van end up and flipped over. So all I could say he do his best."
He also said, "the fault ain't come from the driver; the fault come from the van itself, probably I would say like the van brakes maybe overheat – because I used to do mechanic."
The driver tried "to bank it in the best place he could have", Prescott submitted, "which I am grateful for of my life today."
"But I feel it for my friends that die and gone. See my friend lay down in front of me, I is feeling it eh? Up to today I feeling it, I can't sleep when the night come," the patient said, repeating, "I can't sleep when the night come."
When asked if he remembers the impact itself, he described "I remember the driver coming exactly falling on me, inside of the van. I could see one of my friends leaning forward. I can see one coming through the window and I think I see the one that was in front of me, right in front of me, he was dead already. Right in front of me, instantly die in front of me. And there was two more behind the vehicle. I just only get a light little glimpse of them, I don't see what all, how it happened to them."
Prescott confirms that he has a long road ahead of him psychologically and physically.
The persons that died were his "every day" friends; they were always together, and did everything together, he said, "it come like I see my every day friends die in front of me."
"It was so hard for me. So hard. And right now, where I be I just grieving. I just have a little pain but I grieving for my friends."
Although some people were propelled out of the van when it flew off the road, and crashed into a garage at the foot of the embankment, Prescott was stuck inside.
"I remember I was screaming for help and they move a piece of blocks to get me out of the van," he explained, "Because my chest was resting on a block. So they move it for them to get me out the van, I can't remember to say directly who that move me."
At some point he lost consciousness and woke up again in the hospital.
Asked if at the time he believed he would die, he said "Yes I was feel like if I don't move from where I was, I will just die. Because I was beaten a lot from my head."
The entire village of Clare Valley is in mourning and "Most I can say thanks God for all of us who still living, and may God prepare a better place for my dead souljas. That is all I can say. Because I missing them."