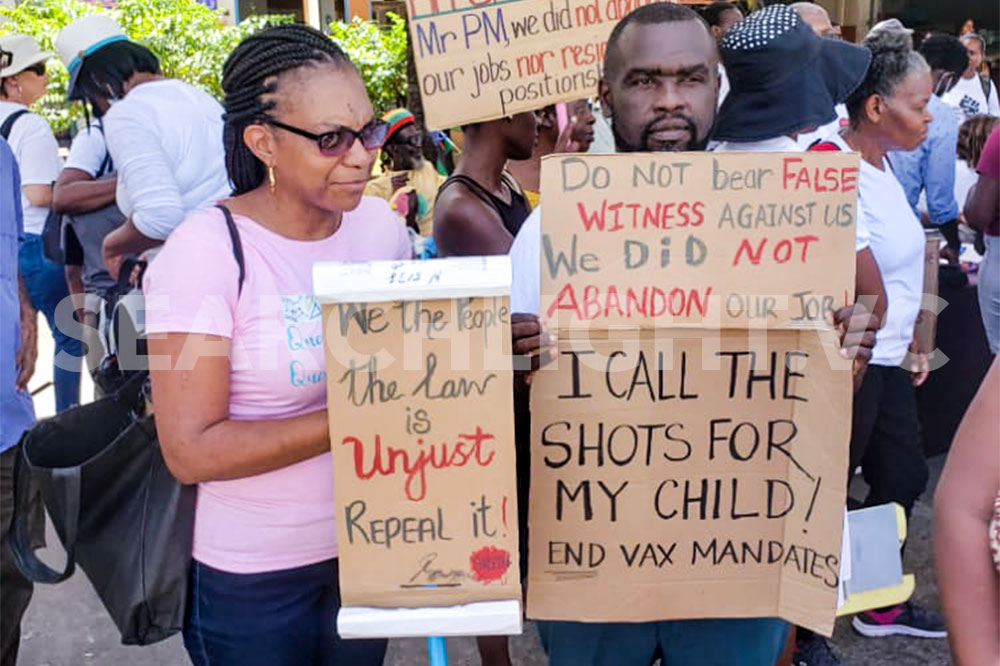 Front Page
September 13, 2022
SVGTU hoping for bigger turnout (+Video)
Teachers yesterday staged the first of what they promise would be two days of protest to highlight their opposition to the government's offer for teachers who lost their jobs over the vaccine mandate to reapply for their jobs.
The protest which is being spearheaded by the St Vincent and the Grenadines Teachers Union (SVGTU) also involves other members of the public who are also continuing to protest the government's vaccine mandate; the loss of employment of workers who failed to comply with the mandate; the high cost of food and electricity; high unemployment and crime; low wages; and poor working conditions.
Protesters assembled outside the Kingstown Vegetable Market carrying placards with such messages as: "An unjust law; Mr PM we did not abandon our jobs nor resign our positions"; and " Do not bear false witness against us we did not abandon our jobs!"
One of the teachers on the picket line told SEARCHLIGHT that she has been a teacher for more than 30 years and decided to take a stand with other teachers because she believes that people should be able to do whatever they want with their bodies. She argued that teachers like herself who decided not to take a COVID-19 vaccine should not have been terminated because everyone has a freedom of conscience describing the vaccine regulation as "unjust."
President of SVGTU, Oswald Robinson told SEARCHLIGHT that he is looking forward to seeing a larger crowd at the protest and encouraged more teachers and others to turn out in support.
He pointed to the need for more quality teachers in the classrooms and said parents need to be more concerned about this and they cannot "sit back" and "leave the struggle for the teachers".
The picket is expected to continue today.