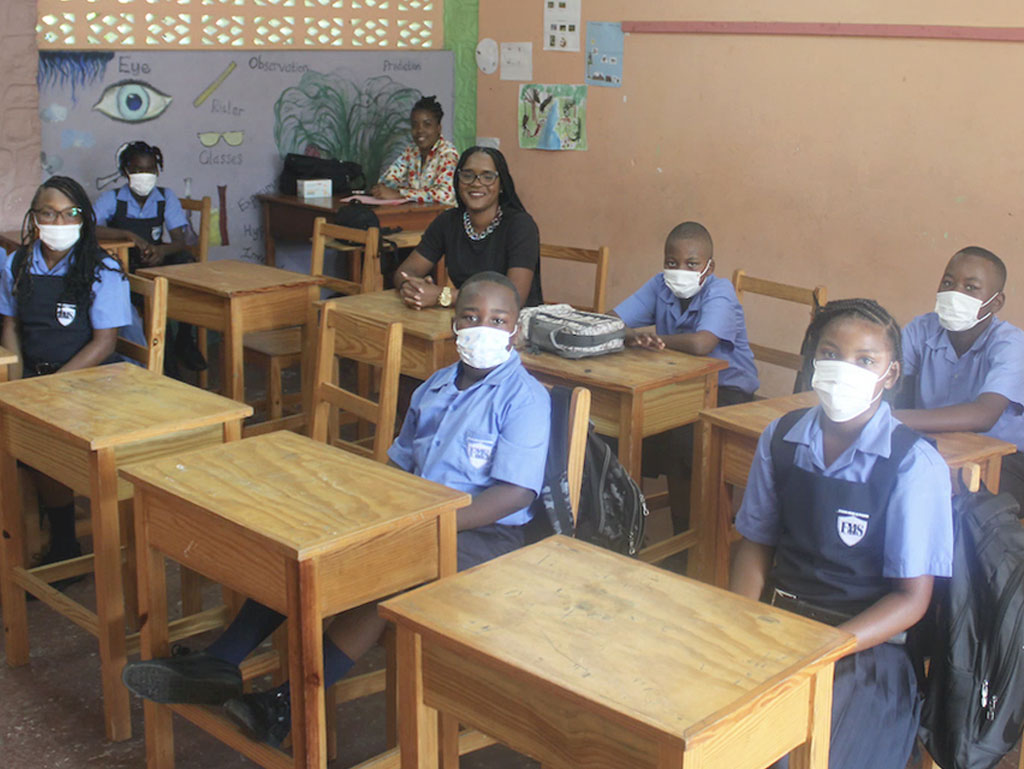 Front Page
September 6, 2022
Students, teachers, happy to be back at Evesham Methodist
Despite COVID-19 measures still being in place, teachers and students of the Evesham Methodist School were happy to return to class yesterday, Monday September 5.
When SEARCHLIGHT visited the learning institution on the first day of school, students and teachers were seen wearing face masks and sanitising upon entry to the school building. They were taking no chances despite the low COVID-19 case numbers. According to the Ministry of Health as at September 4, there were 14 active cases in St. Vincent and the Grenadines (SVG).
During the start of the COVID-19 pandemic in 2020, and after the 2021 eruptions of La Soufriere Volcano, students were forced to attend classes virtually, and later continued their instructions using a blended approach of fully face to face and online learning during that period. However, students are once again able to sit and learn in their classrooms as opposed to being in their homes.
Grade 6 teacher, Kayneil Henry said she is "pleased" that students are once again able to return to in-person learning. She expressed that there is a lot of catching up to do this school year due to the challenges that were encountered over the last two years, and she hopes that this new school year does not have too many interruptions. A main focus will to prepare her students for their upcoming Caribbean Primary Exit Assessment (CPEA). In addition, she plans to get the students, especially those who are struggling, to become more involved in the teaching and learning environment since some would have already adjusted to online learning. She plans to do this by enhancing their kinaesthetic skills and doing more hands-on activities.
Sophia Jackson is a grade 2 teacher, and Stacy Andrews teaches grade 5. They also said they are "happy" that school has once again returned to fully in-person learning given that some students were at a disadvantage when schools shifted to online instructions. The teachers said they plan to do everything possible to ensure that each student gets up to speed with what is happening in the classroom.
Principal, Damaris Martin told SEARCHLIGHT that the recommended protocols from the Ministry of Health will continue to be enforced during this new school year.
Among these are masking, temperature checks, along with hand washing and hand sanitising.
All classrooms will be sanitized daily as well, she added.
When asked about plans for the new school year, the principal noted that students have deficits in literacy and numeracy and they will be very intentional this new school term in focusing on recovery in these areas especially in reading, which is integral to learning in all other areas.
While some students may have been nervous because it was their first day at primary school, others said they were eager to return to school as they are exited to meet their new teachers and reunite with their classmates after the long summer vacation.