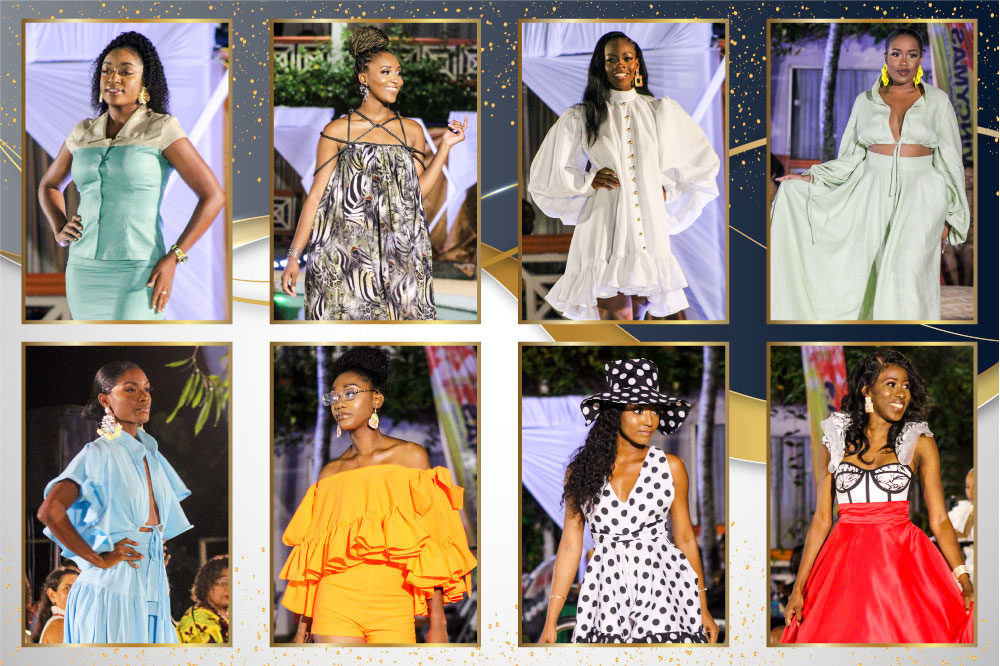 Front Page
August 30, 2022
Miss SVG candidates strut their stuff on 'The Queen's Runway'
Saturday evening's intermittent weather did nothing to stop this year's Miss SVG delegates from showcasing their signature walks on "The Queen's Runway".
The first ever Miss SVG fashion show was a sold out event and saw many Vincentians braving the weather to sit poolside at the Sunset Shores for a night of fashion.
One contestant, Jada Ross, Miss Lotto was under the weather that evening and absent from the catwalk.
But the remaining delegates and reigning Miss SVG 2019, Sharikah Rodney made appearances in five segments on Saturday night: Summertime Fine, Posh Meets Luxury Resort, Solids meet Patterns, Corporate, and A Night of Elegance.
The Queen's Runway is just one of several events in which this year's Miss SVG delegates will participate in the lead up to the pageant slated for October 29, 2022.
Chairperson of the Beauty Shows Committee, Aviar Charles told SEARCHLIGHT recently that the fashion show was intended to give local designers an opportunity to showcase their work and provide the platform for the contestants to present themselves to the public offstage and without the pressure of being in a judged setting.
The runway show featured designs from Afika Shallow of Afishall Designs; Shernicia Mayers of Atelier Shernicia; Chantel Dells of ChaDe; Kimon Baptiste of Kimmystic Clo; Owen Paul of Owen Paul Couture; Ronecia Andrews of RAC Creationz; Solange Fernandez of Solange Couture; Yonique Currency of U'nique Fashions and ; Chenise Hendrickson of Reine Du Chic in four of the segments.
All designs in the corporate segment came from Kimsha Williams of KMK Fashions.
The head of the Beauty Shows committee announced during the runway show that the theme of the 2022 Miss SVG pageant is "The Royal Return". The show usually takes place at Victoria Park but Charles also teased about a new venue for the return of the pageant.
The contestants vying for the national title are: Pallavi Browne, Miss Play 4; Rockel Coombs, Miss Intransit Export; Shannah John, Miss CEDCO; Shadyn McLean, Miss Davyn; Arielle Ollivierre, Miss St Vincent Brewery Ltd; Shanyah Peters, Miss Flow; Jada Ross, Miss Lotto; and Tanique Swift, Miss Massy Stores Ltd.
Tickets are slated to go on sale soon but several of the attendees on Saturday night had the opportunity to win free tickets.
Other prizes were also given away at various points during the fashion show.
Artistes, Hance John and Utamu 'Bongo Prime' Rose also delivered performances at last weekend's event.