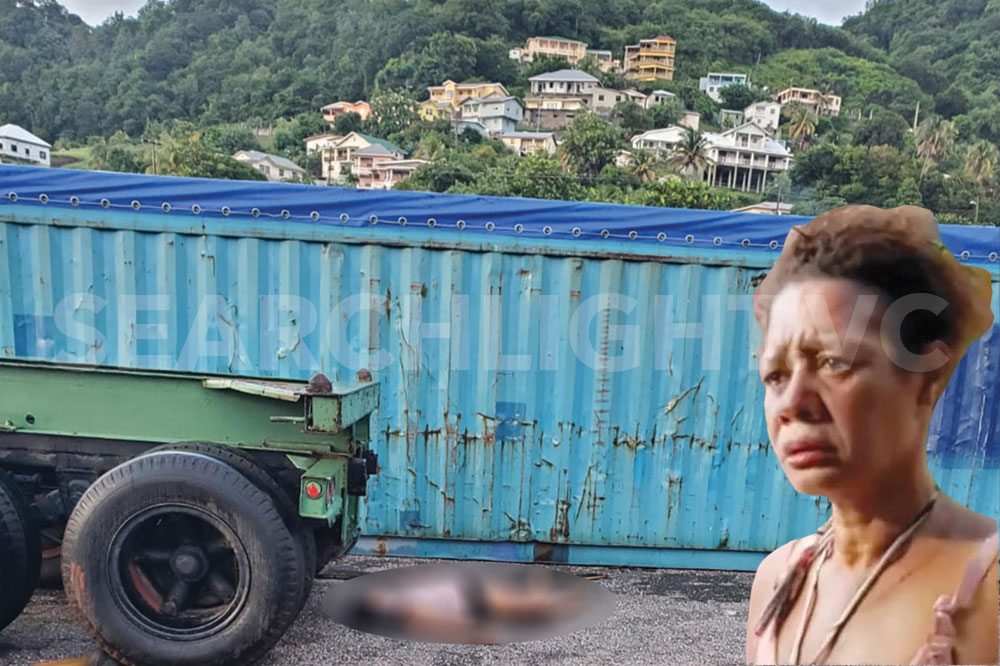 Front Page
August 26, 2022
Woman found dead with PVC pipe inserted in her body (+Video)
Family and friends of Pole Yard resident, Veronica 'Keisha' Small are in mourning after her body was found early yesterday morning with what police say was "a piece of PVC pipe" inserted into her body.
The body of Veronica "Keisha" Small was found on the tarmac of the decommissioned ET Joshua Airport at about 6:16 a.m yesterday. She was later pronounced dead by the District Medical Officer.
Neighbours and friends were outraged when they heard the news in the early morning, and say that the "friendly" and "agreeable" woman did not deserve to have her life taken in that way.
"She had a mental problem. In the night time, she used to get up and come out late late, 12, 1, 2 o clock in the night…" Anthony Jacobs, Keisha's housemate told SEARCHLIGHT yesterday afternoon. "I used to tell she, she mustn't walk so late and she still continue…"
Jacobs, who is also known as 'Johno' said he knew the deceased for a long time and considered her as a daughter.
He explained that he invited her to live with him about five years ago, as a way of helping her get out of an abusive relationship.
"This morning, I was inside sleeping and when I wake up and look in she room, I ain't see she so I wondering where she is. Next thing, a man up there named Roger come and tell me 'wey Keisha'. I tell him she ain't dey here and he tell me she dey over there on the airport dead," he recalled.
The Pole Yard resident said he does not know when his housemate, who is believed to be in her early 40s left their home on Wednesday night and he felt very sad to hear how she was found.
"She have asthma and that kind of thing so I did feel that how she take in with the asthma but somebody told me that they put some kind of conduit up inside she, like a rape. I feel sad, really bad because it's wickedness to a human being; wickedness," Jacobs told SEARCHLIGHT.
Small's death is being treated as a homicide by police and it therefore marks the 28th one to be reported for 2022.
A small group of residents of Pole Yard who knew Keisha well were perched on a log at about midday yesterday, drinking Sunset strong rum from small glasses in memory of the deceased.
Seated among the group was Carlita Hunte, who said she knew Keisha for almost two decades.
"She was a very nice person, regardless to what. She make friends with everybody. Even if she don't know you, she will make friend with you. I can't see the reason why them should do she like that," Hunte commented.
Carl, as Keisha liked to call her, told SEARCHLIGHT that though she lives close to where the incident took place, she had no idea until she heard about it on the news at around 8.00 a.m yesterday.
She promptly wrapped herself in a towel and went outside to look but by then, the body and police had already left the scene.
"When they come tell me is Keisha, me say 'Keisha? Na, na we Keisha," Hunte recalled saying when she heard the news from friends.
She also said that as far as she had heard, "it wasn't a nice death. She didn't deserve it".
The Pole Yard resident expressed the view that "a stranger" committed the crime as no one in the area would think to trouble the deceased because of how agreeable and well-known she was in the community.
Referring to where Keisha's body was discovered, Johno, her housemate noted that police may have a difficult time finding whoever committed the crime because "up so dark, bare dark. No lighting na dey up there".
Residents of the small Arnos Vale community that is located alongside the runway of the decommissioned airport, also believe that the lack of lights on the tarmac would make it difficult to catch the perpetrator.
They noted that the tarmac was well lit when the World Food Programme Hub was stationed there during the aftermath of the eruption of La Soufriere volcano in 2021, which allowed them to see "everything wey going on over there".
But that changed when the Hub was removed.
"Water come outta me eye," one man said, adding that he didn't like what had transpired as "it could've been any woman that happen to. That's a wickedness that happen dey".
Another resident of the area shared that Keisha was not one to "make no trouble" or "trouble anybody" and that he too, did not like waking up to the news of her death.
The Major Crimes Unit of the Royal St Vincent and the Grenadines Police Force is carrying out investigations into Small's death.
Police say that the circumstances surrounding her death are unknown at the moment but a postmortem is expected to be carried out on Small's body to ascertain the exact cause of death.
Persons with information that can assist with the investigation are encouraged to contact the Assistant Commissioner of Police in charge of Crimes at telephone number 1-784-457-1211; the Officer-in-charge of the Criminal Investigations Department/Major Crimes Unit at 1-784-456-1810; or any police station or police officer with whom they are comfortable speaking. The police promises that all information received would be treated confidentially.