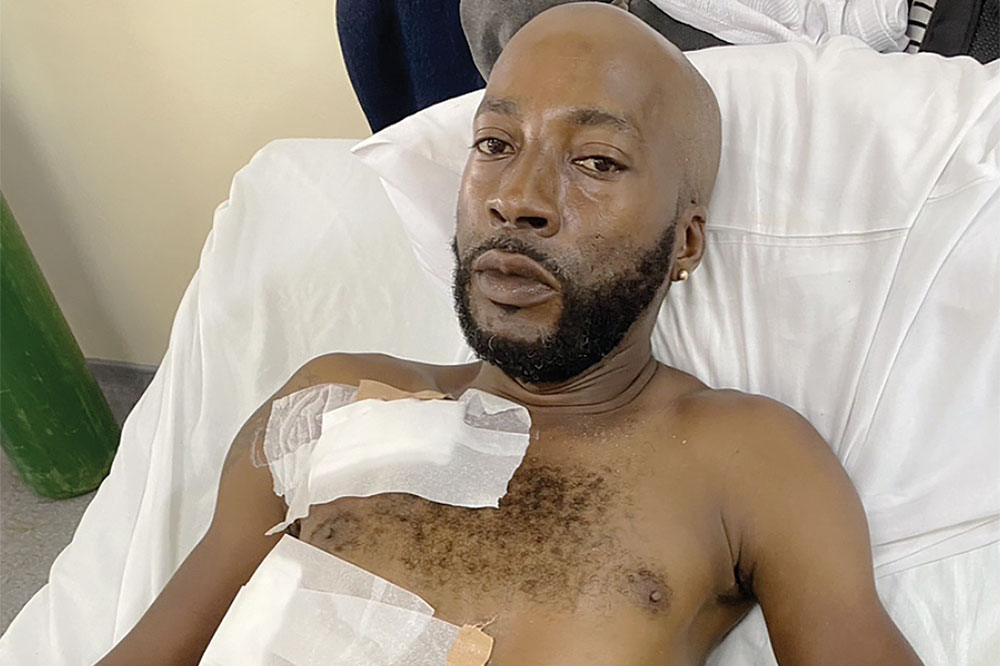 Front Page
August 26, 2022
Construction worker shot at Little Tokyo shocked that people failed to help him
A construction worker who was hit by a bullet in Little Tokyo said that when he was staggering from pain and lay wounded on the ground no one came to his assistance.
"When I get the shot, the right side felt paralysed because I was trying to get up off the ground and everybody there and nobody won't help me," Roen Richardson said from his bed at the male surgical ward of the Milton Cato Memorial Hospital(MCMH) on Wednesday, August 24. He was still swaddled in bandages and had just been disconnected from oxygen.
Richardson, who will be 41 next week nearly lost his life just after midday on Monday, August 22 when a shooter fired multiple times in the busy, wet bus terminal.
Of three/four gunshots fired, one bullet hit Richardson in his chest and exited through his back puncturing his lung and fracturing his ribs.
Asked if he feels lucky to have survived Richardson replied, "of course I lucky". He explained that although the shots weren't meant for him, the person tried to kill him "in a sense".
"Because if this bullet had come over a bit more it woulda be a different story. It woulda be a different story," he emphasised.
The father to three boys, aged between 12 and 18, revealed that he currently works as a steel bender on a site in Kingstown, but because the steel had not been sourced as yet he was not required to go in to work that day. Instead, he paid a bill, decided to stay under some shade and, "my next intention was to go by Randy and buy some grocery and go home and chill. But it happen that I saw one of my good friends so I stopped to have a drink with him."
"I didn't even get to take one drink, I got shot before I even get fuh take a drink," he said.
After he was hit, Richardson fell to the ground and in trying to get up asked for assistance from those around, but no one went to help. "Vincy people cold," Richardson concluded.
"I want tell them just like this. Tell them I say they [expletive]ed up, just like that. Don't edit it or . Put just like what I say, they [expletive]ed up," he stressed.
After the injured man lifted himself from the ground he was trying to get a ride to the hospital, staggering from pain and still, he said people wouldn't help.
"One guy, I think they say is a guy from Sion Hill in a white van, I need to see him. Tell him I want to see him," the patient said.
He said he wants to thank the "total stranger" for helping him, "because if he didn't bring me I woulda dead, because I lose a lot of blood."