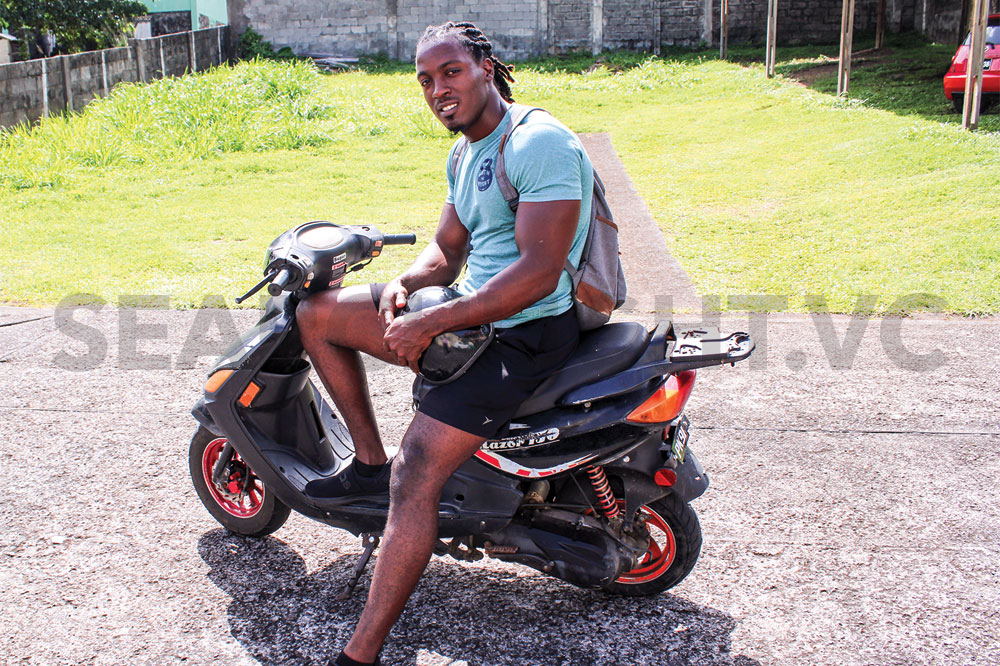 Front Page
August 19, 2022
Delivery business gets jump start after being grounded by thieves
Come next Monday, entrepreneur Kit Horne will jump start his delivery business once again, after rebuilding his scooter from scratch, using parts from his two bikes that were stolen at the beginning of the year.
Horne, the owner of 'We Deliver' delivery service carried out a daring citizen's arrest on January 13, 2022 after spotting a youngster on one of two scooters that had gone missing from his Gomea home just weeks prior.
His efforts made it possible for police to make an arrest and recover both vehicles, but it also signalled an abrupt pause to his then 15-month old business, as the scooters had been severely scrapped.
The entrepreneur visited SEARCHLIGHT this week to share his story of perseverance, which involved him completely dismantling one of his recovered scooters, in an effort to repair the other.
"We waited two months to get back the bikes because they were essentially evidence…we got them back and tried fixing both of them and realised, we don't have enough parts," Horne explained, adding that the thieves had cut wires, and thrown away some of the parts.
He said he made attempts to purchase parts for both vehicles in Miami but the company did not have them in stock at the time, and there was a further delay on inventory because of the crisis unfolding in Russia/Ukraine.
Horne also noted that prices for scooters have doubled since he last purchased, so buying a new one was not an option at this stage.
"I was holding on to hope that the company in Miami would've eventually gotten spare parts. I really didn't want to lose a bike, so I was holding on to faith that they would've gotten spare parts and I would've been able to salvage both bikes…" he said.
It was in July, after encountering these setbacks that the Gomea resident decided to take apart both scooters and utilise all the available parts to build one vehicle.
And now, 'We Deliver' will once again be 100 per cent operational on Monday, August 22, eight months after its services came to an abrupt end.
Food delivery was the main focus of the entrepreneur's delivery business.
But he shared his plans to expand his services to include quick and easy delivery for small businesses and corporate offices throughout the country.
'We Deliver' also offers services that make shopping at supermarkets, pharmacies and department or hardware stores easier for the individual who may be too busy to do it themselves.
Horne, who is also a personal trainer, said having his scooter back allows him to expand his personal training services.
He is now offering to "bring the gym to you" in the comfort of your own home through this new door to door service.
Ozem Oliver, a 19-yearold resident of Glen appeared in the Kingstown Magistrate's Court on January 17,2022 to answer to a number of charges, two of which related to Horne's scooters.
When Horne spoke with SEARCHLIGHT in January, he said the ideal outcome for him would be that the thieves be made to compensate him to get
the scooters back to working order.
However, this week, the 33-year-old expressed doubt compensation would have ever come to fruition.
Horne also shared his frustration with the local justice system, saying that he had been called about the progress of the case, but that he could not "sit in court everyday" just to find out that Oliver had gotten more time in prison.
"…And I didn't get back my bikes? It doesn't make sense. It's kind of rough because this is me, buying two brand new bikes, and then losing one and you can't replace it. It plays on your mind…you lose a bike and that's it.You just have to rebuild," he said.