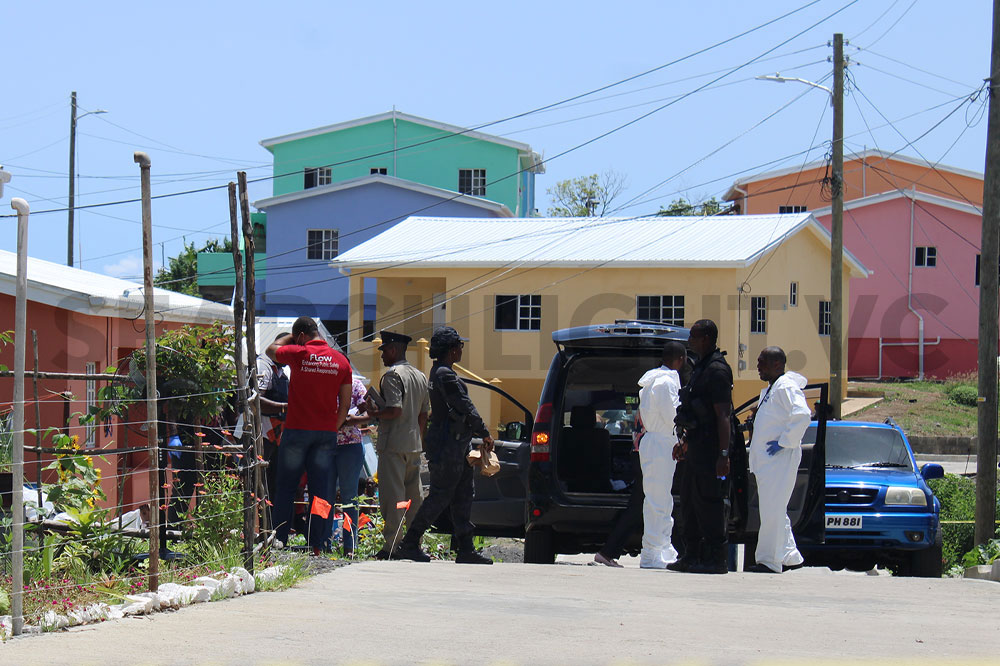 Front Page
August 16, 2022
'Stranger' shot dead at New Rose Place housing development (+Video)
The peace of 'New Rose Place' was shattered by a brazen daylight killing on Monday, causing residents to be upset that such violence had reared its head in their young community.
Yashima 'Diver' Fitzpatrick woke up to a normal day: brushing his teeth and going to tend to his kitchen garden at the back of his home.
However, by midday he was using detergent and water to cleanse his porch from the blood stains left behind from the bullet riddled body of a stranger.
The water washed down into the soil near the garden in front of his house and into his bed of sunflowers that remained untrampled.
"I'm trying to get rid of the stain by using detergent, cleaning, scrubbing the stains," Fitzpatrick explained, speaking to SEARCHLIGHT after the police lines were finally removed. "Try to get the freshness because it leave a fresh scent."
The 43-year-old spear fisherman is having a difficult time processing the crime.
Like many others he heard a number of shots ring out – some say three, some say up to six.
He ran to his front door and saw the body of the man later identified as Rohan 'Charla' Rawlins, a fisherman/farmer of Owia/Grieggs.
"I feel bad. I feel insecure because it's at my home and like I don't know the guy you know?" he said, "'Cos it's the first time I'm seeing him. So I'm still wondering like what really happening."
'Diver' says he is kind of worried.
"…How this guy here come and dead by my place here – I know he have relatives and ting and they might want believe like he came visiting me," he contemplated, "… and apart from that, whosoever did the crime, I don't know who. So I don't know if they going go think that me and he is friend and they want to come back at me, you understand what I saying?"
Many in the community expressed their outrage at the crime.
"[It is] a new village. We now live here. We ain't expect to get them thing here, 'cause par we been living down there in Bottom Town, it used to be them kinda living there," 'Diver' commented.
Fitzpatrick lives in one of the 47 units built in Lowmans Bay for Rose Place residents who had to relocate because of the Port Modernisation Project.
The houses were handed over in February of this year, and persons began moving in in March.
"…Now that we move [to] a new village we expect to see better improvement, better performance, we ain't looking to see crime and violence, we looking for unity and love," 'Diver' said.
They usually feel safe in their new community.
"And is high daytime it happen and we does dey out here liming in the night. All them children does be out here liming," he said.
Two young men listening to Fitzpatrick's interview also did not know Rawlins.
"First time I ever seen him and the last," one of the young adults said.
His friend described hearing the gunshots and after emerging from his house being told erroneously that it was 'Diver' who had been shot.
A vehicle that is believed to belong to the deceased was found parked opposite to where he was shot. A resident of the area admitted to SEARCHLIGHT that he knows the deceased and that Rawlins had called him. However this individual had gone to Kingstown that morning. He refused to say anything further.
A female resident who was apparently sitting near the area of the shooting said she did not see a face of the shooter.
She recalled, "Me going go bake two bread. I sit down there a while and me say me feel hungry… after me hear gunshot." "I frighten," she explained, adding, "Me heart and all ah jump up. I'm a sick woman too."
She said that she feels bad about the incident, "Ah first me see anybody get shoot so."
Another female resident spoke passionately off the record. However, on the record she simply noted that they "Don't want no gun violence in the community."
The Major Crimes Unit is investigating the matter with support from other police departments.