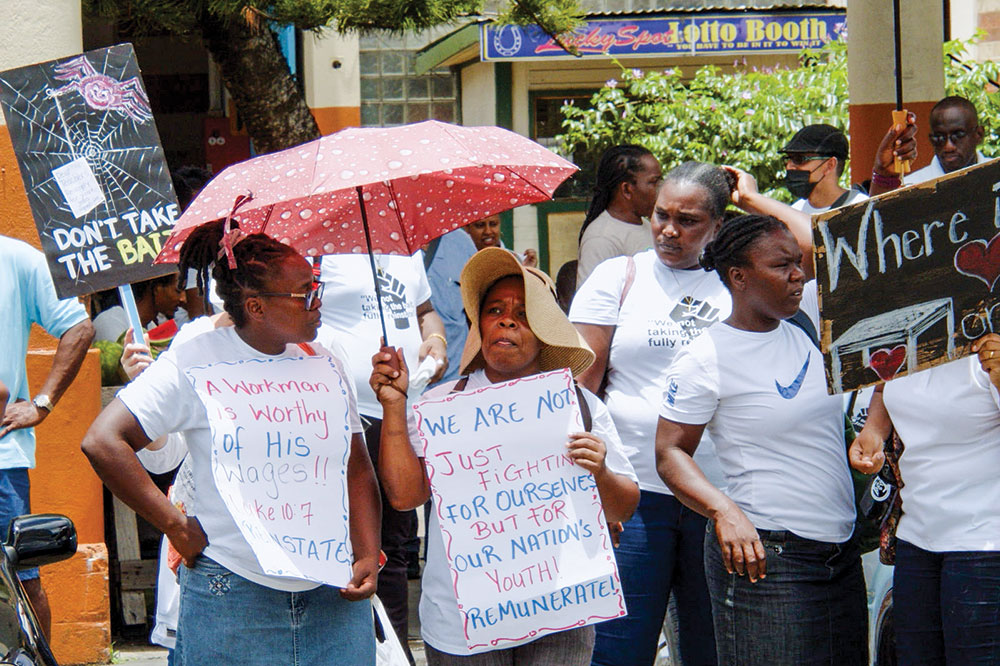 Front Page
August 12, 2022
Teachers reject re-application offer, say reinstatement is the way to go (+video)
Teachers took to the streets of Kingstown yesterday to publicly declare that they do not intend to reapply for jobs, after being unemployed for the past eight months as a result of their refusal to comply with the government's vaccine policy.
Prime Minister Dr Ralph Gonsalves recently offered teachers, who were deemed to have abandoned their posts last November, due to the government's vaccine requirement, an opportunity to reapply for jobs for the new school term.
The Union has since indicated its position on the matter, noting that teachers are not interested in the offer, but rather a reinstatement with full benefits.
And a small group of educators wearing white shirts with a slogan to match their demand, lined the front of the Kingstown Vegetable Market chanting "No bait!" and "Reinstate!" in the hope of rallying support from the public, as they await a decision in court on the matter.
Fenrick Pierre, a teacher with 15 years experience told SEARCHLIGHT that he does not think anybody should rush to reapply.
"I think a few teachers will be tempted to take up the offer because of the sufferings they would've experienced for the past couple months. A lot of people are frustrated that they have accumulating debts and they need to find some way of getting rid of this debt before they encounter further losses and I think that is one of the factors that might tempt persons to reapply," he said.
Pierre, who also serves on the executive of the SVGTU, was among teachers who lost their jobs last year and he said he has been able to maintain himself through fishing.
But he is of the opinion that reapplying is not beneficial "because if at the end, the court is to decide in the Union's favour, those persons who reapplied, would not be, in my mind, entitled for any sort of redress from the court because they would've already forgone the process of waiting on the court to deal with the issue…"
The qualified teacher went further to advise his colleagues not to "take this bait and reapply for any job for which you did not willingly abandon or you did nothing, in your own mind, to lose".
A letter was circulated to media by the Union this week, to bring awareness to a series of activities that will be carried out by the trade union this month.
The activities, which include yesterday's protest, apparently stem from a unanimous decision that was made at an "Emergency General Meeting" on August 5, "to undertake several activities to stand in solidarity with our dismissed teachers across the country".
"This is to intensify action at this crucial time when the government is thinking about rehiring some teachers who were fired for not taking the vaccine," the letter read.
Teacher, Roger Matthews joined his colleagues on the picket line today to show his support for the actions being taken by the Union, and to re-emphasise the call for reinstatement rather than reapplication.
Matthews said he has been a part of the teaching service for about four years and losing his job at the end of last year was extremely difficult for him.
"I didn't expect this. Putting you under pressure; they want to make sure you feel much pain so you can bend but we have to stand for what is right. We have to stand for righteousness. It's not right for you to violate conscience so I'm standing for what is right but it's really hard. Making a stand is really hard but you have to stand because it is right," he said.
Vishnu Carr holds an Associate's Degree in Education with a specialisation in Early Childhood Education.
He has been teaching for the past seven years.
Carr told SEARCHLIGHT he considers himself to be one of the persons who "was illegally, wrongfully dismissed from the teaching profession because I choose not to be vaccinated".
The experienced teacher said it has been a mental struggle for him these past months "and if it was not for God, I would've already lost my mind".
He thanked God and his mother for being supportive in these past months.
Carr noted the personal challenges he has had to endure as a result of being unemployed, which include not being able to service a number of his expenses.
But he believes that reapplying for his job "is a trap".
"The Prime Minister will not give you that back-pay for the eight months we have been home as teachers and public servants, so to reapply, I do not support reapplying. The correct thing to do is to reinstate," he said.
The SVGTU, on Wednesday August 10 held a whistle stop tour from Calliaqua to Campden Park and they intend to march around Kingstown on August 18, from 9:30 am.
They are also expected to host a Day of Prayer some time this month.