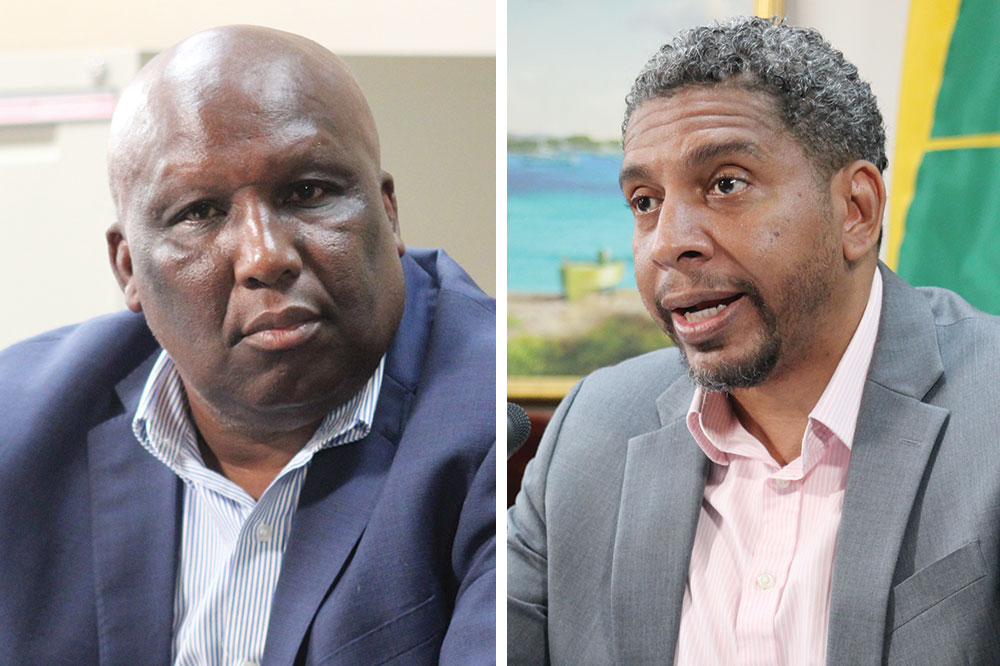 Front Page
August 12, 2022
Booster memo a case of mis-transcription – Gonsalves (+ Video)
Cabinet ministers, including health minister St Clair Prince have denied making any decision that mandates health workers in St Vincent and the Grenadines to take COVID-19 booster shots every five months.
A memorandum from the Ministry of Health, which was signed by the ministry's permanent secretary, Cuthbert Knight was issued on August 5, which advised that a decision was taken by Cabinet on July 27, which outlined that health workers must receive boosters "in five-month intervals
after the initial two-dose series of an approved vaccine, in order to be eligible for employment in the health sector".
But finance minister, Camillo Gonsalves said at a press conference on August 6, that this was "simply not a decision of Cabinet" and that the memo was apparently derived as a result of a "mis-transcription".
And Prince, at that same press conference, apologised to health workers "for the anxiety caused by our recent memo".
He further stated that the memo would be rescinded.
"That was not the intention of Cabinet. It is still not the intention of Cabinet and I hope that people will take this on board; we're under a public health emergency and we need to protect ourselves," he said.
Prince assured that no mandate exists for healthcare workers as stated in the memo, and that the government has no intention of imposing any such mandate.
Rather, he noted that the relevant authorities are in the process of trying to find ways of easing COVID-19 restrictions in an effort to return to normalcy.
The health minister said however, that it is the hope that persons will be vaccinated against COVID-19 and be boosted as "we are not yet out of the woods".
"The public health emergency has not been lifted. We're still under that particular condition, however we did not say — we have not decided that we should have mandatory…boosters for healthcare workers," he said.
Prime Minister Dr Ralph Gonsalves, on July 28, announced "a new regime" which opened the door for teachers to reapply for teaching positions in time for the new school year, without being fully vaccinated.
However, under the new regime, 100 per cent vaccination is still required for new and existing healthcare workers to be employed.
Vaccination is also no longer required for employment in the police force, the port authority and the rest of the public service but masking, sanitisation, physical distancing and vaccine advocacy will continue.
Finance minister, Camillo Gonsalves was the first to speak on the memo this week, having called a press conference to announce the World Bank's decision to credit just over US$50 million for the Acute Referral Hospital project in Arnos Vale.
"I want to indicate to the public unequivocally that this is not the case. There appears to have been a mis-transcribed note from the Cabinet when we were discussing the easing of restrictions related to teachers and civil servants. We also decided at the time, that we would strongly encourage the taking of booster shots for all citizens, but in particular for frontline workers and healthcare workers," the member of Cabinet said.
He said it appeared that a mis-transcription of that decision was sent to Knights, the permanent secretary "who then faithfully relayed that erroneous record of the Cabinet minutes to the healthcare workers and then it was subsequently reported".
Gonsalves said ministers were texting each other on Monday night, questioning "which mandate is this?" and "who said that?" as no one could recall that decision being made.
And he too, like Prince, assured that no such mandate is being implemented.
Acting Prime Minister, Montgomery Daniel was also present at the press conference this week, and also made a brief statement on the matter.
The majority of Cabinet ministers were also in attendance at Tuesday's press conference, which was initially called to discuss funding for the new hospital at Arnos Vale.