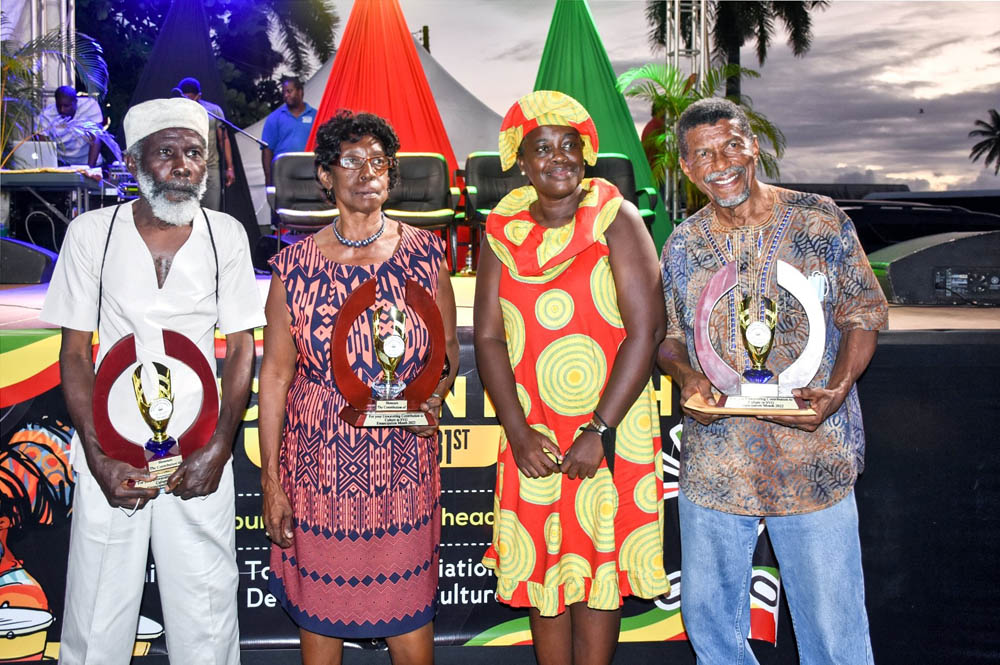 Front Page
August 4, 2022
Three Vincentians honoured for their contribution to culture
Three Vincentians have been honoured for their contribution to culture.
Ann Jones, Cecil "Blazer" Williams and David "Darkie" Williams were recognized last Friday for their work in culture and the creative arts.
The awards were presented at a rally at Heritage Square to mark the beginning of activities for Emancipation month.
A retired school principal, Ann Jones has been involved in culture and the creative arts for as long as she can remember, a citation read at the ceremony said.
"Her involvement spans school, church and community and she's widely known for getting the job done. Among other things, Jones has been involved in youth fellowship in the Methodist Church. She has been South Leeward netball president, which has won several netball competitions under her presidency.
"Jones was instrumental in acquiring and securing the playing field in Campden Park and she brought to life the South Leeward Netball Association during the days of dirt courts, which required flouring the field.
"She has been the manager of Symphony Orchestra and was very instrumental in the youth band's development. In her capacity as principal, Jones ensured that Questelles Government School participated in everything that was cultural and got the students involved," the citation read.
Renowned actor and playwright David "Darkie" Williams has made his mark in presentations all across the country, whether it be at schools, to church groups, to village troops, to beauty pageants.
"Darkie" Williams is an actor, writer, director, drummer, theatre technician and more.
"He has been recognised for his work by several local entities and he has had the honour of being the director for two of SVG's CARIFESTA presentations. In local theatre festivals, he has been named Best Director seven times, Director of the Year two times, and Writer of the Year four times. David "Darkie" Williams has also written and directed several pieces, which have gained regional and international recognition, including two TamTam Video Awards from Italy as well as two Canadian awards," his citation read.
Cecil "Blazer" Williams has successfully published a considerable number of literary works, including four collections of poems, 15 plays — all of which have been staged, four novels, the latest of which is "When The Water Dried Up" (2022).
"Blazer was the founder-director of the New Artists Movement (NAM) St. Vincent and the Grenadines.  He was a member of the jury for the Casa de las Américas Awards, 1981. He serves as an adjudicator for calypso and mas in national competitions.
"He is a cultural ambassador and received a lifetime achievement award for literature and the performing arts from the Vincentian Association of Artists, Writers And Producers in 2013. And, in appreciation for a significant contribution to culture and the arts to the people of St. Vincent and Grenadines, the New York-based Vincentian organisation VincyCares, Inc. awarded the Lifetime Achievement Award to Blazer in 2018," his citation read.