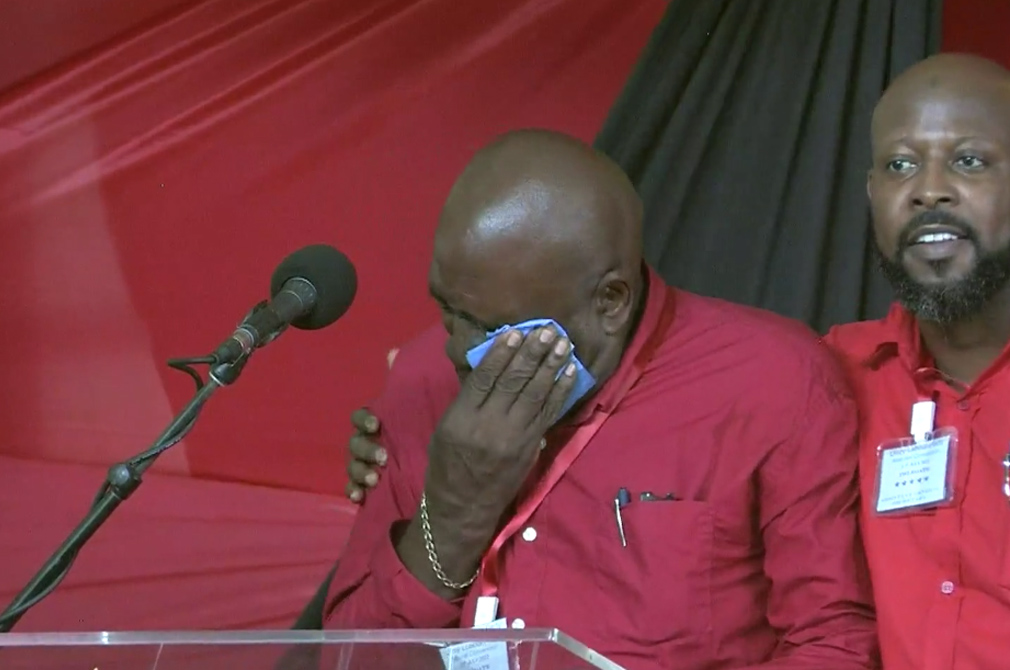 Front Page
August 2, 2022
Telephone call to convention by ailing general secretary leaves party supporters emotional (+video)
Emotions ran high during the 25th National Convention of the Unity Labour Party (ULP), when the party's ailing general secretary, Julian Francis made a telephone call to the convention.
For many party supporters, it was the first time they were hearing Francis's voice since he fell ill on Sunday July 24.
Francis, a ULP senator was rushed to the Milton Cato Memorial Hospital after suffering a stroke. He was flown to Barbados later that night and is being treated at that country's Queen Elizabeth Hospital.
Francis is also the Minister of Urban Development, Airports, Seaports, Grenadines Affairs and Local Government.
Last Sunday, during the worship segment of the convention, during which gospel songs were sung in his honour, Francis made a telephone call to the convention.
He said he had been listening to the convention and was enjoying it.
"…I'm sorry I can't be there, it could be a lot worse than it is…," the recovering senator admitted.
He said the event could have been his funeral "but God kept me still for you all."
ULP political leader, Prime Minister Dr Ralph Gonsalves said "We love you very much Comrade Julian."
This was followed by shouts from supporters who declared their love for the party's general secretary.
At the start of the convention on Sunday, Chairman Edwin Snagg expressed sadness over Francis's absence.
Snagg also noted that it was the first time that senator Francis had been absent from a national convention.
The convention hall at the Campden Park Secondary School was emotionally charged during the senator's brief call, and after Francis had said his goodbyes, Snagg shed tears and visibly struggled to regain his composure.
On returning to the podium, he apologized for breaking down, saying, "…sorry about that, but somethings are just human."