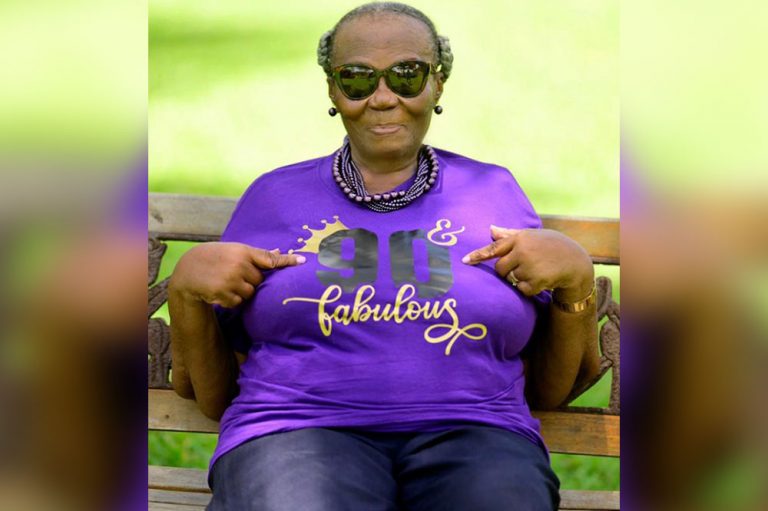 Caribbean Unsung Hero celebrates 90th birthday
Family and friends from near and far celebrated on Monday July 25 with Jestina Charles, the 2006 Unsung Hero of the Caribbean on the occasion of her 90th birthday.
The previous day, Sunday July 24, a Thanksgiving Service was held in her honour at the Bethel Gospel Assembly in Georgetown, with Dr Melch Pope, pastor of the Curepe Pentecostal Empowerment Ministries International in Trinidad being the feature speaker.
Pastor Pope is a former pastor of Faith Temple church in New Montrose.
Apart from enjoying time with family and friends on her birthday, Charles, fondly known as 'Lady Charles' also had a professional photo shoot with Natalia 'Queenie' Bhajan of Crown Photography in Georgetown.
Queenie posted some of the photos to her Facebook page saying that Lady Charles "is such a great icon in our community."
Included among those who liked and commented favourably on the photos on social media were many whose lives she touched over the years.
In an interview with SEARCHLIGHT on Tuesday July 26, Lady Charles said "I a very happy and blessed woman."
When we spoke with her, Lady Charles was in her kitchen, making fried bakes for her family, especially for her adopted daughter Stacey Williams Bobb who had come home from New York for the special occasion.
Lady Charles has recovered well from a stroke which she suffered in 2004.
"The only problem I have now is arthritis, I have it in both knees and sometimes it is difficult to walk," she admitted.
At the times when her mobility is challenged by this disease, Lady Charles uses a cane or a walker as her assistive devices.
"That is my only problem now, other than that, I am happy, contented and blessed."
Apart from their two adopted children (Stacey and Starsky Quow), Lady Charles and her husband Bishop Hollis Charles assisted about a dozen children through secondary school.
Lady Charles is a seamstress by profession but has many other callings. She is also a minister of religion and is very good at cooking and doing handicraft.
She also assisted at primary schools in the Georgetown and Byera area by teaching Christian Education.
"God has blessed me with long life and I am so thankful," Lady Charles told SEARCHLIGHT on Tuesday.
In 2006, Lady Charles was named the FirstCaribbean International Bank Unsung Hero of the Caribbean from among 250 nominees from 17 countries.
Despite her senior years, Lady Charles continues to give of her knowledge and skills. She gladly shares her skills in craft with other seniors at the National Insurance Services Golden Years Activity Centre at Black Point.
Bishop Hollis Charles expressed pride and joy in his wife. The couple got married on September 24, 1966.
"She has been a tower of strength to me, and a good helper according to the Bible," Bishop Charles said with pride.
He described his wife as being "fabulous and extraordinary."
Lady Charles is also celebrating her 69th year as Minister of the Gospel.
In extending birthday greetings to Lady Charles, local Artiste Hayden Billingy said "she indeed is a selfless and wonderful woman… Happy birthday to this matriarch."Billingy said "she indeed is a selfless and wonderful woman… Happy birthday to this matriarch."