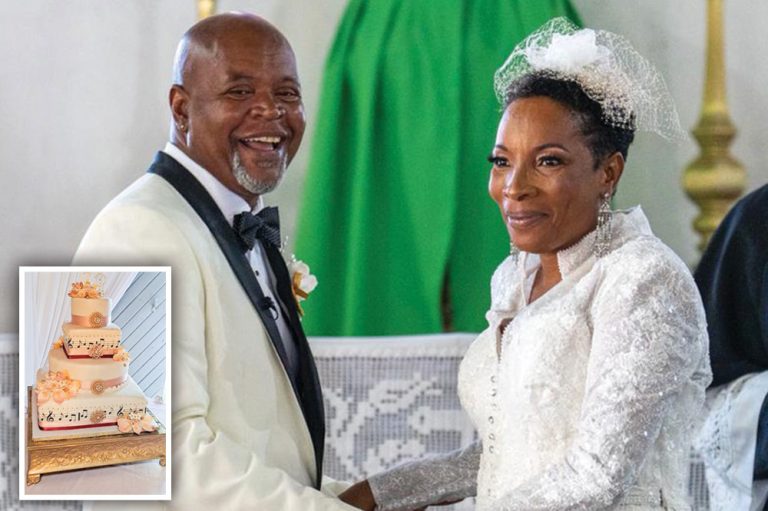 Pat Ragguette weds childhood friend in lavish ceremony
It was a scene out of the movies when former female calypso monarch Pat Ragguette wed the love of her life Roy Russell on Saturday, June 25 at the St John's Episcopal Church in Christiansted, St Croix, in the United States Virgin Islands (USVI).
Ragguette was a four-time calypso queen in St Vincent and the Grenadines. She also won the road march three times in St Croix, the first female to win a road march in the USVI.
The bride and the groom are both originally from Georgetown, St Vincent and knew each other from primary school, but had not been in contact for decades. Roy is now a police officer in the Turks and Caicos Islands where he is in charge of the 911 call centre.
Ragguette, who had been lead vocalist for several local bands including Touch, Blacksand and Signal, actually performed with her band Xpress Band at the wedding.
The large bridal party included matrons of honour – Roseanne Farrington and Junette Vegas; Maid of Honour – Joanne Ragguette; Best Man – Frankie Thomas; and Father Giver – Bishop Sheldon Guy. There were 12 bridesmaids and 12 grooms men, one of whom was Anthony "Papa Das" Glasgow, a former calypsonian and member of the band Signal.
The musically themed tables at the reception were labelled with the names of musical instruments and the bands with which Ragguette was involved over the years.
In an article published in "Russell" a magazine specially produced for the event, Ragguette described being instructed on June 25, 2020 by "an inner voice" to find Roy Russell, a man with whom she had not been in contact for 38 years. "I found it strange but decided to follow that inner voice anyway. There were stumbling blocks along the way and after a stressful 24 hours or so after constantly messaging and peeping, Facebook finally came through for me.
"'Do you remember me?' was the first question I posed to him. 'Yes, I remember you, ' was his response. The rest is now history. Although my intention was not to have a romantic relationship, the stars were already aligned.," Pat described in the article.
Roy proposed on Pat's birthday on September 28, 2021 on the beautiful Turks and Caicos islands in a carefully orchestrated surprise ceremony.
The Master of Ceremony at the wedding reception was Theresa Daniel, a long-time friend of the bride. Daniel also read a lesson at the wedding ceremony.