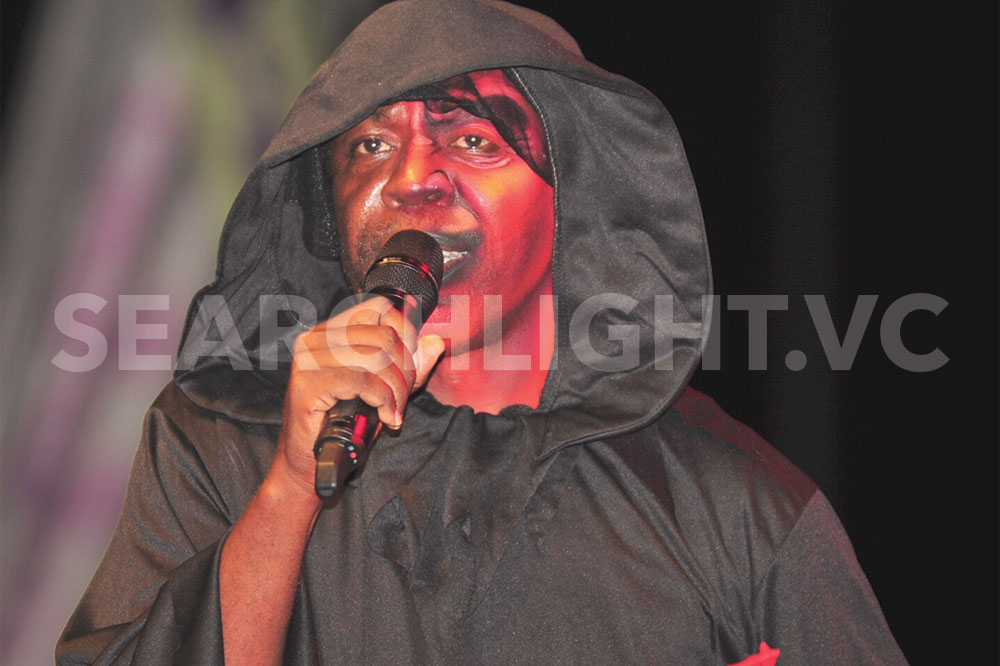 Tajoe, the Devil's advocate, takes kaiso crown (+Video)
FANCY RESIDENT, Maxwell 'Tajoe' Francis won the 2022 Calypso Monarch title with his humorous calypso about being employed by the devil to blaze hell fire under persons committing evil acts.
"The devil contacted me, want to give me a work in hell, I tell him straight up front I don't want to ring no bell. I said sir you must understand I want a job as a fire man, I want to blaze hell fire under some man and woman," the 49-year-old sang on the stage at Victoria Park on July 3.
"…I want to work for my daily bread, keep the hell fire hot and red, I waiting patiently for they reach the land of the dead! So all them men who love rape woman when you hear they fall in my hand. It's fire I blazing under them rass!" he sang, with the crowd seemingly loving the beat and chorus.
Accompanying the 'Kaisonian' on stage was the 'devil', a "gate of hell" prop with fire blazing intermittently inside of it, and other 'fire men' likewise employed to blaze fire under those perceived as wicked.
" 'Devil's Advocate' is a song that I woke up one night- the idea came to me during the volcano (eruption) sometime in May of 2021," the resident of the volcano red zone explained to the media after being crowned.
At that time he had written only the chorus and one verse, saving it for the return of carnival.
"..When they started saying that 'look like we will have carnival', I sat down at school one day and just put it together," the teacher at the Sandy Bay Secondary School said.
He felt that it was a very good piece.
"I say to my friends over the years 'I'm not gonna leave Fancy with a piece if I know I'm not gonna make finals'. It doesn't make any sense to me because of all the obstacles," he explained.
Francis described, "I think it is a little different from what people would have expected. I think it kind of took them off guard in terms of the concept and all the whole creativity that went into the song."
He said that it is social issues being brought across in a humorous and entertaining way.
'Devil's Advocate' was well received from the get go at the Graduates Calypso Tent, where there were standing ovations after Tajoe performed.
"…Everybody just seemed to be into the song. It reminded me of 'Suzie' eleven years ago when I also put it out on radio and did it at the tent level. It's the same feeling at atmosphere," he said about 2011 when he won the Calypso Monarch title.
He joked that it was his anniversary along with his friend, Delroy 'Fireman' Hooper, who also won the Soca Monarch crown in 2011 and was crowned Ragga Soca and power Soca Monarch for 2022 on July 3.
However, while he did not show it in his demeanour, and while it did not seem to affect his performances, Francis is in the throes of grief.
His father, Verrol Lewis, originally of Fancy but living in Barrouallie, passed away at the hospital on the Thursday leading up to the calypso semifinals.
"I haven't even had a chance to mourn him as yet because I didn't want to really distress myself and lose focus in terms of the competition. But my sisters have been really there, been there for me assisting in terms of the funeral arrangement
and ensuring that I kept my focus going forward into this competition tonight," he said.
When asked what gave him the strength to make the decision to keep moving forward with the competition, he replied, "My dad was an ardent lover of calypso. He never missed the semifinals and finals night. So just giving up and not being here is not what he would have wanted. So I decide to just put it at the back of my mind and just focus on the way forward because I felt that I had a winning chance this year."
During the interview he also spoke about the support he receives from the community of Fancy. "I don't have my own transportation so it's really an uphill task especially when you have band practice. Sometimes I may reach home at midnight or even in the morning, or sometimes I may have to rent an apartment to stay overnight," Francis said, but there are a number of persons who look out for him especially during the carnival season.
"…They will stop, they will say 'Tajoe where you going?', they will pick me up. Sometimes some people go out of their way to drop me in Fancy because they know what I'm doing," the calypsonian disclosed.
He made certain to issue his thanks to his supporters shortly after the crown was placed on his head, stating, "I really wanna thank my family for all the support that they have been giving and all of the persons across St Vincent and the Grenadines who have been supporting 'Tajoe' from day one. This win, this crown is for you."
Placing second in the calypso competition was fellow member of the Graduates Calypso tent, Kingsley 'Hero' Roberts with "They don't know St Vincent".
The 2019 Calypso Monarch, Shaunelle McKenzie from the Upstage Calypso Tent took third with "Lessons Learnt", while Graduates tent member, Glenroy 'Sulle' Caesar placed fourth with "Calypso Alphabet".