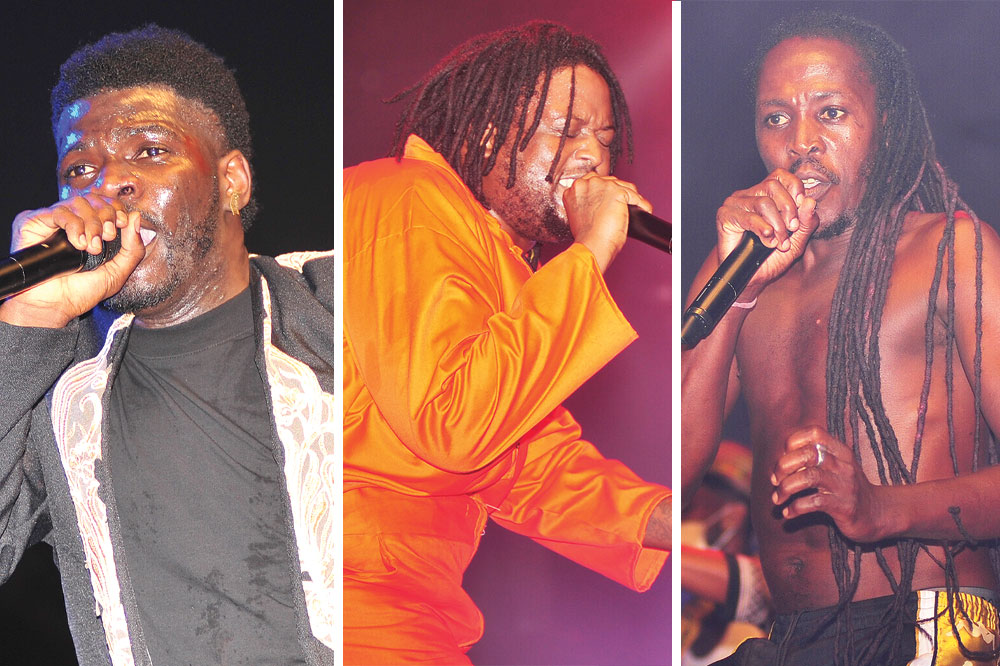 Fireman's soca heat too much for Grabba, Magikal (+Videos)
Delroy 'Fireman' Hooper led the way for Carnival 2022, taking both Ragga Soca and Soca Monarch crowns, and the second place in the Road March competition.
"St Vincent and the Grenadines the greatest place on earth and my fans are always over my fame. Fans over fame. I love my people I will see allyuh," he said, speaking to the media at dawn on July 3, shortly after it was announced that he won both the Ragga and Power Soca Monarch titles.
"I'm not going to say it silently – I'm going to drink a rum! because it has been a whole week I ain drink rum, so now is rum time, Hairoun time and I have to use my FLOW phone," he commented, in reference to his sponsors FLOW and Hairoun.
Hooper's 'Social Media Police' enabled him to dethrone reigning Ragga Soca Monarch, Hance John, who came in second with his song 'All I need'.
With a surprise proposal to his girlfriend on stage, Utamu 'Bongo Prime' Rose pulled the judges into their 'Chemistry' to capture third place.
Hooper, a crowd favourite from the get go, then went on in the Power Soca contest to dethrone reigning Soca Monarch, Derron 'Magikal' Rouse, who had to settle for third place with his performance of "Wah Dey".
Another crowd favourite, Keith 'Grabba Finesse' Charles, had been head to head with the seasoned Hooper in the run up to carnival weekend. He also excited the crowd with 'Place Tun Ova', and snatched second place in the Power Soca category.
Hooper said taking the double, which is a feat he has accomplished before, was "unbelievable", and he commented on the pressure that comes before a show such as the Soca Monarch.
"…There's so much pressure coming into this thing: 'Fireman is old', 'Fireman can't do it again', 'You ha to watch the younger generation', whatever…But I just stick with my team and stick with myself, stick with my producers," and management, he said.
Hooper said that they just pulled it off.
In reply to questions on whether the sting of the critics provide motivation for him to bring his A-game on the night, he revealed, "I'm never afraid of competition, I love competition, I don't know when I'm gonna stop but…those are just talk, people have their right to talk so I don't really make the negative get to me at any one point. When it comes to VincyMas I stand up like a boss and do VincyMas – win, lose or draw."
Planning a punchy performance that takes over is always on the agenda of the artistes, who need to be hard hitting or risk fading into the background.
Magikal's performance this year saw a man using a zipline from the stadium into the crowd and two women being repeatedly launched off the stage at the end of ropes.
Hance John used a smoke machine into the crowd for his rendition of "Shellings".
Hooper, who has been doing performances for decades, explained that there were a lot of hiccups to contend with and plans to be changed.
His song 'Bad Demon' has been striking a chord with its pandemic-inspired line "just let me out" and because he is so well known, he needs only to stand on stage to trigger the Bagon can fires, flag waving and stamping.
However, there was a stunt planned as the pièce de résistance, when a drone delivered his "gown" to him mid-performance.
"The canopy had [an] electric shock so we couldn't place the gowns in the canopy and then to avoid all kind of hazardous things with humans we say 'alright what if we try a drone?' And then that was the magic…because I always create some kind of magic, right?" he related.
Expounding later during the interviews he said, "If the judges judging based on the criteria, I know ten points for crowd response so everybody get crowd response. So they say 'what to do 'Fire'?' I say send for me gown. That's all."
Although the artiste is having a hard time keeping track of his wins, Hooper disclosed that he has taken 11 Soca Monarch titles and three in the Ragga Soca sphere. In 2014 he wrote and sang his way to the Soca Monarch and Ragga Soca titles, and also took the first and second place positions in the Road March, the category which determines the most played song on the road during carnival.
Despite this record, the singer says he does not have any plans to retire.
On Wednesday it was announced that Hooper missed the Road March title by two points. Instead, Kemmy Christopher's 'Da is d call", which took fourth place at Soca Monarch, overtook Hooper for the top spot with 56 points.
Coming in third, two points below 'Fireman's' 'Bad Demon', was 'Grabba Finesse's' 'Place Tun Ova'.