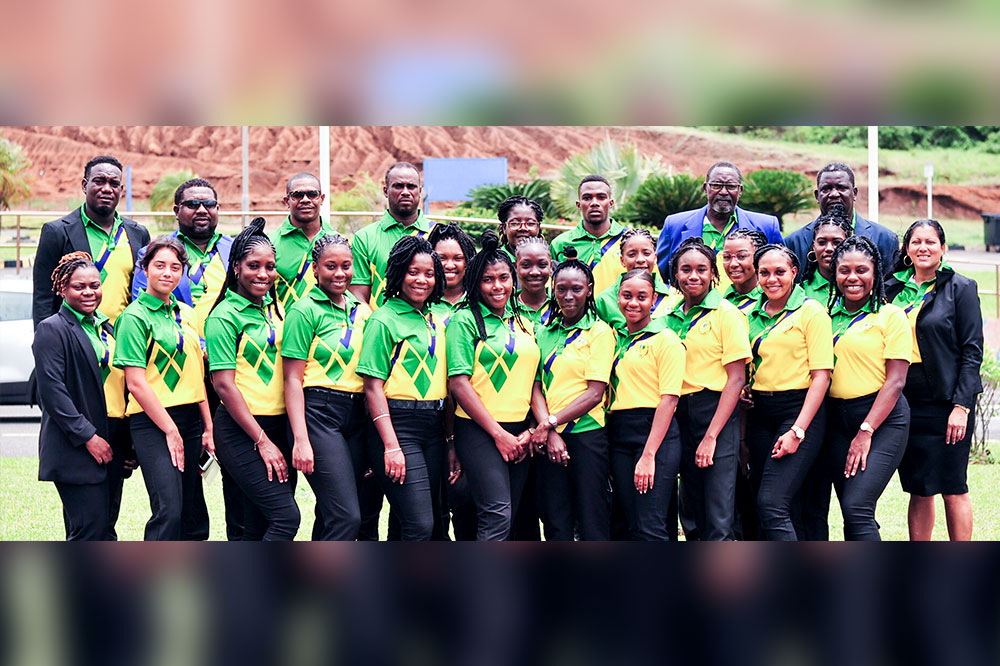 16 seek glory for SVG at Caribbean Games in Guadeloupe
A 23-MEMBER delegation comprising 16 athletes and seven officials left St Vincent and the Grenadines (SVG) for Guadeloupe to compete against 28 other Caribbean nations in the June 29-July 3 Caribbean Games.
The SVG athletes will compete in netball, swimming, and track and field. Chef de Mission, Chester Morgan told SEARCHLIGHT at the Argyle International Airport that these Games are very important to the development of sports in SVG and the wider region.
"It was very important, because there has been a gap between moving from youth games into senior level, because most of the games at the youth level finish up Under-20, Morgan said.
" Most of our 20-year-olds and 21-year-olds used to compete with professional players, so these games bring a bridge. It bridges a gap where development can continue taking place for all the sport."
Morgan was asked whether competing countries would be able to send a larger contingent of their top athletes to the Games, especially those attending various universities so they could raise the level of the competition.
He explained that this would not be allowed because it is the best team only that gets selected. In the netball competition, only the top five ranked teams would be competing at the inaugural Caribbean Games.
According to Morgan, "If you're not ranked, you cannot take part. For example, in futsal St Vincent (and the Grenadines) is not ranked in Futsal, so we cannot go to that competition… it all depends on your ranking.
"So you have to develop your local sport program on a nationwide scale, and then you can move on into that program. So if your ranking is not up to that standard, you won't be able to get in. In athletics, you must be running a certain time in order to make the Games," Morgan explained.
The Caribbean Games is also expected to get the athletes to begin looking at their performances and their development in order to make the required standards at the various global sporting events.
The SVG contingent comprises: Desroy Jordan, Eltonte Leonard, Kennice Greene, Kevern Da Silva, Niya Miller, Kristiana Christopher, Yanneisha Scipio -McFee, Aaliyah Jordan, Monelle Lavia, Shainaya Clement, Zanique Vincent, Kay-Juanna Bacchus, Kyila Miller, SherrisaYorke, Shania Pompey, and Annicia Dallaway.
The officials travelling with the athletes are Tamarah St Hilaire, Rawlson Morgan, Karl Williams, Dellarice Duncan, and Sylvorn Lewis-Harry; with Lisa Norbelat in charge of administration, and Chester Morgan as Chef de Mission.
Joining the Vincentian delegation in Guadeloupe are Handal Roban, Javon Rawlins, and Sage Primus; all of whom are travelling from Jamaica.
Chester Morgan who has been involved in sports development for a long time, is a strong supporter of multi-sport Games. "It gives the competition more emphasis as you will see a different background of competitiveness from different athletes from different sports.
"So these are Games I wish could live on for a very long time, and are very important. I hope that it will be successful for us, and also have the kinetic impact on our future development."