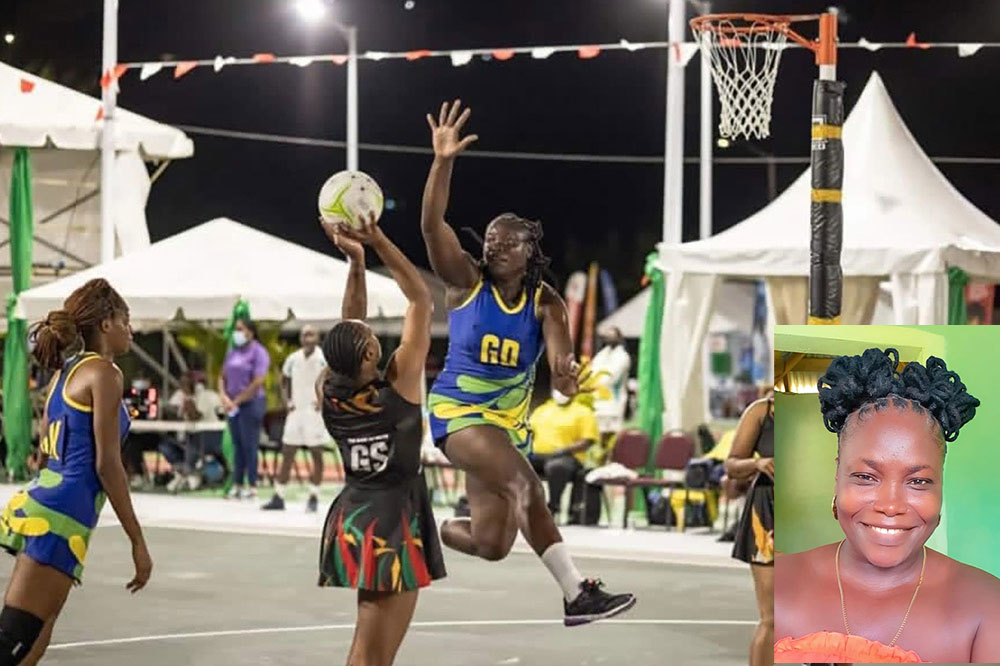 Sport is life for national senior netball captain
The name Vasha Adams is synonymous with sports, and in particular netball and basketball in St Vincent and the Grenadines (SVG).
Adams is the current captain of the Senior National Netball team.
In her own words as she expressed her love for netball and basketball, Adams said: "Sports is life; sports is my life. I play from my heart.Sports is the way out of poverty, abusive relationships, crime and violence."
In an interview with SEARCHLIGHT on Friday, May 27, the Georgetown resident exuded passion about her involvement with sports, especially netball.
Adams also spoke briefly about another role; this time in the home.
The National Netball skipper is the main care giver to her elderly mother at their home in Langley Park,Georgetown.
Victorine Adams, a double amputee is also now visually impaired.
"I am her hands and feet now," Adams told SEARCHLIGHT.
She explained that her 82 year old mother had her first amputation in 2011 and the second in 2018.
"I've been doing this for quite a while now," Adams acknowledged.
Over the years, Adams has been able to acquire a range of special skills which enable her to blend her different roles and functions, and still to be able to give peak performances.
She is also president of the group, Friends of Georgetown Sports and Cultural Organisation, which was formed in 2016.
Adams developed her love and passion for sports since while still a child.
"I have been playing netball for most of my life; I started playing netball at the age of nine years old,"Adams shared.
"At that time, I was a pupil of the Langley Park Government School,That passion has grown into dedication and a deep commitment, and now Adams is charged with the captaincy of the SVG National Netball Team. Prior to being charged with this responsibility, Adams played for the National Under-16 and Under-23 netball teams.
She was the coach of the national team in 2019 when SVG hosted the OECS/ECGC netball competition, and was elevated to the captaincy in 2022.
Her present task is to ensure that the national team is fully prepared for the World Cup Qualifier in Jamaica, in October this year.
Adams is hoping the team performs well in Jamaica and qualifies for the World Cup in South Africa next year.
"We are in training right now," Adams said as she explained that the National Fast Five Competition that is currently taking place is being used as part of the training in preparation for the World Cup qualifier.
"With the core of girls that we are working with, I feel that we have a very good chance," Adams said.
The Georgetown resident is also a basketball coach and captain of the SVG Female Basketball Team.
Adams is also employed as a coach within the Sports Division in the Ministry of Sports.
She teaches the fundamentals of netball and basketball to students of the Langley Park Government School and Dickson Methodist School.
She also has regular sessions with students at the Georgetown School for Children with Special Needs.
Adams will also play an integral role in assisting secondary school students to prepare for the upcoming Inter-Secondary Schools Basketball Competition.
In preparation for this competion in November and December, Adams is working with students at the Georgetown and North Union Secondary Schools and the George Stephens Senior Secondary School, to ensure that they give their best performance.
In February this year, Adams and her team brought home the trophy having won the second edition of the OECS/ECCB International Netball Series which was played in Dominica.
As captain of the National Netball Team, Adams said she wants to make netball a household name once again.
She pointed out that the sport suffered significantly, due to the effects of the COVID- 19 Pandemic and the April 2021 eruption of La Soufriere Volcano.
"All these things hampered our training and fitness, they were indeed setbacks to us, " Adams said.
But with her own resilience and that of the other team members, Adams is hoping for a rebound from the setbacks of the recent past.