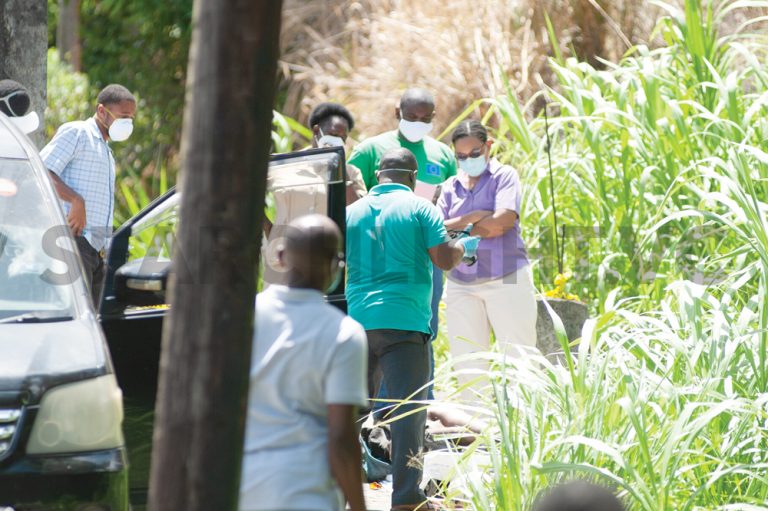 Remains of female found stuffed in bag
The human remains of an unknown female believed by Police to be under the age of 20 were discovered stuffed in a plastic bag at Murray's Road yesterday morning.
The discovery was made by employees of Joyette's Auto Collision & Auto Body Supplies at about 9am, while on the way to pick mangoes from a tree just a few feet away from the business.
"When I going up there, I see flies around this bag here. I say like something dey in this bag here dead," one employee told SEARCHLIGHT, adding that he went to report what he had seen to his boss.
He said his boss Dennis Joyette asked him to cut the bag to see what was inside, but he declined.
The worker said another man was called to cut open the bag.
Shelton London, a resident of the area, told SEARCHLIGHT Joyette asked him to check out a blue bag that workers had found in a gutter near the auto shop.
Retelling the story, London said he felt the bag and immediately had "an uncomfortable feeling".
When he proceeded to cut open the bag with a razor, the Murray's Road resident said a hand popped out, which caused him to jump back.
After widening the incision he had made in the bag, London said he saw a face, which was showing signs of decomposition.
The Police were subsequently called to the scene.
One officer who responded to the report said that checks have revealed that the human remains found in the bag belonged to a female.
It was also stated that it "looks like it is body parts. It does not look like a whole body".
According to Police sources, the body appeared to have stab wounds about the chest and arms and it is believed that the deceased is below the age of 20.
Police sources also indicated that all open missing person reports have been accounted for, meaning that the body found yesterday has not been reported missing.
Another resident of the area told SEARCHLIGHT that she had recently told a friend that "the place is too still, something just seems wrong".
"We've been smelling something but we keep saying maybe it's a dead dog because people are accustomed to throwing their dead animals around so it just led us to believe [it was] a dead animal again," she said.
The resident added that a fire had been lit on Wednesday evening, close to where the body was found yesterday morning.
She said the Fire Department responded to the fire, which was eventually put out, but she believes the fire might've somehow enhanced the smell of the decomposing body.
Up to press time, police were yet to identify the remains found at Murray's Road yesterday.
Investigations are ongoing.