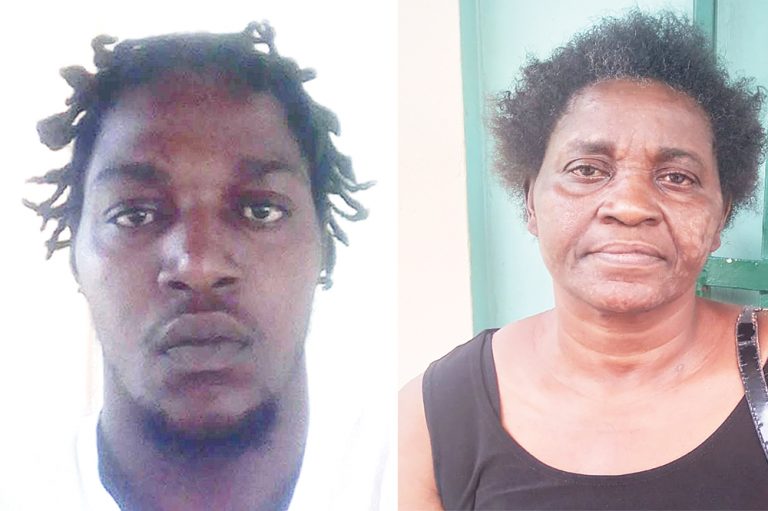 My son knew he was going to die that night – Mother
DEBORAH GROCITA PHILLIPS, the mother of a man who was gunned down in front of his Kingstown Park home on Monday, believes that her son expected to die that night.
Keon Phillips, 33 was the fourth person to be killed last holiday weekend.
Phillips told SEARCHLIGHT that attempts had been made recently on her son's life, with the most recent being Wednesday, April 27 when at least 17 bullets were fired at his home in Kingstown Park.
She said he was not at home at that time. On Saturday, April 30, the mother of five said she dreamt that she was burying Keon, her second son, in the same grave as his father.
And by Monday, he was dead.
"He say mommy, me tired. He say who want to kill me, let them kill me. He say you see the dream you get there where you bury me in my daddy coffin, that ah the last thing you going to do for me," Phillips said while sitting on a chair outside the Ever-Ready Funeral Home on Wednesday as she recalled the last conversation she had with him.
Persons who saw the Kingstown Park resident before he died say he was sitting outside with a speaker box on Sunday, playing loud music well into the night.
According to information from the police public relations department, the incident occurred on Monday, at about 5:45a.m. Police received information that Keon's body was seen slumped on a speaker box in Kingstown Park with what appeared to be blood running from his head. 
The release, which was issued on Monday noted that the major crimes unit responded to the reports and on examination of the victim's body, a wound was discovered on the left side of his head with blood oozing from it. 
Phillips, who is commonly known as 'Vinpin', told SEARCHLIGHT that she asked her son to leave, and go to someplace safe but he declined, adding that he was "fed up". 
"He tell me he not running, he tell me he fed up and every time I ask him, he not telling me who and he. He not calling no name give me. He talk to me, say mommy if I die, don't take it on, don't grieve. Don't stress out yourself for your pressure and sugar go up and you drop down dead. Just bury me and do the last best thing for me…" she said. 
The Diamond resident also revealed that police had taken him up on Thursday afternoon for "safe keeping" but he refused to tell the authorities who was making attempts on his life. 
Keon's death brings the total number of homicides for 2022 to 14. 
"Tell you the truth…whether they catch the killer or they na ketch up, that na no use to me. Me get me son body to bury and I'm happy about that. Me na study who kill um and who this and who that. He done dead, me get he body to bury.
Me content and me satisfy," his mother said. 
Phillips explained that Keon had been taken from her and sent to the Liberty Lodge Boys Training Centre after running afoul of the law at 10 years old. 
And when he couldn't return to her and his brothers, he would often run away from the institution, which led him to getting in with the wrong crowd. 
She said two or three years would sometimes pass without her seeing her second son but they always had a good relationship. 
"Keon is my son, the second son for me and he is a nice person, loving person. He used to tell me me ah the lamp and he ah the genie. Me and he had a nice relationship…" she said. 
The mother of five told SEARCHLIGHT she was unemployed and had been in the process of attempting to build a house. 
She added that Keon, whom she described as being good with his hands, promised to help her attach the roof and cast the floors after he dealt with some business. 
But he never got the chance. 
"Whosoever kill him, man na see, but God see and vengeance belongs to God," Phillips said. 
The Diamond resident is welcoming Keon's relatives on his father's side to reach out to her if they wish to become involved in the funeral arrangements and pay their final respects to him. 
Police are investigating this matter.