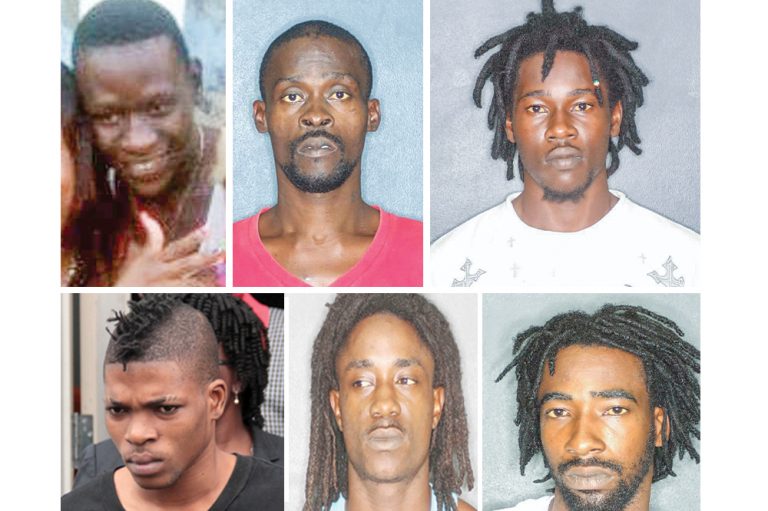 Judge hands down hefty sentences to five young murderers
While one of the five men sentenced in the brutal killing of Union Island man Kamau Jones, claimed only to have served as a lookout, he is still looking at spending 37 years of his life behind bars for murder. 
"He was fully a part of the joint enterprise as the jury determined by their verdict. He knew that the mission was to slay Kamau Jones and he knew that guns and bladed weapons were to be used," Justice Brian Cottle said while delivering the sentence against Lennox 'CouCou' Andrews at the High Court on Friday, April 29. 
The Judge disagreed with Andrews' lawyer, Israel Bruce, that his client's role be counted as lesser considering he did not pull the triggers or inflict any chops wounds himself. 
Nonetheless, when all was said and done, Andrews fared better than most of his co-accused. Bridon 'Kong' 'Ratty' Joseph, and Courtney 'Santy' Joseph are facing 43 years incarceration, while Shemai Joseph will contend with 40 years imprisonment. They have already been in prison for upwards of five and a half years so that Bridon and Courtney have 37 years and some months left, while Shemai has 34 years plus. 
On the other hand, the youngest offender, Andres 'Smokey' Cuffy, who was 21 years when he took part in the killing, is to spend 35 years in a prison cell. 
 All of the men were represented by lawyers (Duane Daniel, Euchrista St Hilaire Bruce-Lyle, Israel Bruce, Ronald Marks and Patina Knights) during a full trial before judge and jury. The crown, represented by Assistant Director of Public Prosecutions (DPP), Tammika McKenzie, had convinced the jury of the evidence and a unanimous verdict of guilt was secured on counts of murder and possession of a firearm to commit an offence. 
It then fell to Justice, Brian Cottle to determine their fate. 
The judge first revised the facts of the crime. 
The offenders are all from Vermont, and it was in their home community that they chose to execute the murder on July 20, 2016. 
"…Sometime around 11:00 p.m the tranquility of that community was shattered by the sounds of gunfire from multiple weapons," Cottle noted. 
The sounds of the commotion emanated from an apartment that was below the living area of a female resident of Vermont. This woman and her son approached the area in the wake of the explosions and discovered the body of 32-year-old Jones riddled with gunshot wounds and bearing chop wounds to the head and back.
A post mortem would reveal that there were shotgun pellets and a led projectile from another gun embedded in his body. 
Seven men were arrested by the police in the ensuing investigations. Shemai, Bridon, Courtney and Cuffy denied involvement in the killing. 
"Lennox Andrews said that he had been present when the other four prisoners and others agreed to murder Kamau Jones and minimised his participation in the joint enterprise by claiming to have acted as lookout while the other men armed themselves, dressed in dark coloured clothing and went out to carry out the planned assassination," the judge said. 
Additionally, a witness during the trial claimed to have seen a group of five men, of which Andrews was one, heading in the direction of the apartment in question before the gunfire. This witness also saw that one of the individuals was in possession of a firearm. 
Another person saw Courtney, Shemai, Bridon and another running away from the vicinity of the killing. 
The woman who lived above the apartment where Jones died, aided by the moonlight, saw four of the prisoners and Cuffy, who was carrying a long firearm, leaving her yard immediately after the sounds of gunfire were heard. 
"The fifth prisoner, Lennox Andrews was seen standing a few feet away from her house looking in the direction of her house."
During the trial none of the men took the stand themselves, and they called no witnesses. 
In the sentencing the Judge used the Eastern Caribbean Supreme Court's (ECSC) guidelines for the offence of murder, which outline a number of possible sentences including a death sentence, a whole life sentence, a determinate sentence, and detention on the basis of mental illness. 
"In this case the prosecution did not seek the death sentence," the Judge said, and "It was not submitted that a whole life sentence was merited."
"This type of sentence is reserved for instances where the seriousness of the offence is exceptionally high. Although the case involved apparent membership in a criminal gang and there was a degree of premeditation and planning, prosecution is content to proceed on the basis that the court should impose a determinate sentence," Cottle noted. 
He chose a starting point of 40 years for the multiple firearm offence. 
The judge then went on to consider the aggravating and mitigating features of the crime.
Firstly it occurred at someone's home, it "was unprovoked, more than one firearm was used in addition to at least one bladed weapon."
Cottle determined that there was some degree of planning "as the prisoners armed and outfitted themselves," and also approached the apartment via a secret route to minimise detection. "Planning began that same night when one Malcolm Pollin saw the deceased in the village" but, "It was not a significant period of premeditation or planning so I don't take that into account as aggravating," the judge said. 
He also did not consider as an aggravating factor that there were children around or that the geographical location made it vulnerable. 
"I could see from the evidence and the facts no evidence of torture," he also noted as this was suggested earlier. 
There was nothing about the offence itself that was mitigating. 
When it comes to the offenders themselves: Bridon was 33 at the time but all his criminal convictions are too old to be counted; Shemai was 25 years old with no previous convictions; Courtney was 28 years old and had an offence for possession of an illegal firearm that was discovered in his home while the police were investigating this murder; Andrews was 23 and had a clean criminal record, and Cuffy was 21 with no previous convictions. 
In Bridon's case his personal circumstances are that he grew up without proper parental support and did not attend secondary school. 
"The father of this prisoner emigrated before his birth and his mother emigrated when he was two. He was left in the care of his grandmother, and his infant brother," the judge revised. 
He farmed and did construction work and also sold out of an icebox on weekends. 
However the father to two daughters is considered a trouble maker in his community. 
Villagers said that "they feel safer without him present" and safer to walk around at nights. 
For Shemai, his youth and clean record make it that there is "every prospect for rehabilitation of this prisoner". There is no evidence that he was there during the planning. One witness said "that he was not 100% sure that he identified Shemai Joseph but he did say that he remained confident that his identification was correct."
Shemai grew up with his grandmother. He dropped out of secondary school, attended the Barrouallie Technical Institute but dropped out to assist his grandmother at her shop. The prison authorities determine that he is well behaved and assist in the kitchen and bakery. 
For Courtney, "This prisoner had a difficult upbringing. His father was notorious and it was difficult to escape the shadow that he cast."
He did not attend secondary school and, "even his attendance at primary school was patchy."
His mother also "filed an affidavit on his behalf which describes him as a very loving person who was manipulated by his father."
Courtney lived on his own from age 18 and would farm and do construction work. 
Andrews, who also did not attend secondary school, is a father to two children. He did not want to speak to the social worker about the murder as he said he wasn't there. 
"He says that he only agreed to give the statement that he did because the police promised him that he would be a witness for the crown and this suggestion was rejected…" Cottle said.
Andrews accepted some degree of responsibility for the crime and was released for a period of time during which he did not interfere with the investigations. 
 Cuffy, the youngest, was viewed as having "best prospects for rehabilitation" and the prison authorities also buttressed this. 
The aggravating features took the sentence for Bidon and Courtney up to 43 years and there was nothing in their personal circumstances to reduce this. 
From 43 years Shemai's circumstances prompted the judge to move down to 40 years. 
Andrews' prospects for rehabilitation was the cause of a 37 year incarceration starting point, and the judge decided that the mitigating features did not merit further adjustment to this. 
As the youngest, Cuffy received a starting sentence of 35 years. 
From these sentences five years, nine months and five days were taken off for Bridon's time on remand; five years, nine months and five days for Shemai; five years, seven months and seven days for Courtney;  five years, eight months and 18 days for Andrews, and five years, nine months and one day for Cuffy. 
On the charge of possession of a firearm in the commission of an offence the men received 18 years and nine month sentences, less time on remand.