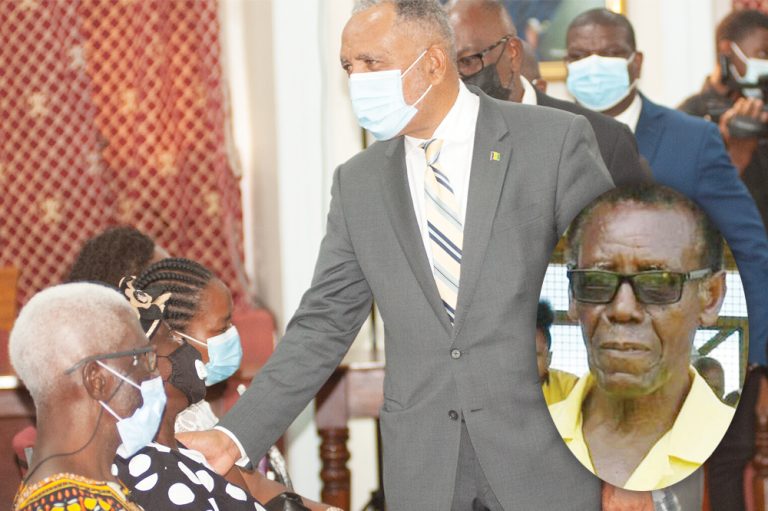 Front Page
April 29, 2022
Calder Williams , former opposition leader, to be laid to rest today
Calder Benjamin Williams, a former leader of the Parliamentary Opposition has been hailed as "a simple guy" who did extraordinary things for the people of St Vincent and the Grenadines (SVG). 
The statesman, who died on March 29, 2022, will be buried after an Official Funeral today, April 29 at the New Testament Church of God in Chateaubeliar. 
The service is expected to begin at noon and will be preceded by a viewing and open tributes from 11:00a.m.
His body lay in state yesterday at the House of Assembly where Parliamentarians, dignitaries and members of the public paid their final respects to the former community man and MP for North Leeward.
As the first person to claim a seat on mainland St Vincent for the New Democratic Party (NDP), a memorial service was also held for Williams yesterday in the Sir James Mitchell auditorium at the party's headquarters along Murray's Road.
"Calder Williams was a nation builder. He was a patriot and he contributed significantly to the development of our country. He will be rightly remembered as an outspoken and tireless champion of poor people, working people, ordinary people in our country, especially those in his North Leeward community," Dr Godwin Friday, president of the NDP said as he paid tribute to Williams yesterday. 
Friday hailed the former politician as being "an activist in the true sense of the word in that throughout his life, he sought to change things around him and to make them better…he was knowledgeable and he kept abreast of the critical issues that affected people in North Leeward and found ways to communicate with people and enlighten them of all those issues". 
The Opposition Leader said Williams' life exemplified the meaning of public life, given that he wore many hats as a politician and parliamentarian, teacher, trade unionist, farmer, and cricketer. 
"Metaphorically, he could walk with kings and never lose the common touch. I will remember him as a gentle and humble man who was prepared to listen, to advise and to help wherever and whenever he could," Friday said. 
Roland 'Patel' Matthews, former Parliamentary Representative for North Leeward also paid tribute to Williams at yesterday's memorial service. 
He described the former parliamentarian as "simple" but "by no means an ordinary person". 
"He was simple, very simple…no jacket and tie kind of dude. Simple guy. A guy of the street that everybody know, and everybody recognised and appreciated…" Matthews said. He asserted that Williams had an impact like no other politician of this nation. 
The former North Leeward MP declared that Williams was "the ultimate servant" as everything he did was for the benefit of the people. 
"I think that nobody, no one in the country's history when it comes to politics, has been so much involved in so many areas as Calder Williams had and for that, we are very appreciative of it," Matthews said. 
Loraine George, a former NDP candidate for South Windward, and Shanneth Kentha Williams, Calder Williams' niece also gave tributes at yesterday's memorial service at Democrat House. 
All flags throughout the state will be flown at half staff today as a mark of respect for the former parliamentarian. Interment will be at the Fitz Hughes cemetery.