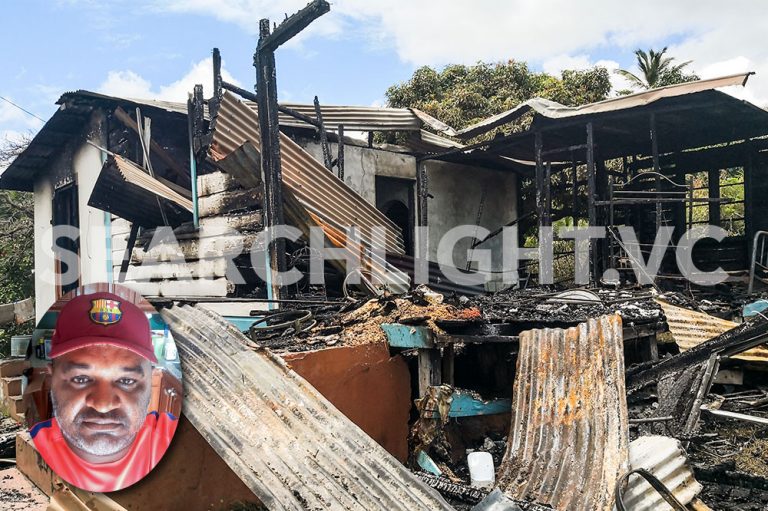 Front Page
April 26, 2022
Lodge Village businessman loses home and workplace in mystery fire
DAYS AFTER THE house that he called home was destroyed by fire, Delarno Du Pont is still wondering what may have started the blaze.
The Lodge Village businessman is well known in Kingstown, as the chef who sells daily lunches from his vehicle, opposite the SVG Postal Corporation.
On the night of Saturday April 23, fire destroyed a house in Lodge Village that had been in the DuPont family for generations.
At the time of the fire, Delarno was the sole occupant of the four bedroom house.
This is where he lived and prepared lunches for sale in Kingstown daily.
Delarno told SEARCHLIGHT that the house may have been as old as 100 years.
"I had an uncle who died not too long ago at the age of 98 years old, and he was born in the said house."
The popular chef said over the years, several repairs were done to the wooden house, and a concrete extension was also put in place.
Delarno said he was not at home on Saturday evening, when fire started at his home around 7:30 p.m.
"I left home around 7:15 p.m to by Greaves in Arnos Vale," he recalled.
He went there to purchase items for his food business.
"I was in the back by Greaves getting some pigtails, when I got a call telling me that my house is on fire."
He left the grocery in haste and drove back to Lodge Village.
The small businessman said he reached Lodge Village just a few minutes after 8:00 p.m.
At that time, there was already a build up of traffic in the area, as a fire truck was already on the scene.
By the time he got to the house, most of it had already gone up in flames.
Delarno said he does not know what caused the fire .
"I had no fire in my house on Saturday," he said. "Saturday morning, I went to town to buy my herbs and I bought lunch as well," Delarno told SEARCHLIGHT yesterday. He said it is habit not to cook on Saturdays as he buys food in Kingstown.
The father of two recalled using the microwave to heat some food to give to someone.
"My microwave uses a transformer and I always secure the transformer after using it."
Delarno recalled unplugging the microwave and securing the transformer on Saturday. As to the cause of the fire, he said "I don't want to point fingers."
Neighbours reported to him that they heard an explosion at the time of the fire.
Delarno said he had no explosive chemicals, or anything else that could have exploded in his house.
"I use the big gas tanks and they were outside the house.
"I do not know what exploded," Delarno stated.
Apart from losing everything in the fire, Delarno has to put his business on hold.
Cases of chicken and turkey and other supplies that he had bought to prepare for his customers this week, all went up on smoke.
To make matters worse, a stove that he still owes money on, was also destroyed.
Delarno said the only things that remain from his business are his vehicle and a few pieces of wares.
The heat was so strong that some of his pots were "bent and split in two."
Since the fire on Saturday night, Delarno has been staying at the home of his girlfriend.
Since the devastating fire which rendered him homeless and jobless, many persons have been reaching out to Delarno, and helping in whatever way they can.