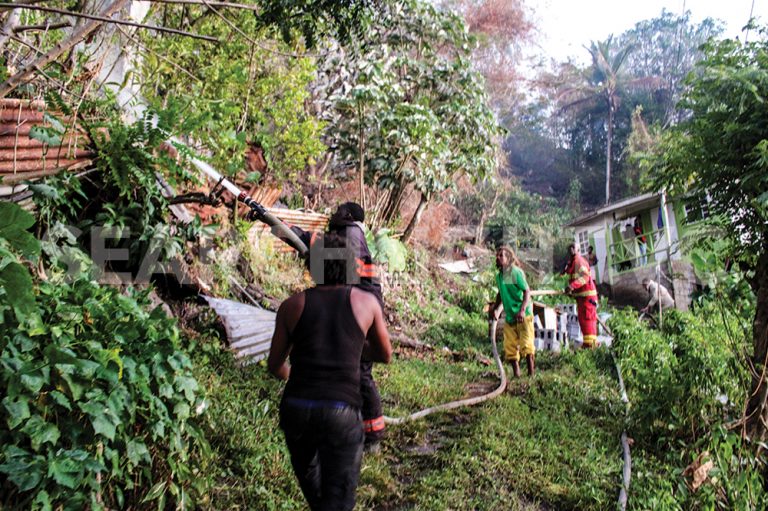 Front Page
April 22, 2022
Fire bug destroys home at Town Hill
WHEN IAN DEXTER SAUNDERS woke up on Wednesday, April 20, he had no inkling that by the end of that day, a fire would claim his home and all his belongings, leaving him only with the clothes he had on his body.
The fire broke out in Town Hill sometime after 5:00p.m and the large, dark puffs of smoke attracted the attention of persons in and around Kingstown, who stopped to stare at the unfolding situation.
When SEARCHLIGHT arrived on the scene, firemen had already meandered their hose through the yards of the properties on the hill in order to get to Saunders' house at the very top.
Neighbours were also looking on close by as attempts were made to put out the flames.
"I was in the basement when the fire happen," Saunders told SEARCHLIGHT, referring to a two storey concrete structure being built next to his wooden house that had been burnt to the ground.
"Man hear cracking and popping and when I look out, fire done spread. Couldn't save nothing, no shirt, no clothes, nothing. No appliances. Everything burn up. Can't do nothing else, just have to give thanks."
The Town Hill resident explained that it is customary for him to cook outside on a coal fire, which he usually controls.
Wednesday was no exception, as he had "bubble ah food" earlier that afternoon but when he last checked, the fire had already been stifled.
"…I don't know if the wind or something. I watch it burn down. Like it been done stifle so I run inside, gone downstairs in the basement to do some clear up and I hear the popping. I look out and the house on fire. By time I run up there now, I couldn't go run in the house. It full of fire; heat," he said, as he cast a glance at his once two-bedroom house, where flames were still being kindled by the heavy winds.
Saunders' two-bedroom wooden house was the first house his family had lived in and he still lived there, while construction was being carried out on a concrete structure beside it.
He told SEARCHLIGHT that along with all his personal belongings, Wednesday's fire also claimed several appliances, including two 40-inch televisions, a fridge and a gas stove, as well as tools — all of which were sent to him by his children in the United States.
He said he didn't have any "bad feelings" about the incident as he was grateful to still be alive so he wouldn't "make it frustrate I and break I".
But having been left with nothing, he said he would be "glad for little assistance, yea, because man na have nothing at all. Not even food fi nyam".
His intentions were to stay in the downstairs of the unfinished house until he could receive assistance.
His first donation came on that night from representative for East Kingstown, Fitzgerald Bramble, who visited the scene.
Seeing that Saunders was barefooted, Bramble didn't hesitate to take off his Crocs shoes and give them to the Town Hill man.
Just a stone's throw away from the house fire, flames crackled in the dry bushes behind a neighbouring house, threatening to cause even more destruction in the Town Hill community.
The house belongs to Carlos 'Icak' Quashie, who spent most of the evening moving back and forth with buckets of water in an effort to control the bush fire and prevent it from spreading.
He suspects that a spark must have been carried in the wind and ignited the drying bushes behind his home.
"Is dry season and they been warning and telling us don't make fire escalate in these times because its very dry and it's hard to control. You notice the fireman them can't…it aint close to the road side so it hard to get the hose up here," Quashie told SEARCHLIGHT.
"In my philosophy as poor people, I aint go feel good…when somebody lose whatever little shanty they got and whatever little belongings inside ah dey and thing, and little valuables and thing wey they achieve and gather for few years…gone in one day, it's really terrible".
Coleen Ollivierre, one of Saunders and Quashie's neighbours commented that while no one is happy when fires break out, she is grateful that no lives were lost on Wednesday.
Ollivierre said her hose was being used to assist in putting out the fire before the firemen arrived on the scene.
"I just saying, I thank God. Nobody glad to have fire. On the news, I saw a rasta man saying this is his second or third experience with fire. Nobody glad for fire but the thing in a fire is that where no lives are lost, I am happy," she said, as she voiced her concern that when she saw the fire, she was fearful that a gas cylinder might have exploded, and caused damage to Ian or the many neighbours close by.
This is the second fire to have occurred in the surrounding Kingstown areas this week; the first being a fire in Old Montrose in the wee hours of Tuesday morning, which burnt an entire house, and caused damage to three other surrounding properties.