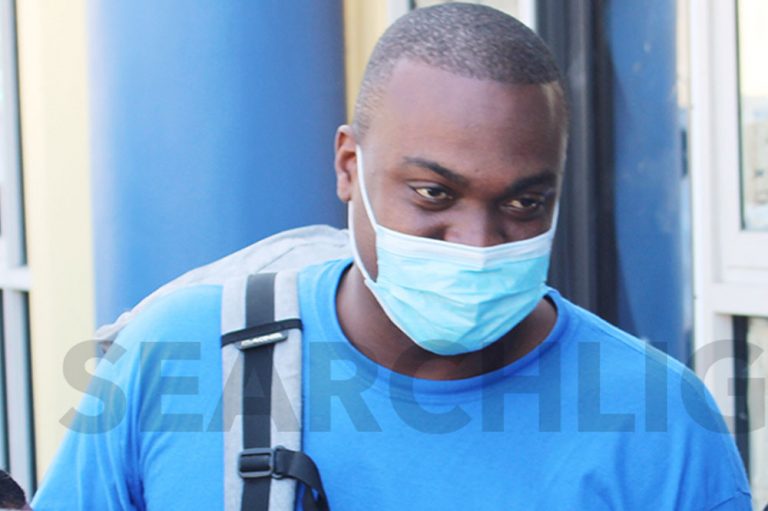 Front Page
March 29, 2022
Activist Kenson King charged with uttering seditious words
The lawyer for activist, Kenson King is seeking a permanent stop to the proceedings against her client who is charged with using seditious words in December last year.
Lawyer, Ronnia Durham-Balcombe yesterday, March 28 made an application before Senior Magistrate, Rickie Burnett at the Kingstown Magistrate's Court (KMC) "to stay permanently any proceedings in relation to these charges against my client on the grounds of abuse of process."
Park Hill resident Kenson King was, according to his lawyer, picked up at approximately 9:12a.m on Friday, March 25, electronically interviewed and charged on the same day.
King maintains his innocence to three charges of uttering seditious words.
The Criminal Code cites seditious words as those having seditious intention, and seditious intention is listed as having a number of different classifications including an intention: "to bring into hatred or contempt, or to incite disaffection against, the person of the Sovereign, Her heirs or successors, the Governor-General or the Government of Saint Vincent and the Grenadines by law established", and "to raise discontent or disaffection amongst the inhabitants of Saint Vincent and the Grenadines." There are six different definitions under which an intention could be deemed to be seditious.
The allegations against King are dated December 19, 2021.
On the first count King is charged with saying "There is no longer any peace in St Vincent. This is a war eh? This right now is a war. We are in a war and in a war there are casualties. We need to make some casualties. One way or the other because there are already casualties on our side. The moles? Stamp out the moles. Stamp out the moles and dem too."
Secondly, he is alleged to have said, "Alyo should have the foundation of St Vincent shaking right now and ah dem wondering what next.
Some serious anarchy should be happening in St Vincent until we have proper decent people running St Vincent in the form of Dr Friday and his team."
Further, He is charged with uttering, "You see you Mrs Medford, you should be afraid to come out of your house right now. They're playing with alyo Vincentians. They are playing with allyo. Me alone ain do it because if it's left to me alone I could get what is needed. I know why today we would have been looking to pull back them stuff dey. All like sister Medford and dem need to just disappear."
Yesterday, King's lawyer said that he had been in a cell for "well close to 72 hours" and was apparently denied station bail despite several requests.
The counsel submitted, "My client's constitutional rights, freedom, has been violated by the state machinery" and that his "constitutional right to freedom of expression has been offended by these charges which are based or laid in a colonial, archaic law which our colonisers saw fit to repeal in their country."
While she acknowledged to the magistrate that these laws were still on the books in St Vincent and the Grenadines(SVG), she added that "our regional legal luminaries and judges in matters dealing with sedition have held that it is unconstitutional."
Nevertheless, on the topic of abuse of process, the lawyer noted that "This court, as any other court, has an overriding objective and duty to promote justice and prevent injustice" as well as "an inherent discretionary power to protect its process from abuse for any given reason."
The defence commented as one of those grounds that "misconduct of the executive or their machinery", "is one of those famous categories."
The lawyer turned to the section from the Criminal Procedure Code which speaks about persons who are detained or arrested without a warrant.
Durham-Balcombe said that according to subsection one of section 35, "when a person is taken into custody without a warrant, the officer in charge at that station must immediately forthwith inquire why that person is there."
Due to the number of police officers in the courtroom the lawyer attempted to use it as a teaching moment.
"The supervisor or the police officer in charge of that station must forthwith, according to the law, find out why that person is there and, based on the information that superior received, he will decide is there a charge can be laid," she explained.
Subsection two of section 35 notes that after inquiry, where there is reason to believe a person has committed an offence but "the offence does not appear to be of a serious nature" a police officer "may and shall", in a situation where it is not practical to bring a person to court within 24 hours after being taken into custody, "release the person on him executing a bond, with or without sureties, to appear before a magistrate's court at a time and place named in the bond."
"Where they're (the police are) holding you for an investigation – I have difficulty with that. Because the law is clear. If it cannot be completed forthwith you release that person on a bond to return to the station at a time and place," the lawyer noted, referencing subsection three.
However, the particular section that the counsel emphasised was subsection four which states, "When any person taken into custody is retained in custody, he shall be brought before a magistrate's court at the earliest time practicable, whether or not the police inquiries are complete, and in any event within forty-eight hours."
"I believe that this section is intended, for instance if you pick someone up on Monday you charge them but Tuesday happens to be a holiday – you have until Wednesday to bring them in because it's within the 48 hours. It is not for the police to pick people up on a Friday and hold them all weekend because you have to bring the prisoner or the person in your custody before the court, at the earliest practical time," Durham-Balcombe put forward.
The lawyer claimed that during the weekend, "I inquired about my client and I was told he will be kept there until Monday by the Commissioner of Police. Your honour nowhere in this law permits my client to be detained at the Commissioner of Police, Colin John. Nowhere."
"There is also no provision that my client must be detained for 48 hours. Forty eight hours is the outer limit. Forty eight hours is the exception – it is not the rule. And it needs to be made clear to the police that they cannot detain persons at their will. It is against their constitutional, human rights," the lawyer continued.
She also said during her submissions that, "The integrity of the criminal justice is in jeopardy your honour and you have the power to stop it."
Her submissions are to be put into writing for the court to deliberate on, and, as requested, the counsel was given a week to do so. She will file these by April 4. The prosecution will respond by April 11.
The matter was adjourned to April 25.
King is on $4000 bail with one surety, with the court noting that the maximum penalty for the offence is five years in prison.