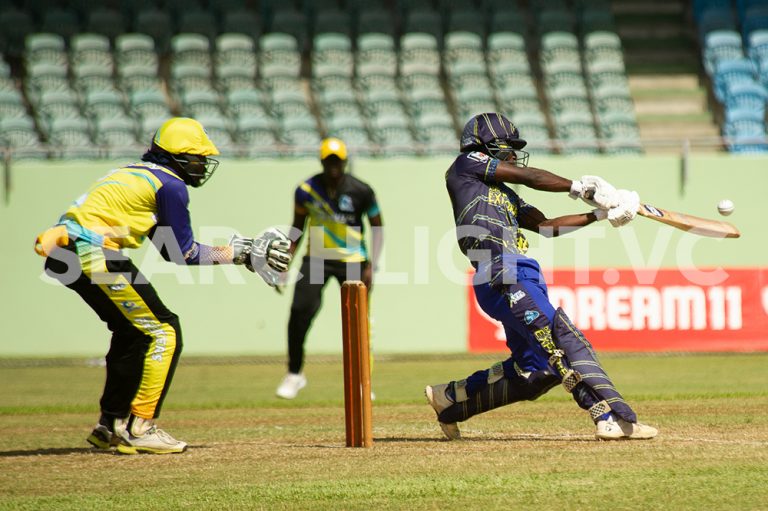 Front Page
March 25, 2022
Breakers take lead in VPL standings
Salt pond breakers are now out front in the VPL points standing after one week of competition.
And, interest is the fast-paced contest which is being played at the Arnos Vale Playing Field is continuing to rise.
Yesterday, Thursday March 24, Grenadines Divers won the toss, and sent Fort Charlotte Strikers to take first knock.
They were restricted to 74 for 8 in their 10 overs. Sealroy Williams 31, Donwell Hector 10, and skipper, Miles Bascombe 9 were the only scores of note in their inning. Bowling for Grenadines Divers, Kevin Abraham took 2 for 9, Imran Joseph 2for 17, Wesrick Strough 1 for 6, and Vedol Edwards one for 26.
In reply, Divers knocked off the target with seven balls to spare; 76 for 3 in 8.5 overs. Asif Hooper 22, Roland Cato 21, and Shem Browne 20 ensured victory for Grenadines Divers. Richie Richards took all three wickets to fall, finishing his two overs with figures of 3 for 16, as Grenadines Divers won by seven wickets.
In the day's second encounter, Salt Pond Breakers marched to a six-wicket win over Dark View Explorers. Batting first after Breakers won the toss and chose to bowl, Explorers scored 80 for 4 in their 10 overs, with the main contributors being Alick Athanaze with 33, Lindon James 15, and Deron Greaves 12. Bowling for Breakers, Ryan John took 2 for 18, Kadeem Alleyne 1 for 17, and Beniton Stapleton 1 for 23.
In reply, Salt Pond Breakers led by Kadeem Alleyne who hit 36, and Kadir Nedd with 21, reached 81 for 4 in 8.3 overs. Sealron Williams took 1 for 4, Darius Martin 1for 13, Dean Browne 1 for 14, and Luke Wilson 1 for 20 as Breakers won by six wickets.
Salt Pond Breakers have therefore now risen to the top of the points standings after four rounds of matches in the fourth edition of the VPL. Breakers the inaugural season champions in May 2020, have maximum 8 points from their four matches played, with a net run rate of 1.075.
Second is Botanical Gardens Rangers with 6 points from three wins of four matches played, and a net run rate of 0.927.
However an interesting battle is developing mid-table with Grenadines Divers, and La Soufriere Hikers the two-time defending champions. Both teams have played four matches, with two victories and two losses each and have 4 points apiece. But Divers is third with a net run rate of 0.578, while Hikers are fourth with a net run rate of 0.223.
Fifth in the table is Dark View Explorers on two points, having played four matches losing three and having one win and a net run rate of minus 1.222. Fort Charlotte Strikers sit at the bottom with four losses from their four matches played, and a net run rate of minus 1.117.
With the teams having more time to prepare, bowlers have not been able to dominate as many would have expected, as evident in the 123 sixes which have been hit to date.
Rayan Williams leads the bowlers with the most wickets – 8, and also has the best bowling figures of four for 07. Alick Athanaze has the highest individual score of 88, and tops the batting with an aggregate of 160 runs from the four matches played. Twelve matches remain in the preliminary rounds before the business end of the 2022 VPL commences on April 01, 2022 with Qualifier 1 and Eliminator 1 matches, respectively taking place. The final is scheduled for April 03, 2022, with April 04, set aside as a reserve day.