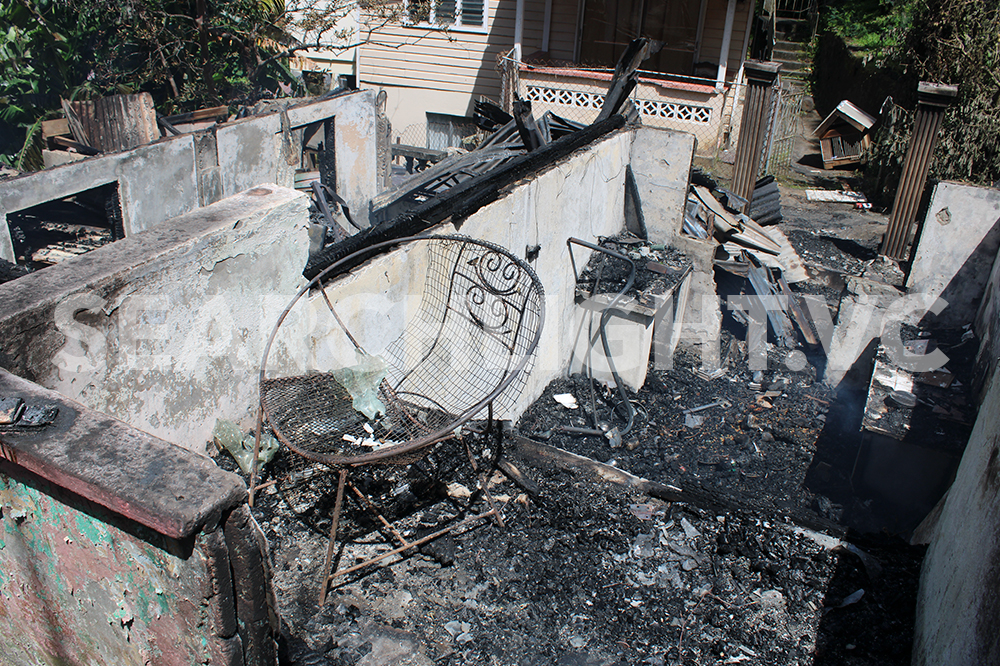 Front Page
March 18, 2022
Fire guts house in Murray's Village
WHAT SHOULD have been a normal Tuesday turned into a nightmare for a family and two male occupants of a structure in Murray's Village after an individual apparently set fires which burnt everything they owned to the ground.
Martin 'Victor' Trimmingham, a 24-year-old licensed nurse who works as a fashion designer to make an income while he waits for employment in his field of training, was on the phone with a client after 10 on Tuesday morning.
"When on the phone I heard matches scratching, I took it for nuttin, I probably thought it was one of the other persons in the house that had come home," he explained.
There is a family with four children who occupies the upstairs of the structure, and a fisherman who also rents.
" I didn't hear no force of entry or anything like that," he said.
While there, when he looked over into another room he saw smoke but still was not alarmed because he thought it was the neighbours.
"…When I was arranging to go and get a shower to go down the road, I realised the smoke started getting thicker and it seemed like if it was actually inside the house," he recalled, and when he peeped into the next room he saw that the towel was on fire.
"I remembered I had some bottles under the bed from Soufrière, one of them had water so I tried extinguishing the fire," 'Victor' recalled.
To him the fire had been extinguished but in all the urgency he didn't pay much attention to a man who was in the house arguing.
"One of the things that stood out that I remember him saying is like y'all trying to destroy my life, my reputation'.
When Trimmingham tried extinguishing the fire, this man saw and tried to prevent him from doing so.
The bottle dropped from Trimmingham's hand, he ran out and called the landlady, Marcelle Baptiste, who lived in another house nearby.
He told her about the emergency and she asked him to help her extinguish the flames, Trimmingham said.
"I was in the back fulling up water and then I heard her screaming out for help and then I went around and it was like he (the individual from before) was trying to stop her from outing the fire because like he light fire again in another room further away from my room," Trimmingham recalled.
In trying to chase the individual out of the yard, Trimmingham used a piece of steel that he was holding in his hand.
"…I didn't hit him until when I saw him approaching me because this is a violent man coming to me, almost bun me up in the house basically. If I was sleeping, I would have been burnt alive," the young man said.
Trimmingham fell and the individual apparently took up a piece of pipe and hit him in the head.
While all of this was happening the fire grew.
Now all that's left of what the young man worked hard for is a small bag he managed to save and the clothes he was wearing that day.
He is staying with a friend and he doesn't know how long he can do so.
When asked about family, he said "One of my relatives actually saw me in all the blood and walked by and just was interested in the fire."
He received clothes from the Lion's Club, and a few persons have reached out to him from the state but there has been no further action. His contact number is 492-5811.
The 24-year-old admits that he is trying not to think about it. "I'm trying my best to stay positive. If it wasn't for my experience, my training in nursing, I don't know how I would be coping because I'm trying to come to terms with the fact that I lost everything that I've worked hard for."
The landlady's residence narrowly escaped the same fate as the flames licked her roof beginning to damage it, and melting the plastic around the electricity meter.
"It's the mercy ah God wey mek my house ain bun down too," she commented.
"I was trying to out it (the fire). I was throwing water on it, the lady next door lend me the hose," Baptiste said, but the' person' was apparently adding more fuel to the fire.
"He was throwing more cloth and more sponge on it. Start doing that right in front of me, saying 'nobody ain studying his troubles, and all kinda ting'. I can't study his trouble…I'm old now, I'm trying to rest," the 64-year-old explained.
She described how the fire blazed up quickly and the heat was so strong that she had to walk towards the back.
The firetruck was also delayed from reaching them as it was blocked by a car on the road leading up the area.
When asked if she was afraid, the landlady commented "Not now…At the beginning when I see the blaze of the fire. I know it was just totally evil so it scared me a little bit but I put my trust in God and I ask God to protect my house."
The structure holds a lot of memories for her, as it was given to her by her mother who she cared for when the mother was ailing and weak.
Her brother, Leslie 'Gazer' Jack, and his girlfriend, Seratcha 'Vern' Arthur, lived there with the children ages 16, 14, 12, and seven.
Jack already struggles with his health, in a condition that affects his lungs.
"I don't know what to say, trust me. I don't know what to say. I here, I done half dead already eh?" commented Jack, who works in construction, shortly after beholding the remains of his home.
" I does get shortness of breath and I does force to go work. Up to this morning is force I force to go work," the 58-year-old explained.
His girlfriend disclosed that they were residing there for 14 years.
She was apparently distraught upon reaching the site, after rushing to catch a van from Kingstown when she received the phone call that there was a fire.
"Everything…everything… I lost everything. The children and them lose everything, school clothes, school books, everything they lose," she said.
They did not know where they would sleep that night and the children had yet to find out what happened as they were attending school.
Area Parliamentary Representative, Dwight Fitzgerald Bramble was on the scene speaking to the individuals.
He made an appeal to Vincentians, noting: "I am just appealing to persons – any help they can provide would be greatly appreciated. You can reach out to me and I can reach out to the family, or if you want to reach out to the family directly that's fine as well. It's a tragedy and nobody is ever prepared for something like this but what's even more sad is the fact that children are involved."