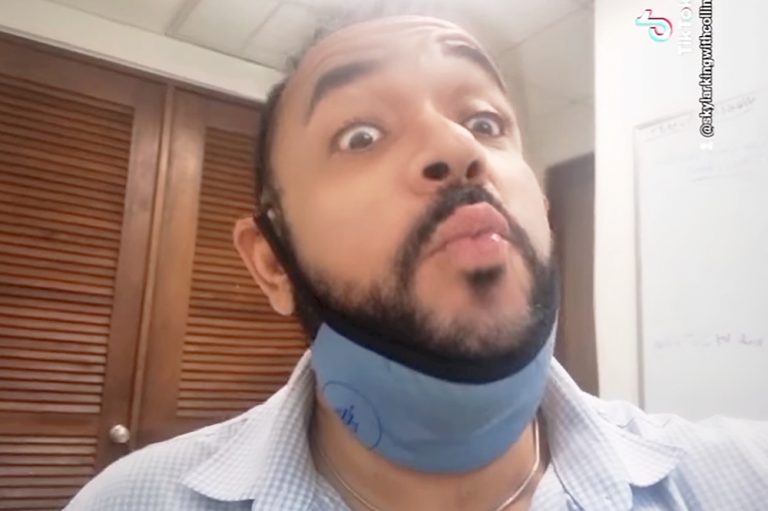 Collin Butler pushing the Vincy dialect on social media
People of many different nationalities are using social media to promote their own cultures and norms. Jamaicans, Trinidadians, Guyanese, Africans and others are all bombarding social media users with different aspects of their culture.
For a while, Vincentians had no voice in this landscape. Then came Collin Butler, who is making the sweet Vincy dialect known to people across the globe.
Collin was born in the village of Gorse, but grew up on Colonaire with his grandparents, Kenneth and Phemie Davis. As a child, Collin attended the then Byera Anglican School.
For many years now, he has been residing in the British Virgin Islands and working in the hotel industry.
Collin's social media skits called 'Skylarking with Collin' are now taking the Internet by storm. In monologue style, he tells stories about the sweet Vincy life and culture. In his skits, he tells of the daily lives of many fictitious characters, even the dogs which live in the neighbourhood.
In one of his recent skits, Flight #666, Collin dramatized the behaviour of some Vincentian passengers on a plane. In another skit, he showed how Vincentians could "watch bad eye."
Growing up as a child in St Vincent and the Grenadines, a parent or an adult only had to watch you bad eye, and you stopped whatever you were doing. Bad eye was one of the tools of correction in the early days. It was also a way to show that you had differences with others, without being loud and aggressive.
In an interview with SEARCHLIGHT on Friday March 4, Collin said he has a natural, God given talent and he has decided to use it to promote his blessed homeland, St Vincent and the Grenadines.
He said the idea to do skits on the Internet came to him in 2020 when there was a lockdown in the BVI due to COVID-19.
"The idea came to me, why not do what you know, what you accustomed to, which is Vincentians."
He toyed a bit with the idea to develop his love for Vincy culture.
Collin then decided to push the Vincy culture "out there on social media," which took off and he now has a large and growing fan base, both on Facebook and You Tube. His skits are now titled 'Skylarking with Collin'.
He said the name is reflective of responses from his viewers when he asked them for name suggestions.
The name "Comess Man" was also suggested. But Collin insisted, "I am not a Comess Man, I am just a jovial person who uses comess to enhance the norms in St Vincent."
"We as Vincentians, we have one of the richest cultures in the Caribbean, if not the richest.
"We as individuals who God has blessed with talent, we need to find the avenues and to find ways and means to push our Vincentianess out there," Collin said.
He believes we need to push our singing, dancing, and comedy .
"I have a voice now, so let me use it… not only Vincentians, but people all across the world are gravitating to our culture.
"I believe the time is right to remind our young ones what our sayings are, how we talked long time ago," he said.
"Right now we are so modernized that we forget our culture.
"Our sweet Vincy culture is second to none.
"Persons need to know the uniqueness we have in St Vincent and the Grenadines."
Collin said the Vincy dialect he uses in his skits is reflective of his days growing up in Colonaire.
"That is how we spoke, we never tried to cut dix," he reflected.
He expressed gratitude to his many fans and also to Jacqueline Archibald for pushing his work in her Facebook group 'Vincy Culture From Whence We Came'.
Collin believes that in the same way that Trinidadians boast about being 'Trini to the bone', we should be equally proud to say we are 'Vincy to the marrow'.