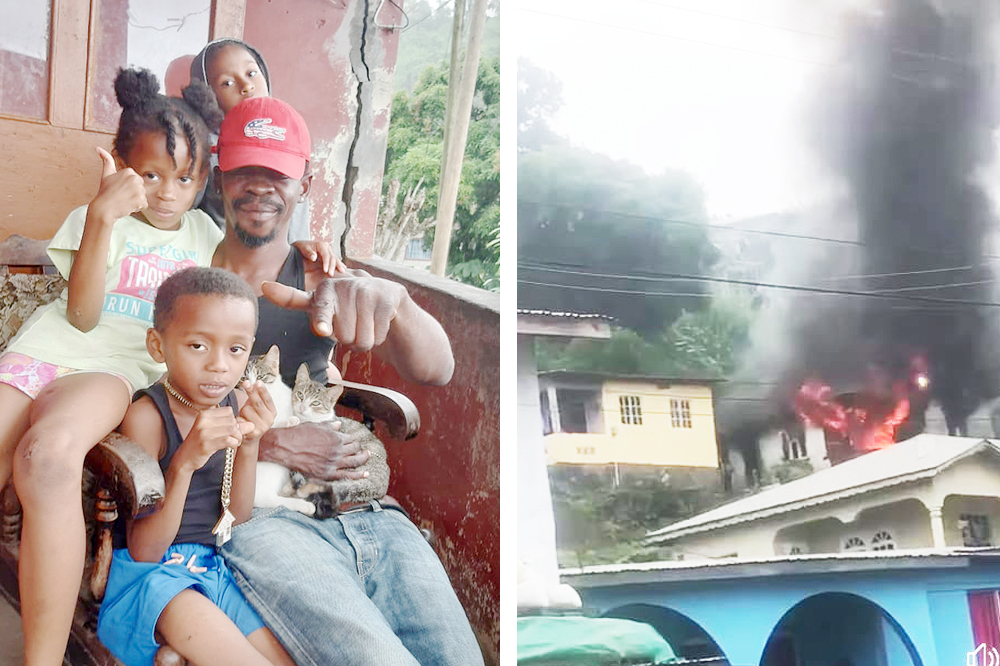 Family homeless after South Rivers fire
He was not able to save a single text book or even a few pieces of clothing for his children when fire engulfed their home in South Rivers on Sunday, February 27.
"Everything burn up; every single thing gone," Nirmal Williams popularly known as Damion told SEARCHLIGHT. He said the fire started at the two bedroom house, just before midmorning on Sunday.
Williams lived with his children Zoey John, 8, Tiffany John 6 and five-year-old Jahmarley John, all pupils of the South Rivers Methodist School.
"We were outside relaxing on the porch and my biggest daughter went into the house for something,"Williams recounted.
"Then I heard her shouting and calling me.
"By the time I reach in the house I was hearing a noise in the ceiling . Just after that part of the house roof dropped in."
Thankfully, by that time, his daughter was safely out of the house.
Realising now that the house was on fire, Williams himself tried to escape from the building.
"As soon as I reach outside the gas bottle in the kitchen blew up," the 38-year-old labourer recalled.
"All the wires in the house were sparking but after the gas tank blew,the house was just one big ball of fire," he said.
One cell phone and a speaker box which were on the porch luckily, were removed before the explosion.
Williams said the way things happened so fast it was impossible to save anything.
He along with other neighbours tried to put out the fire but they were hindered by electrical sparks.
A team from the St Vincent Electricity Company (VINLEC), and a fire tender from Georgetown also assisted .
Williams, who is originally from Chateaubelair said he has been living in the South Rivers community for the past 14 years.
For the past four years, he and his children lived at the rented house which was destroyed by fire on Sunday.