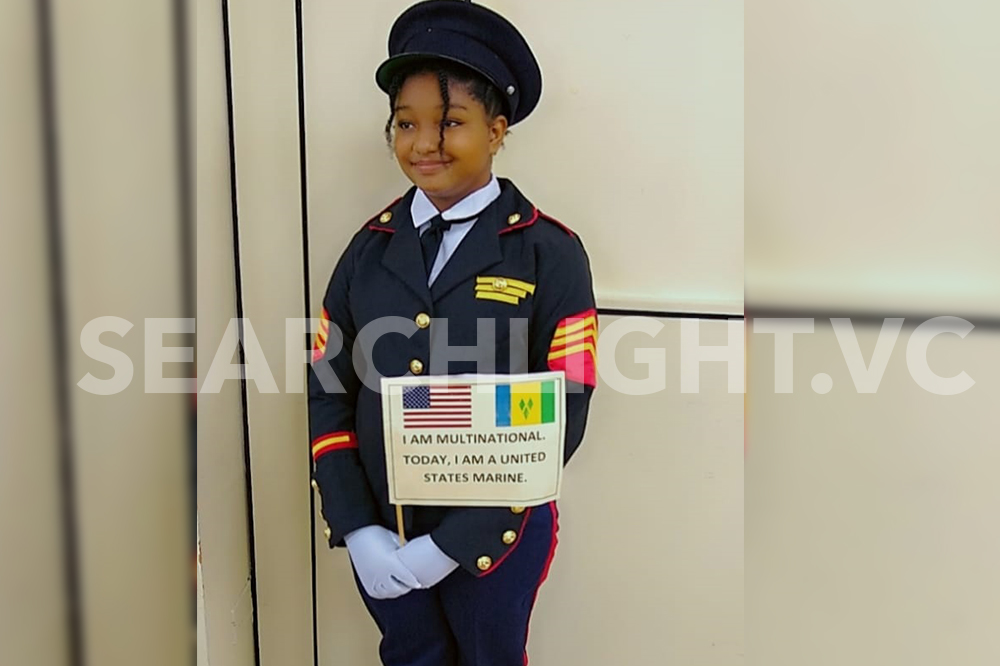 Front Page
February 25, 2022
C W Prescod marks Literacy Week, Character/Career Day
After missing a year due to the impacts of the COVID-19 pandemic on face-to-face schooling, students of the CW Prescod have been able to celebrate Literacy Week, and took part in story character/career day yesterday.
The medical, teaching, legal and police forces swelled with 'new recruits' when grade five and six students at the C.W Prescod Primary School donned tailored uniforms on February 24.
Class teacher and Literacy Co-ordinator, Ann Gordon explained that from Kindergarten through to Grade Four classes dressed as characters from storybooks or movies, while the upper grades were asked to begin contemplating a career they admire.
The Head of Grade five noted that one of her students who decided to be a teacher was able to lead the lesson earlier that morning.
"They will see the different careers and it activates their thoughts, in trying to help them to make a decision on the path that they want to take when they get older," Gordon said.
Ten year old Abby Nelson was grateful to the seamstress who took a very long time to make her nurse outfit.
"…Ever since I was little I used to say I want to become a nurse and to help people who are sick because I think it's sad how some people have to see their loved ones get taken away because of sicknesses like Coronavirus. So I want to be there to help them so that they could recover and go back to their family," the 'nurse' said.
Her nurse uniform was complete with headpiece and belt.
The young girl told SEARCHLIGHT that she has not lost anyone she is close to because of COVID-19 but that she knows it would be sad.
CW Prescod resumed face to face classes on January 3, 2022, after working with a blended format from the end of 2021, and with online schooling since March 2020. Since resuming in-person sessions, they have only had to revert to online schooling once between January 17 and 21, because of a spike in COVID-19 cases.
Ten-year-old Nelson said that she missed attending school in person because she didn't want to miss out learning about topics and she wasn't seeing her friends or teachers.
Another student, Ariella Frederick decided to be a veterinarian for her first career day because she likes pets, finds them very cute, and admires how veterinarians help persons communicate with the animals.
She disclosed that she felt "fine" to return to school because she gets to learn more and meet her friends.
"We were looking forward to this time to be back in school really. It's stressful online, you can't get the children, you're lost, sometimes you don't even know if you're getting through to them," Gordon revealed.
She also stated that "… they still have to get accustomed now back to school. So we have a lot of correction to do and apart from the academics we have to teach…. a lot of breaking in to do again."
The Literacy Week, designed to raise awareness about the importance of reading, took on a grander scale before the onset of the pandemic.
In the past there was an opening and closing, an assembly where the parents could take part, a chance for the bookstores to go and display books and a "hats off" competition wherein hats were made from different materials.
There was also a march around the playing field or along the streets of the capital.
Currently, activities happen with the classes.
This year, under the theme "Progressing in literacy amidst the challenges in our country", the children took part in spelling B on Monday, a read-a-thon or book review on Tuesday, Impromptu/Public Speaking on Wednesday, story character/career day yesterday, and poetry day today, February 25.
Gordon said the children are excited and she is impressed with the number of those who made the effort to dress the part this year.
"..Parents too, I must say that the parents look forward to it. They really look forward to this day and they go all out to get their children dressed in what career they want," the teacher said.